Home improvement shows enjoy a significant amount of popularity and fan following. There is a sense of calm and happiness one derives from watching old, broken-down homes being transformed into architectural masterpieces. ABC's 'Extreme Makeover: Home Edition' takes this a step further by choosing families who have fallen on hard times. The cast members of the original edition play a significant role in what the show is today.
Their tireless hard work and skills have brought joy to countless families and fans of the series. While some of them remain familiar faces on television even today, others have chosen a different path in life, personally or professionally. So, let's take a look at the famous Giunta Family of 'Extreme Makeover: Home Edition' and find out where they are now!
What Happened to Giunta Family on Extreme Makeover?
The Giunta Family was introduced to the viewers in 'Extreme Makeover: Home Edition' in season 5. Giunta Family's inspiring 'Extreme Makeover' journey began when the family sent an application to the show's network to be featured on the show. During that time, Paul Giunta was living with his parents away from his wife and kids, as they did not have a home that catered to his needs due to his disability. For the uninitiated, on March 6, 2006, Paul met with an automobile accident that changed his life forever.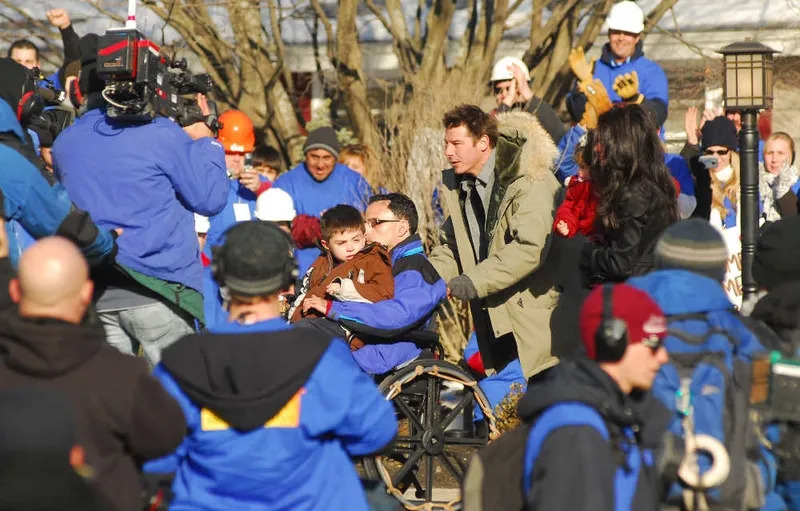 It so happened that following the birth of the couple's third child, Brianna, in 2006, Renee was admitted to the hospital. When Paul was driving home with their two boys, he lost control of the car and drove into a stone wall along a road in Framingham. The boys were unharmed, but Paul incurred severe injuries. Renee was informed that her husband, a lifetime runner who proposed to her after they completed a road race together in 1997, would never walk, talk, or breathe on his own again after three operations, one of which involved removing a portion of his cerebellum.
Since the accident, Paul has been a wheelchair user and was even unable to even speak a single word for a long time. The Giunta family was more than happy when the show chose them and truly overturned their lives. It was a gift of a lifetime, and the family was grateful that Paul could finally return home to his family and lead a much easier life. He shared his troubles with the show's host Ty Pennington explaining his situation and how he cannot even open the cabinets in his kitchen or sit at the dining table to share a meal with his family.
The family was whisked to Disney World in Florida, and the extreme makeover began. Contractors Jeanson Homes and Fenton Contracting of Acton, who assumed the leading roles in the construction, claimed that the wheelchair-accessible house was built in four and a half days. The 1,800-square-foot old house claimed by the Giuntas had a rooftop and electrical issues. The area of their new home after the makeover is 3,000-square-foot. The cast broke down the walls and added a new look to the house with special features.
All the doorframes were increased for better movement; the cast put a walk-in shower for Paul to avoid slipping in the washroom and injuring himself. They also added an elevator for him to go to the rooms on the upper floor, which didn't see for years. Apart from changing the furniture in the new house, they also added a lower table for Pual to dine with his family. They also surprised Renee with a home salon that added features, including a hair drying and styling section.
Renee was overwhelmed after seeing their new house and said with teary eyes, "There are no words to express what we are feeling. For everyone in the community to come together like this … it's just amazing … raising money, taking the fear away I had every day wondering." Paul further added, "It was like walking into somebody else's house … our jaws just dropped … the bathroom is so big we could all take a shower in there … I just want to say thank you to everyone."
Where is Giunta Family Now?
The Giunta Family comprises five members who love and support each other through thick and thin. Renee Giunta and Paul Giunta Jr. have three children, Cameron, Dylan, and Brianna. Residing in Greater Boston, Renee runs her own hair salon, Chez Renee Hair Salon. She started the venture in 2014 and is currently working as a Master Stylist and Color Specialist. She is extremely good in her art of hair care and hairstyle, and her journeys have taken her to many interesting places, such as Italy, Miami, Las Vegas, Washington DC, and New York City.
Paul Giunta Jr. is a Fitness & Nutrition Coaching at Improve Yourself, where he helps people overcome their fear, insecurities, and trauma. Before his accident in 2006, the Babson College alum worked as a Data Entry Specialist at Monster Worldwide Inc. We are very happy to inform our readers that Paul has regained strength in both legs and can walk again. Cameron is currently a student opting for his Degree in Visual Arts at UMass Dartmouth. Not much information is found on Dylan and Brianna, but Brianna is likely pursuing her high school education while Dylan must be in college.
Read More: Shows Like Dream Home Makeover