Reality TV has been a captivating genre for audiences worldwide, offering a glimpse into the lives, relationships, and adventures of diverse individuals. One such series that took the reality TV world by storm is 'All Star Shore.' It serves as a successor to the famous 'Jersey Shore' and features television stars from across the globe living together in a villa in Gran Canaria, Spain, as they compete for a grand prize of $150,000.
One of the standout personalities on 'All Star Shore' season 2 is Guilherme Evaristo, affectionately known as Gui. With his distinctive mustache and a history of multiple romantic relationships, Gui adds a unique flavor to the season. For those interested in the life and journey of Guilherme, we have shared everything we know about his professional and personal life.
Guilherme Evaristo Was Born in Brazil
Guilherme Evaristo, or Gui for short, is a captivating figure on 'All Star Shore.' Born on October 3 in Brazil, Gui's exact age hasn't been disclosed to the public. However, we do know that he has a well-rounded family, and he maintains a private life. The reality TV star has multiple siblings, including a brother named Felipe Evaristo. His family extends to include multiple nephews and nieces, highlighting his close-knit and familial connections.
While details about his family's profession and personal lives remain undisclosed, it's evident that Gui values these relationships. In addition to his familial ties, Gui has a Swedish godson, suggesting a broader global network of connections and interests. He also shares his life with a beloved Border Collie named Eva, showcasing his affection for animals and the outdoors.
Gui's educational journey is impressive as well. He graduated with an engineering degree, demonstrating his dedication and commitment to academics. Specifically, he completed his engineering studies at the Polytechnic School of UFRJ in 2017. He also played football for his college team and played in several competitions. Additionally, in the same year, he attended the Institute of Management Engineering, further expanding his knowledge and skill set.
Guilherme Evaristo's Professional Shift to Reality TV
Before stepping into the limelight of reality TV, Gui pursued a career as a Civil Engineer at Espectro Engenharia Ltda. His background in engineering showcases his intellectual capabilities and his capacity to excel in a demanding field. His transition from a career in engineering to a reality TV star is a remarkable one. While it's unclear what prompted this shift, it's sure that Gui has made the most of his opportunity on reality television.
'All Star Shore' is not Gui's only stint in the reality TV realm. He previously appeared on 'Rio Shore' in 2021 and 'Estúdio Shore' in the same year. He also made an appearance on MTV's PodShore in 2022. Fans of the genre can expect Gui to be at the center of intriguing relationships and dramatic moments throughout his time on 'All Star Shore.'
Guilherme Evaristo's Relationship Rumors
Gui's romantic journey has been an integral part of his reality TV appearances. In season 1 of 'Rio Shore,' he had a romantic entanglement with a fellow contestant named Natallia, and the two went back and forth in their relationship for quite some time. The story changed in season 2 when Gui started dating another contestant named Crystal. However, their relationship was far from smooth sailing. The house became a battleground for emotions and conflicts as Gui's romantic involvement with Crystal led to disputes with other housemates.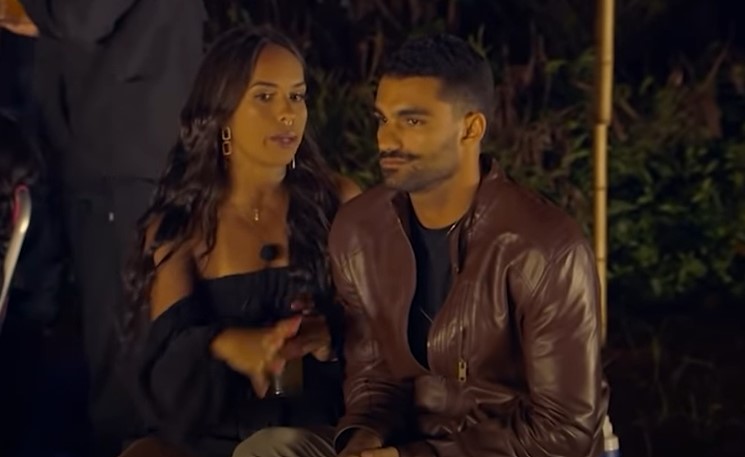 Vitória, Nat, Jéssica, and Rick were among those who became embroiled in the drama surrounding Gui's relationship. After a night in a couple atmosphere, tensions escalated, and Vitória fought with Gui, leading to more people getting involved in the house's tumultuous atmosphere. Gui and Cristal's relationship was anything but simple as well, which is why Nat and Jéssica found themselves avoiding inviting the two to the mansion. The drama continued as Jessica and Nat got upset with Cristal and Gui, adding to the house's charged atmosphere.
Guilherme Evaristo is Keeping His Dating Life Private
As of now, Guilherme has remained tight-lipped about his personal life. But given his history, what we can say for sure is that he will always give the audience the entertainment they want from reality TV shows. Guilherme's journey from a career in civil engineering to the world of reality television showcases his versatility and adaptability. With a private personal life and a history of romantic entanglements onscreen, Gui continues to be a compelling and enigmatic figure in the realm of reality TV. As he continues his reality TV show journey, viewers can expect more drama, more romance, and more of Guilherme Evaristo's unique charm.
Read More: Where is All Star Shore Filmed?