For Gwyneth Paltrow, daughter of actress Blythe Danner and film producer Bruce Paltrow, the dream of becoming an actor wasn't something she had to chase. Paltrow began acting at the age of 5 in a theater production. Minor film roles were always around her as she grew up. When she got a breakthrough role opposite her mother in the TV miniseries 'Cruel Doubt' in 1992, Paltrow dropped out of the University of California to pursue acting as a career.
The 1995 movie 'Se7en,' in which Paltrow appeared alongside Morgan Freeman and Brad Pitt, was a massive turning point in her career. Movies like 'Emma (1996),' 'Great Expectations (1998)' and 'A Perfect Murder (1998)' followed. In 1999, 'Shakespeare in Love' earned her an Oscar for Best Actress. In 2008, she joined Marvel Cinematic Universe as the Stark Industries executive and Iron Man's girlfriend, Pepper Potts. She appeared in the three 'Iron Man' movies, 'The Avengers (2012),' and 'Spider-Man: Homecoming (2017),' and 'Avengers: Infinity War (2018).' At this point, the question that might be circling your mind is what is the next Gwyneth Paltrow movie or TV show? Well, the good news is that we have a clear answer to that question. Here's the list of upcoming Gwyneth Paltrow films/TV shows scheduled to release in 2019 and 2020. We can only hope that the latest Gwyneth Paltrow movies would be as good as some of her recent ones.
3. Avengers: Endgame (2019)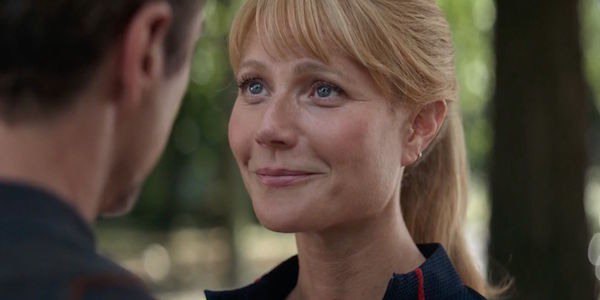 'Avengers: Endgame' is an emotional affair for both the stars and fans of MCU, as the future of some of the Marvel superheroes are uncertain after the final showdown. Gwyneth Paltrow has already made it clear that she expects to stop playing the iconic character of Pepper Potts after 'Endgame.' "I'm a bit old to be in a suit and all that at this point", was Paltrow's reaction about her farewell, according to a Variety report. "I feel very lucky that I did it because I actually got talked into it. I was friends with Jon Favreau. It was such a wonderful experience making the first Iron Man and then to watch how important it has become to fans", she added.
The character was originally introduced as Tony Stark's personal assistant in 'Iron Man.' Potts' responsibilities in the first 'Iron Man' movie were to take care of Stark's schedule and help him in running Stark Industries. By the time of 'Iron Man 2' and 'Iron Man 3,' both of them started to develop romantic feelings for each other. But they kept their feelings to themselves. Their relationship reached a turning point when Stark defeated Obadiah Stane with the help of Potts. He made her the new partner of Stark Industries after the tragic death of Stane.
After Stark stepped down as the head of his business and appointed Potts as his successor, the couple acknowledged their love for each other. When Potts was injected with Extremis, Stark cured her and even gave up the Iron Man title to be with the love of his life. After a rough patch in their relationship, Stark and Potts reunited and they shared a dream of having a child named Morgan. In 'Avengers: Infinity War,' Potts demanded Stark to come back to Earth. In the trailer of 'Avengers: Endgame,' Stark is seen recording an emotional message to Potts from somewhere in the deep space.
After Paltrow revealed her decision to stop playing Potts with 'Avengers: Endgame,' fans are curious about the character's future. But she also hinted in the Variety report that she may not be killed off at the end of 'Endgame.' Paltrow confirmed that she'd be happy to return in a cameo appearance in the future Marvel movies. She had done a cameo in 'Spider-Man Homecoming' in 2017. Marvel keeps every bit of news about the plot and character development of 'Endgame' a well-guarded secret. Fans have to wait till April 26, 2019 for the release of the movie to learn the future of Potts.
2. The Politician (2019 – )
The Netflix comedy series 'The Politician' has Ben Platt, Barbra Streisand and Gwyneth Paltrow in the lead roles. The hour-long show is created by Murphy, Brad Falchuk and Ian Brennan, who are known as the co-creators of 'Glee.' 'The Politician' is Murphy and Falchuk's second collaboration with the streaming giant after the 'One Flew Over the Cuckoo's Nest' prequel series 'Ratched.' According to reports, 'The Politician' revolves around Payton, played by Platt, who is a wealthy student in Santa Barbara. He is convinced by himself that one day he will become the President of U.S. But Payton has to deal with the deceptive political circles of high school to become the student body president, as the first leg of his journey to the White House. Each season explores a different political battle fought by Payton to achieve his dream.
The show marks Paltrow's return to TV after the successful Murphy series 'Glee.' The actress praised her husband Brad Falfchuk, who is known as the writer of 'American Horror Story' and 'Glee,' as the only person who can convince her to circle back to acting as a day job. "Only @bradfalchuk and his ingenious writing could get me back to the original day job", Paltrow wrote on an Instagram post. "The Politician starts on @netflix September 27 (my birthday!)", revealed the actress in the post.
Apart from Paltrow. the series has an ensemble cast including Ben Platt, Jessica Lange, Zoey Deutch, and Lucy Boynton, Bob Balaban, David Corenswet, Julia Schlaepfer, Laura Dreyfuss, Theo Germaine, Rahne Jones, and Benjamin Barrett. 'The Politician' premieres on Netflix on September 27, 2019.
Read More: Upcoming Sandra Bullock Movies
1. One Hit Wonders (TBA)
Gwyneth Paltrow reunites with the 'Glee' co-creator Ryan Murphy to make the musical dramedy, 'One Hit Wonders.' Paltrow is also attached to the project as an executive producer and the lead actor. According to Murphy, 'One Hit Wonders' is a TV version of a movie they planned to pitch at the early stage of her career. Paltrow plays a 40-year-old woman, whose life is devastated by a roommate who's catfishing on her. She has a hit song recorded 15 years ago to her credit. But she is yet to come up with a follow-up. When she gets a call from a record label, her luck starts turning for the good. The label plans to bring together three washed-out singers who have a hit song from the '90s to their credit. But the people behind the label has a vicious scheme behind the formation of the '90s supergroup. Though Reese Witherspoon and Cameron Diaz were attached to the film version of the project when it was first announced in 2012, neither of them are currently associated with the TV movie.
Read More: Upcoming Kate Winslet Movies