Holiday movies are great. Despite a predictable plot, they provide you with some much-needed solace and comfort at the end of a long day. Even arduous fans of more serious cinema cannot deny that these flicks have become an essential part of mainstream culture. Most of these productions follow a very similar format wherein boy meets girl and love blossoms under the mistletoe. However, 'Happiest Season' gives the spotlight to the LGBTQ community and the many challenges they face regarding their sexuality and families, over the holiday season. Starring Kristen Stewart, Mackenzie Davis, Alison Brie, Aubrey Plaza, and Dan Levy, the movie is a breath of fresh air. Thus, if you're wondering what the ending is all about, then we've got your back.
Happiest Season Plot Synopsis
Abby and Harper, who are in love, have conflicting notions of Christmas. For the former, it is a sad time of the year that reminds her of her parents' passing, whereas for the latter, it is about all things festive. One night, while strolling through a beautifully decorated neighborhood, they share a very loving moment. Swept up with emotion, Harper then invites Abby to spend the holidays with her family. Touched by the gesture, Abby agrees.
Abby even wants to propose to Harper on this vacation. However, on the way to her parents' house, Harper reveals that she never came out to her family as the pressure is just too much. Her father is a politician, so the public image is what matters the most. Nonetheless, she promises Abby that she will come out of the closet when the festivities end. The rest of the movie follows the lovers as they try their best to hide their relationship while not crumbling apart themselves.
Would Riley Have Been a More Suitable Match for Abby?
After Abby is somewhat shamed for being a shoplifter (even though she is innocent), she is disinvited to the dinner party. Harper also makes excuses by saying that Abby would not have enjoyed the stuffy, politically motivated scene anyway. That night, Abby dines alone and then runs into Riley, Harper's first-ever girlfriend. They go to a drag bar to grab a couple of drinks, which is when Riley reveals that Harper outed the ex-girlfriend in high school out of fear, which led to Riley being ostracized by the kids.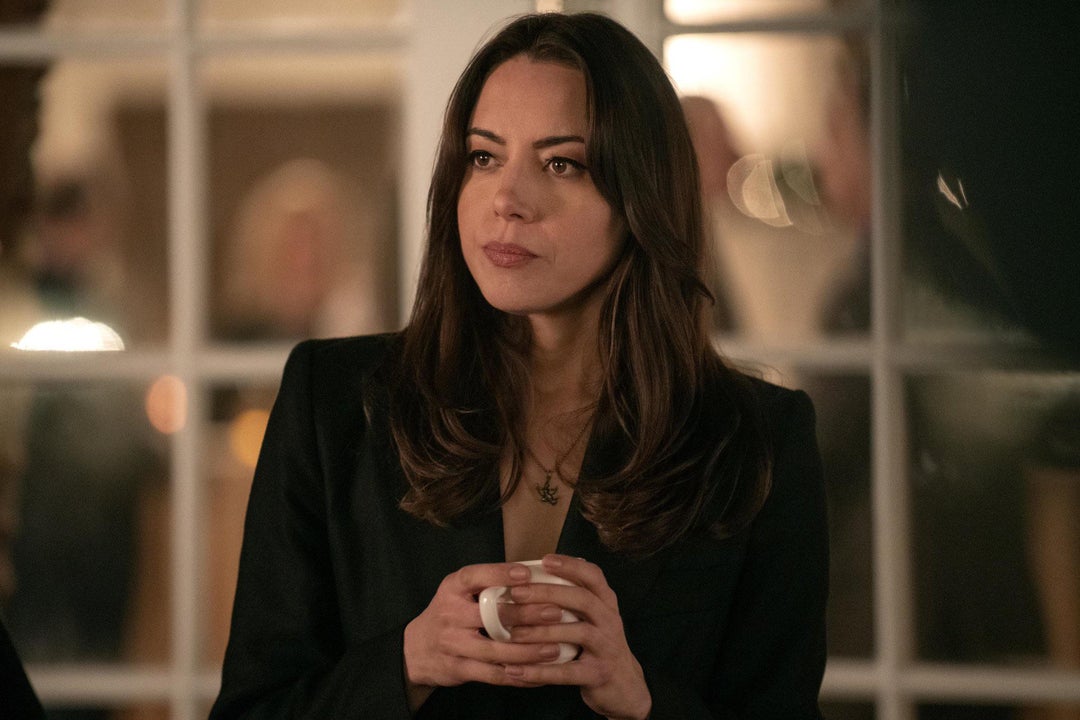 This is one of the many glimpses we are given into Harper's psyche; it just reiterates that impressions and validation matter a lot to the protagonist. Abby, however, has no such social conditioning weighing her down. Plus, even though you may empathize with Harper and her background, you will end up feeling much worse for Abby and how she is being treated by her own girlfriend.
Now, add to this equation the calm and collected Riley, and one definitely ponders what a hypothetical relationship between the two would look like. Given that Riley understands Harper so well because they have literally grown up together, she is able to be the friendly hand that Abby needs at the moment. Post the drinks, when Abby goes to meet Harper at Fratty's, she is completely sidelined yet again. You see, Abby wants to go home, whereas Harper wants to stay and hang out with her friends (which soon turns into her hanging out with her ex, Connor).
We can't really fault Harper for wanting to chill with her friends, and we don't blame Abby for wanting to go home either. But while neither of them did anything wrong, things still turn sour when Harper starts feeling restricted by Abby. There is a clear problem of miscommunication. It's just that they come from very different worlds, and neither of them is able to figure out how to cope with their new setting.
Naturally, since Abby is feeling isolated, she looks to Riley for companionship, especially since the ex-girlfriend is one of the few people who acknowledges Abby's presence in the first place. They do have a natural chemistry, and it makes one wonder if they would make a better couple. Sure, they have a great rapport, but there's also the fact that they don't have any history together.
While it is enticing to believe that Riley and Abby make a better pair, it is also imperative to remember that Harper and Abby must have faced many odd situations together in their relationship. Plus, coming out is never an easy task, no matter the age; this is one of the themes that the film is centered around. Lastly, there's the fact that family is never easy to deal with.
John so eloquently points out that parents have all sorts of reactions to finding out that their children are gay. While his own father kicked him out of the house and didn't talk to him for 13 years, Abby's parents were loving and supportive. So Harper's fear is understandable, especially since her father is a politician whose reputation holds value. John is also onto something when he says that Harper could be ready in the future. After all, isn't timing everything with relationships?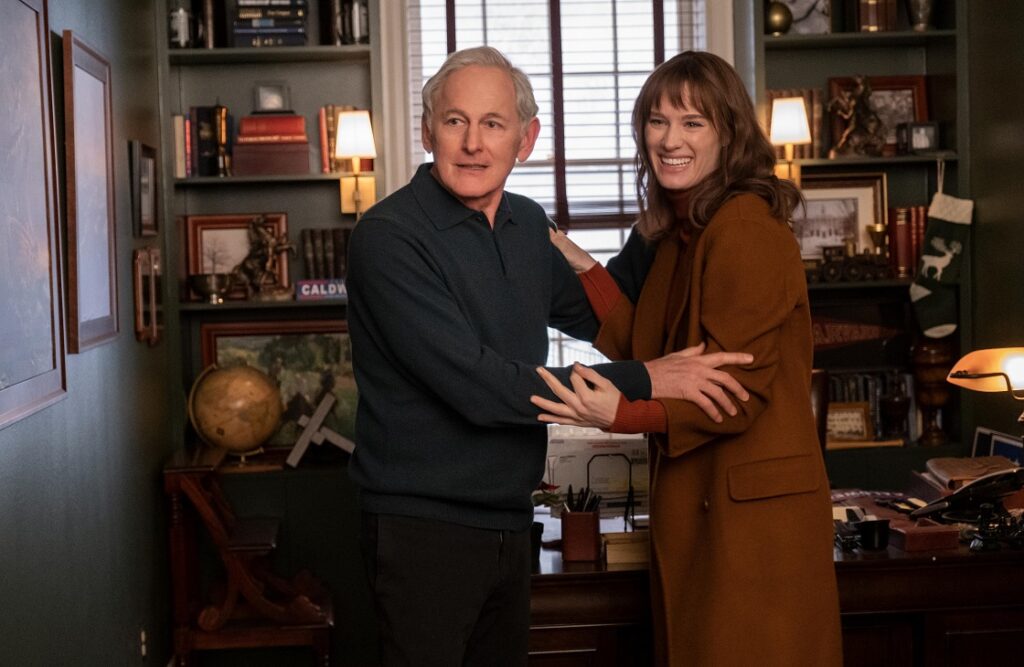 Sure, Harper did have an opportunity to embrace the truth when Sloane outed her at the party (which, again, was incorrect on the sister's part). However, this is a very personal journey, and if Harper isn't ready, then no one can really fault her. Having said that, it is also important to note that her actions have consequences. Unfortunately, Harper constantly denying her own sexuality makes Abby feel invalided and inconsequential.
So while Harper should be afforded all the time she needs, Abby is also not wrong to want to leave. At the end of the day, Harper is able to overcome her inhibitions and proclaims her love for Abby. Better late than never, right? Abby certainly seems to think so, and the two get back together. Now, while watching the film, you may feel as though Abby has given Harper multiple chances and that she may just be wasting her time yet again. This may also prompt you to think that Riley could have been better for Abby.
But do keep in mind that we are only shown the very beginning of a friendship between Riley and Abby. We see them talk about some important things over drinks and hang out when Harper is busy, but that's it. Plus, things always seem rosy and wonderful initially, whereas real relationships take work and effort. Things aren't effortless in love, despite what your favorite rom-com may claim. For these reasons, we don't think that Riley would have necessarily been a better match for Abby than Harper.
Happiest Season Ending
After an eventful and aggressive Christmas Eve showdown between the sisters, Harper finally comes out of the closet. Sloane reveals that she and Eric are getting a divorce, and the sisters tell their parents about the unrealistically high expectations they have had to live up to their entire lives. To process the events of the night, Ted walks away. Abby leaves because she feels that it is too late for Harper to embrace her real self; the damage to their relationship has already been done.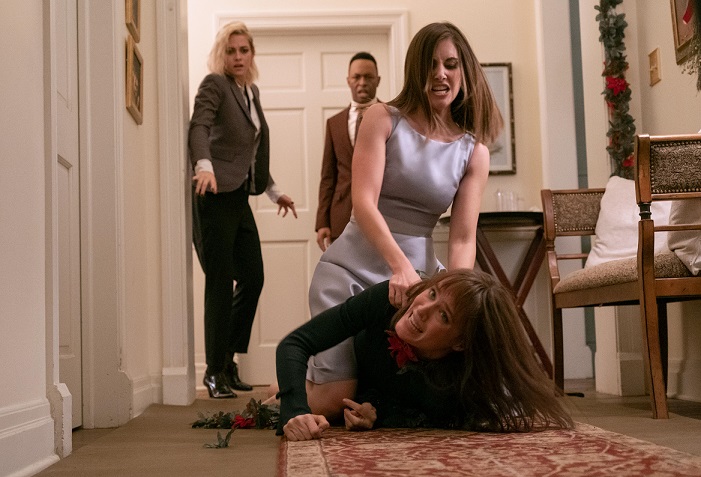 Tipper tells Ted that they have been so busy curating a perfect image that they have forgotten about their own daughters' feelings. She states that it is far from the ideal situation that the girls cannot even open up about personal issues with the parents. Back in the kitchen, the sisters make up. John and Abby are at a gas station when Harper pulls up and asks for a second chance. She knows that she messed up but says that Abby is a part of her family and the love of her life. Abby agrees, and they head back together to the house.
On Christmas morning, the twins confess that they had slipped the necklace into Abby's bag, hence absolving her of shoplifting. Ted finally comes down to the living room and apologizes to his family for the pressures they've had to face. At the same time, Zelia calls Ted and tells him that he can secure a win in the mayoral race if Harper can keep her domestic life under wraps.
Not wanting to emotionally burden his family anymore, he rejects the offer. Tipper finally gets the family photo she wanted, and Abby is a part of it. A year later, Jane is a successful author, whereas Abby and Harper are engaged. All's well that ends well, as the family goes to watch 'It's a Wonderful Life' at the Guthrie Theatre.
Read More: Where Was Happiest Season Filmed?