Created by Michael Waldron, the Starz sports drama series 'Heels' tells the age-old story about family and survival set against the backdrop of pro wrestling in Duffy, Georgia. Siblings Jack (Stephen Amell) and Ace Spade (Alexander Ludwig) run the pro wrestling promotion their father set up. The indie promotion doesn't earn enough money, so Jack has to have a second job. By the end of the first season, Duffy Wrestling League begins to experience considerable success, but the relationship between the brothers suffers because of Jack's lies, and Ace leaves town. In season 2 episode 3, titled 'Discord,' Jack goes looking for his brother, leaving Willie in charge of the promotion. Charlie Gully returns to Duffy to make an offer to Jack. Here is everything you might want to know about the ending of 'Heels' season 2 episode 3. SPOILERS AHEAD.
Heels Season 2 Episode 3 Recap
The episode begins in the past where a young Jack gets punished by his mother for eating a piece of cake. In the present time, Jack visits his mother's home to learn Ace's whereabouts before setting off on the road to find his brother. While he is gone, he has left Willie in charge of the promotion. Willie quickly realizes that they can't just make Crystal fight the boys in the roster perpetuity.
Ace is found by two young women climbing down the hill, and they rescue him. Ace doesn't catch the pride flag on one of their jackets and makes sexually suggestive remarks. Predictably, the women refuse and urge Ace to behave better. The encounter seems to disturb Ace and he trashes his hotel room.
Crystal's success has brought many new audience members for DWL, but Willie wonders where they can possibly go from here. She eventually comes to the conclusion that they have set up a women's division. That way, they can accept new talents and expand their business. While Jack is busy dealing with family drama, Willie really comes through for the promotion. With the help of Bill and Crystal, she even creates a tentative framework for where the narrative will go in the upcoming shows.
Heels Season 2 Episode 3 Ending: Does Ace Return to Duffy?
Yes, Ace returns to Duffy by the end of the episode. While looking for his brother with the help of their mother's phone, Jack finds the motel Ace is staying in and knocks. From the moment Ace opens the door, Jack begins apologizing, but it soon becomes apparent that Ace's departure stemmed from something deeper. He was ashamed about what he said to his brother and felt profound remorse.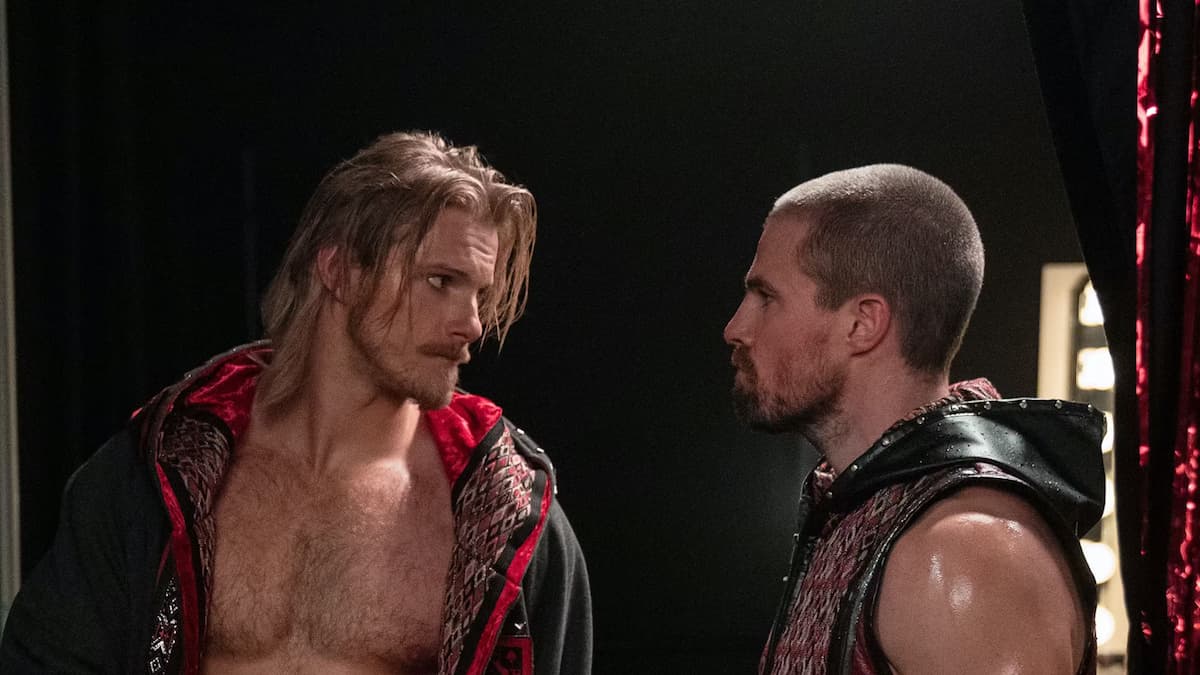 When a sense of betrayal was added to his emotions, Ace thought the best course of action should be leaving. Jack tries to convince his younger brother to return to Duffy with him, but Ace refuses, as if he is on some form of penance. His experience on the road seems to have changed him, turning him into a calmer and more patient version of his older self. Ace eventually does return to Duffy, and after discovering that his mother will no longer let him stay with her, he visits his brother, who happily lets him in.
Do Staci and Thomas Return Home?
In this episode, Staci is forced to acknowledge that the temporary separation between her and Jack is negatively impacting Thomas, who confronts her about leaving his father. A stunned Staci immediately decides to return home with her son, even though Jack isn't there. When Jack returns from his seemingly failed venture to convince his brother to return, he discovers that his wife and son are there. He and Staci apologize to each other and reconcile. This is when Ace shows up at Jack's doorstep, and the latter lets him in. This doesn't mean that Jack and Staci's issues have gone away magically. They are still very much there, and the two of them have to navigate through these issues.
What Offer Does Gully Make to Jack?
Charlie Gully is the owner and impresario of Florida Wrestling Dystopia, a promotion that focuses more on spectacle than building up a convincing story. Gully hasn't forgotten the fact that Jack came to the headquarters of FWD and hit him. In this episode, he shows up at the Dome with his cohorts and makes Jack an offer that he can't afford to refuse. Gully proposes a competition between the rosters of DWL and FWD. He has noticed the current success of DWL and wants a piece of that pie. When Jack tries to dismiss him, Gully reveals that he brought a lawyer. He is willing to sue Jack and DWL and force him to pay him for the rest of his life, or Jack can simply give in and accept his offer. The episode ends at this point without revealing what Jack will choose.
With Ace's return, one can presume he will climb back into the ring soon after his leg is healed, giving DWL its entire roster. Jack's impulsive actions have gotten them into this predicament, and if DWL is to survive, the siblings must work together. Jack also has to move away from his rigid positions on certain aspects of pro wrestling. Female wrestling is largely an untapped market at the indie level, and DWL has a real opportunity to start a female division using Crystal as a flag bearer. If Jack can manage to accept that spectacles can be well-written as well, he will be able to save the promotion from this disaster.
Read More: Heels Season 2 Episode 2 Recap and Ending, Explained