The Starz series 'Heels' is about family, love, small town, and pro wrestling. The story follows brothers Jack and Ace Spade as they struggle to maintain the promotion that their father set up in the small town of Duffy, Georgia. In season 2 episode 4, 'Heavy Heads,' Jack swallows up his pride and offers Gully an apology, but that's not enough, as Gully demands a spectacular showdown between the two promotions. Here is everything you might want to know about the ending of 'Heels' season 2 episode 4. SPOILERS AHEAD.
Heels Season 2 Episode 4 Recap
The episode begins by capturing some intimate moments between Jack and his wife. They weren't in a good place in their relationship until now, but that changed when Staci moved back in. Ace is also there at the house and couldn't sleep during the night because of the noises coming out of his brother's room. It is Staci who suggests to Jack that he should personally speak to Gully and ask for his forgiveness. Jack must accept that he needs to put his ego aside, talk to Gully, and convince him not to continue with the legal proceedings.
When Jack meets Gully at a restaurant, Deandre is also there. At the start of the series, he was a member of the DWL team and has since shifted to the Florida Wrestling Dystopia. During this meeting, Jack apologizes, but things have become much more complicated since their previous encounter. Gully has no desire to be satisfied with a measly apology when real money can be made from the feud between the two promotions. While the popularity of the DWL has suddenly begun to soar, Gully reminds Jack that his promotion has a bigger fan base.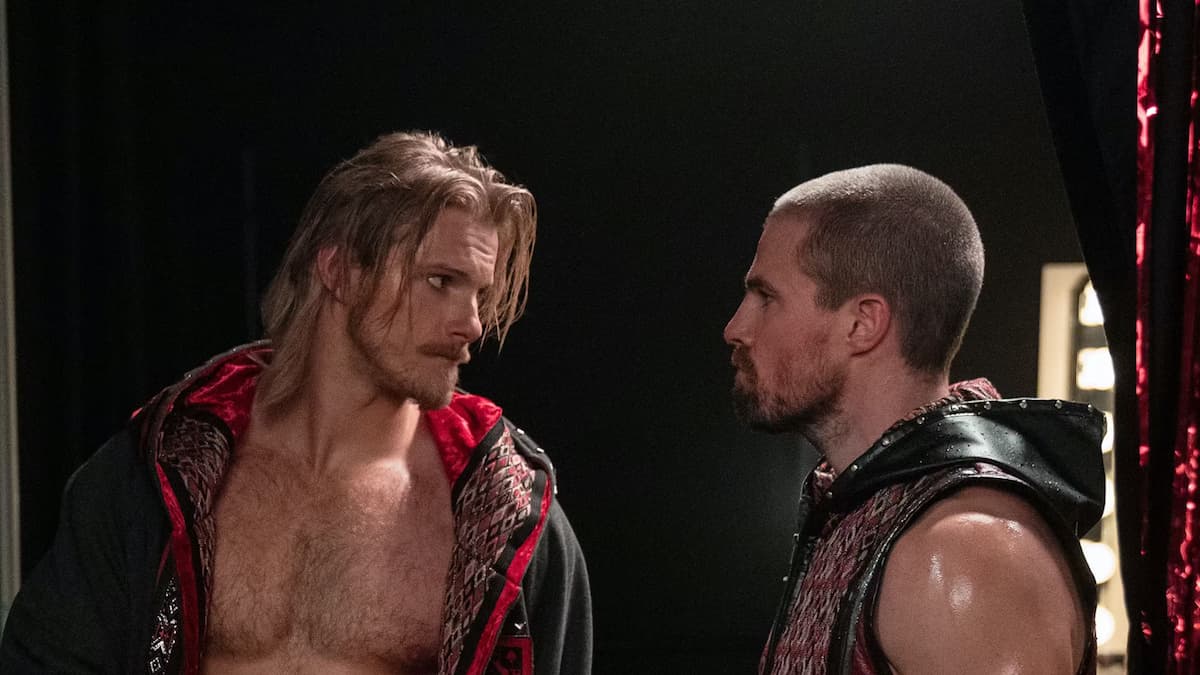 That day, when Crystal reaches the Dome, she discovers that an impressive female pro-wrestler is practicing with Vicky Rabies (CM Punk), who introduces the woman as Elle Dorado, a veteran pro-wrestler who has spent years on the circuit. Elle Dorado is portrayed by CM Punk's real-life wife, AJ Mendez, or AJ Lee, a now-retired pro wrestling legend credited for revolutionizing women's wrestling.
As Crystal watches the other woman practice within the ring, a part of her increasingly becomes envious. Having spent years in the circuit, Elle has become a recognizable face in indie promotions. In comparison, Crystal's career has just begun, and she has a long way to go. When the two women begin to practice together, things at first go less than perfectly. There are mistakes, unnecessary delays, and stiff responses that make people present at the practice wonder if Crystal is doing this on purpose.
Because of Crystal's new-found popularity, DWL has decided to set up a women's division in the roster, with Crystal set to become the inaugural DWL Women's champion. Jack hopes to retain Elle and gradually expand the roster beyond the two women.
Diego and Bill attend a convention where they interview past colleagues of the latter. Unlike Bill, who has experienced rare longevity in his pro-wrestling career, these men were forced to retire relatively early. They make it clear to Bill that while they are happy about everything Bill has accomplished, they have never wanted to be in his shoes. They loved wrestling, but it's an undeniable fact that wrestling destroyed their lives and gave them life-long physical and psychological issues.
Ultimately, Jack accepts Gully's proposal to have a joint event with Dystopia, and this leads to Deandre's return to the DWL ring. The biggest contention between him and Jack was that he felt he wasn't valued enough at DWL, and that led to his departure from the promotion. Deandre remains skeptical that Jack will let him be a prominent part of the feud between the two rosters, but much to his surprise, Jack listens to his disagreements and gives him a heel promo that effectively sets up the feud.
Heels Season 2 Episode 4 Ending: What Character Does Ace Introduce?
The main event of the weekly DWL show is a tag-team match during which Ricky Rabies starts living up to his name with foam coming out of his mouth. Suddenly, Deandre and another member of the Dystopia roster invade the DWL ring in an attempt to take over. Just when it seems they have succeeded, all lights in the arena go dark before a few of them are lit back up, and a figure in a dark hoodie attacks the two men.
Earlier in the episode, Ace visits Crystal to ask for her help to dye his hair. He has apparently realized that his face persona from before the fair is no longer a good fit for him. He needs to reinvent himself, and that is exactly what he does. As the commentators speculate whether this is Jack in a hoodie, a voice-over of Ace declares to the people in the arena that he is a man seeking redemption and that he will not stop until he achieves it. As the spectators get a glimpse of this new rendition of Ace Spade, the voice-over announces the name of this vigilante character: The Condemned.
Who Becomes the Inaugural DWL Women's Champion?
Crystal becomes the inaugural DWL Women's Champion after convincingly defeating Elle in what is supposed to be the first women's match at DWL. Despite the rocky start, the two women grow close as Crystal starts to realize that she might be looking at one version of her future. Like almost all other veteran wrestlers, Elle needs pain medications before she steps into the ring, and that pain brings a sense of camaraderie between the women.
Read More: Heels Season 2 Episode 3 Recap and Ending, Explained