Food Network's 'Holiday Baking Championship' chronicles the journey of eight contestants as they seek to win the season's title and a cash prize of $50,000. With the holidays fast approaching, the baking show features a streak of home and professional bakers as they aim to please tough-love judges with their sweet delicacies. Having made its debut in 2014, the reality television show has continued to garner audience acclaim. Years since season 1 hit the screens, fans have continued to wonder about the cast's whereabouts.
Erin Campbell is a Baking Savant Even Today
With my honey. #packPix pic.twitter.com/gNYhJmzvO8

— Erin Campbell (@ernygurl) February 16, 2018
Since making her mark on the judges, the Palmdale pastry chef has continued to enhance her skills in baking. Using the power of 'love' as a winning ingredient, Erin has displayed her prowess as a baker time and again. Having found a passion for baking as a little girl, Erin had hoped to make her mark and take away the prize. After winning $50,000 and the title of the season's champion, Erin has been focusing on evolving as a chef and a baker. She has continued her association with Nadia Cakes in Woodbury. As a General Manager of the acclaimed bakery, Erin continues to display her expertise and create flavors beyond imagination. Since the show, Erin has decidedly kept a low profile. However, her social media has sporadic posts of her partner and family!
Bill Lipscomb is Now A Culinary Instructor
At each turn, Bill created a remarkable, sweet delicacy that vetted his creativity and knowledge of the culinary arts. Despite losing the top spot by a mere margin, Bill has continued to focus on enhancing his abilities and growing as an individual. The Hampton graduate later appeared on season 4 of the 'Holiday Baking Championship' to redeem his position. Besides this, he has been working as a Culinary Instructor at The Art Institute of Atlanta. Having attended the culinary school at Ecole L 'Enotre, Bill has experience working as an Executive Pastry Chef for the East Lake Golf Club. With equal subject knowledge of savory and sweet, the loving father and husband consistently take to his Instagram account to showcase his wide range of skills.
Terra Nelson is Now a Parent, Blogger, and Hospitality Consultant
The Lousiville chef had her share of missteps in the season. Nevertheless, she overcame each hurdle and headed to the finals. Then, as a JCTC Chef Instructor, Terra has continued to grow as an individual and professional. She is now working as a food stylist, hospitality consultant, and event designer. Now an industry leader, the television personality has established her own practice. She is now working in hospitality and manages the operations of her company, T.B. Nelson Hospitality Design. In the past, she has worked as a General Manager, Training Manager, and Pastry Chef for several eminent organizations. The blogger also wears the hat of a mother. When she's not working, Terra likes to unwind with her family and post snippets of her life with her children – LJ and Blanton.
Stephanie Hart is a Culinary Trailblazer Even Today
Stephanie displayed her unyielding capabilities in baking throughout the season. Despite hitting a few snags along the way, she remained headstrong and focused on her goal. Even though she had to walk away from the season without the prize, the television personality has continued to make progress on several counts. She continues to head the operational overload of Brown Sugar Bakery in Chicago. As the CEO of the establishment, Stephanie continues to include her experience and knowledge in making the business a raging success. She recently stood in support of Mayor Lori E. Lightfoot and talked about her business and its ever-evolving growth since they took office.
David Bondarchuck is Now a Caterer, Author, and Baker
Despite leaving the show early, David knew that several milestones still lay ahead of him. Years later, he has managed to fulfil several aspirations and seek a better course of action. Now a chef, author, and caterer, David has been focusing on growing his brand manifold. He has co-authored 'From Scratch' with David James, a cookbook that entails a myriad of recipes with varied levels of expertise. His range of services includes catering, too. With unique menus that cater to dietary restrictions and tailor-specific requirements, David has been focusing on growing his culinary prowess. Fans and readers can find a dedicated menu collated by the chef on his website.
Dante Morasco is Now Focusing on Growing His Bakery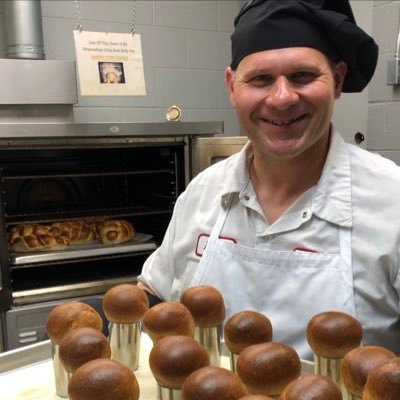 In the hopes of living upto his father's legacy, Dante Morasco entered the competition to display the years of experience he had accrued working with his father in the bakery. Throughout the competition, Dante took risks that elevated his position. However, a misstep in week 3 ended up costing him his spot. Since then, he has continued to make remarkable strides as a baker. Based in Tennessee, Dante and his brother are now continuing the legacy of their late father. The artisanal bakers continue to uphold their passion for cooking. The honorable U.S. Navy Veteran wears many hats and likes to be involved in other walks of life, too.
Naylet LaRochelle is Now Competing in the World Food Championship
A home-baker from Miami, Florida, Naylet had proven that talent can be found anywhere. A professor at Florida International University, Naylet has used her eloquent and articulate abilities to create great milestones. After her performance on the Food Network show, Naylet went on to compete in the 'Great Garlic Cook-Off' in 2017. With a mix of eclectic skills, the television personality even won the competition. She has even adjudicated the Build a Better Contest and competed in the Pillsbury Bake-Off. Most recently, Naylet has registered to compete at the 2023 World Food Championship.
Punky Egan Disseminates Baking Secrets Even Today
As a certified master baker, Punky commanded a unique expertise throughout her time in the season. As one of the numbered few master bakers in the country, she had hoped to set up a scholarship for her students if she ever won the winning prize. Since her time on the show, the television personality has continued to garner acclaim for her delicious goods and even appeared on the news. Punky continues to manage her brand, Punky Bakes, and even provides a Baking Boot Camp for novice cooks. She is set to establish a streak of online classes to help baking enthusiasts learn new skills.
Read More: Where is Holiday Baking Championship Filmed?