With the spirit of the holidays, 'Holiday Baking Championship' chronicles the journey of ten contestants as they strive to win the top spot. The baking series features a myriad of holiday-themed challenges that seek to challenge the baker's creativity and knowledge of flavors. In the hopes of pleasing the judges, the participants try to push their limits at each junction. The reality television series has continued to garner acclaim since its inception in 2014. Years since season 2 came on air, fans have wanted to know the bakers' latest whereabouts.
Maeve Rochford Owns Sugar and Scribe Today
Despite the few issues that came her way, Maeve remained steadfast in her resolve and managed to walk away with the season's top spot. Her reimagination of a sleigh ended up becoming the crowning jewel in season 2. The Irish-German chef has since continued to make great strides. She has continued to highlight her intersectional skills as a pastry chef by producing numerous sweet delicacies. Maeve now manages the operational overload of Sugar and Scribe, a bakery she launched in 2010 in Pacific Beach. Having won awards for her work time and again, Maeve even won the honor of Irish Woman of the Year in 2016 and the California Restaurant Association's 2019 Chef of the Year.
While her work has continued to win her acclaim, Maeve has also embraced personal battles. The Boston University graduate has been diagnosed with membranoproliferative glomerulonephritis (MPGN), an issue that causes inflammation of the capillaries and can affect kidney function. Despite the added danger of prospective renal failure, the Type II disorder hasn't stopped her. Instead, she's used these challenges to further her abilities. On the personal front, she continues to embrace life's new opportunities with her husband, Andrew, and their four dogs.
Adalberto Diaz is Now A Recurrent Television Personality
Only nine, when he learned the art of baking from his grandmother, the Cuban-born chef had to stop his schooling when the government collapsed. At the time, he had even decided to run a bakery, albeit illegally, to give way to his creative prowess. He managed to immigrate to the States at the age of 28 and decided to kickstart his dreams. Now, the Salt Lake City chef has earned recognition far and wide for his work as a baker. From having featured on iHeart to coming close to winning on 'Holiday Baking Championship,' Adalberto has continued to map the road to success. Having won the American Culinary Federation Pastry Chef of the Year, the chef went on to become a semi-finalist in Food Network's 'Best Baker in America.' As the founder of Fillings and Emulsions, Adalberto continues to channel his ambition and creativity into growing his restaurant. He has since won 'Bake You Rich' and managed to sell his renowned Cuban Meat Pies across the country.
Steve Konopelski is Now Renowned for His Sweet Delicacies
From coming out at the top of his class to working with some of the most renowned eateries in New York, Steve managed to extend his abilities and deliver a remarkable performance in the Food Network series. Since his appearance on the show, the chef has continued to make his mark in the industry. His wedding cake has made an appearance in 'Martha Stewart Weddings, Brides, and The Knot.' Along with his husband, Rob, Steve continues to run his Bed & Breakfast and bakery. Once a musical theatre artist, Steve's experience on Broadway has also endowed him with lifelong memories. Now a YouTube creator, he continues to disseminate his knowledge of food to countless on the internet.
Briana Johnson Now Runs Sweet Bri's Bakery
#HappyThanksgiving everyone!! #SweetBrisBakery #BigD pic.twitter.com/dBCbE82LQD

— Briana Johnson (@sweetbrisbakery) November 26, 2015
Briana had been wearing several hats as long as she could remember. From working with co-workers on establishing better conditions as a social worker to baking with passion during her free time, Briana had hoped to display her talent. Her memorable performance on the show has since earned her renown. She is now operating her own bakery in Texas. The television personality takes orders on her website for Sweet Bri's Bakery. From delivering custom cakes to unique desserts, Briana's work has continued to evolve and grow along with her skills.
Haley Miller is Now Running Kentucky Wildflour Cakes
In her early 20s, when she managed to make a mark as an up-and-coming baker, Haley has consistently traversed the path to growth and success. While her position in the top 3 was gone by a margin, she has since continued to enhance her abilities and skills. The pastry chef has since kickstarted Kentucky Wildflour Cakes, a bakery that specializes in custom cakes for weddings, anniversaries, birthdays and special events. Along with her sister, Haley has expanded her bakery into a cafe, too. Having found a propensity for baked goods when she was just six, the television personality has continued to focus on enhancing her abilities.
Joe Settepani is Now Carrying the Torch of his Italian-American Heritage
From seeing the art of bakery evolve in his household to competing in a baking competition, Joseph has continued to highlight the endless possibilities he can achieve as a culinary trailblazer. Based in New Jersey, Joe has since been managing Brunos NYC. Having interned at the French Pastry School, Joe has worked with seasoned chefs like Wybauw, Caillot, Fayard, and Pfeiffer. He has also competed in Food Network's 'Sweet Genius.' Besides handling the reins of one of their three family-owned businesses, the Italian American continues to carry forward the legacy of his parents and bring the taste of sweet delicacies to everyone around.
John Morasco is Now A Fire Captain
In the hopes of overcoming his brother Dante's performance in season 1, John entered the competition to highlight his abilities. While his toothpaste-using antics set him apart, the baker couldn't win the top spot. Since the show, John has continued to expand his late father's baking legacy. While pouring his heart into baked goods keeps John busy, the television personality also wears other hats. John is a Fire Captain in Los Angeles and has been working as a firefighter instructor at Paranoma City. As a member of LAFD, John continues to have remarkable value in the community. On the personal front, John is equally loved by his wife and his two children.
Melody Larsen is a Baker and a Mother
The U.S. Army was founded on 14 June 1775. Happy Birthday @USArmy. pic.twitter.com/dmOXoADa3S

— Melody Larsen (@Melody_larsen) June 14, 2016
From her remarkable performance in the holiday-themed cooking show to numerous appearances on television and news, Melody has continued to further her ambitions as a baker. Along with her husband, Geoff, Melody has expanded the operations of her bakery, Sassy's Cafe and Bakery Owner. For her work in the culinary arts, she has even been featured on news and television. From appearing on the Phoenix News Station to displaying her skills on CBC and Fox, Melody has not strayed from her goals. Even though the television personality remains sporadic on social media, she still shares snippets of her family time and again.
Padua Player is Now
From the ranks of a cooking show to a widely renowned pastry chef, Padua has used his skills to break boundaries more than once. The youngest of seven children, he has repeatedly used his abilities to display his creativity and find remarkable acclaim. From serving President Biden to appearing on television shows like 'Platinum Wedding,' 'Sweet Genius,' and 'Cake Hunters,' Padua's ability to work with flavors and concepts has not diminished. He even won Capital Food Fight's High Stakes Cake Battle. He has been managing his bakery for more than two decades now. As a pastry chef for Susan Gage Caterers and founder of SugaChef Desserts, Padua has continued to map the road to success. He is even a podcast host and conducts various discussions on 'Sweet Talk with SugaChef.' He has been recently featured in the Better Homes and Gardens Magazine.
Where is Susan Steffan Now?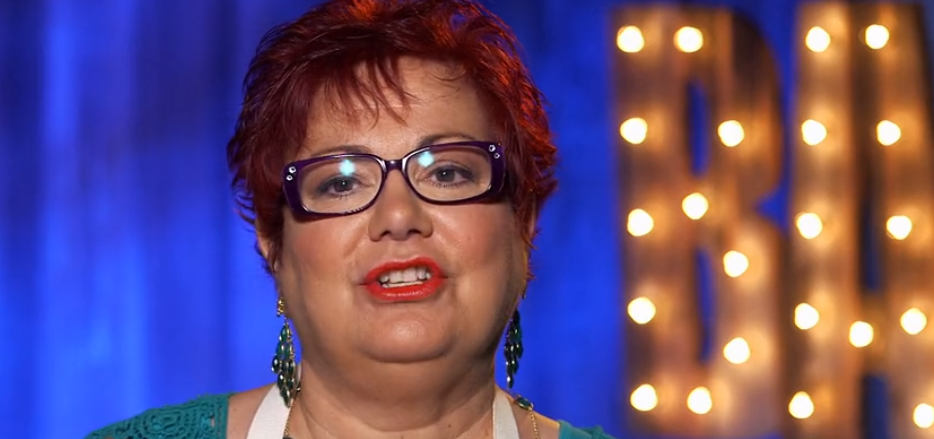 The owner of Farmers Guest House Bed and Breakfast in Galena, Susan had hoped to try her hand at pastry and baking on the Food Network show. While she couldn't win the top spot, the mother and grandmother has been focusing on creating life-long memories with her loved ones.
Read More: Where is Holiday Baking Championship Filmed?