The first season of 'You' unfolds its entire narrative from the perspective of its psychotic killer of a protagonist. While Season 2, for the most part, treads a similar path, it gets even grittier with its involvement of another disturbed character—Love Quinn. After the tragic events of season 1, Joe Goldberg still struggles to differentiate between romance and obsession. He manages to get away with his aggressive stalking and ruthless murders one, but this time, with bigger problems and a lot more at stake, will Joe be able to escape from the demons of his past?
If you've seen the second season, you already know the answer to that. If not, you might want to watch the show before you read any further. With that said, since Victoria Pedretti plays the role of the female protagonist, Love Quinn, in the second season, we've made a small list of all of her hottest scenes from Season 2. Read on!
2. Season 2 Episode 3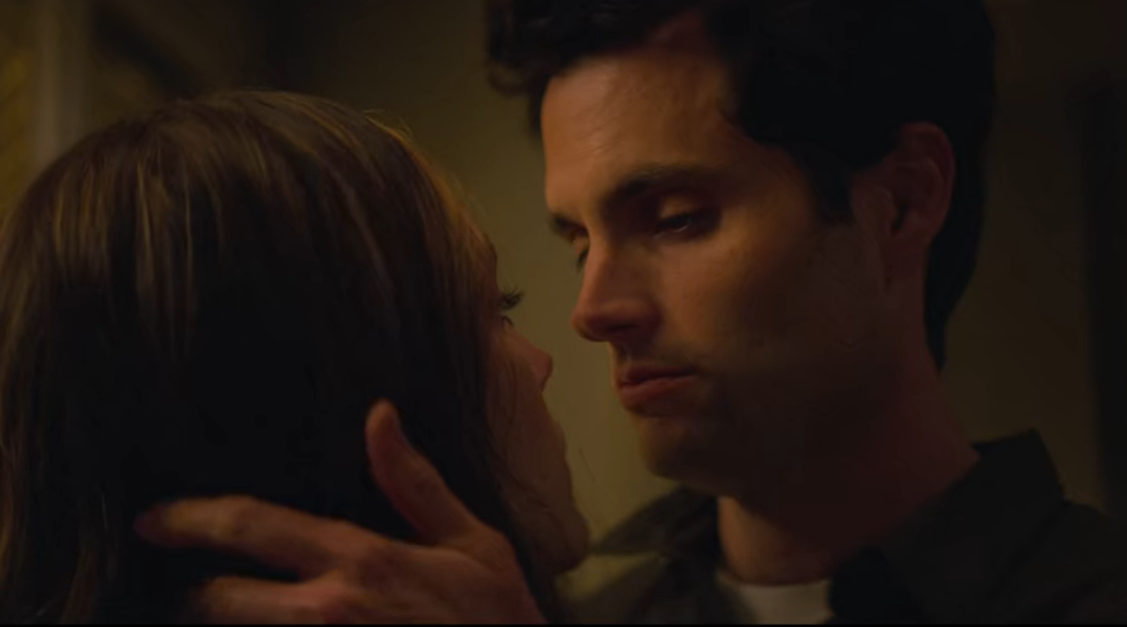 For some reason, as viewers, we are often drawn to characters who are downright immoral and wicked. By the end of season 1, Joe fulfills almost all the romantic tropes that you would expect from a leading male of the cheesiest of shows, and yet, he later shatters all of that by later projecting his real psychopathic tendencies. After being confronted by his ex-girlfriend Candace, who he believed was dead, Joe moves to LA and starts living there with a new identity. And as much as he tries to hold himself back from getting into any trouble again, he falls for another girl and soon starts stalking her as well, making her his next "victim."
Love Quinn—played by Victoria Pedretti ('The Haunting of Hill House', 'Once Upon a Time in Hollywood')—becomes his new obsession and he does everything to be around her. Soon, even Love starts reciprocating to all of this. Realizing how this could again get him into trouble, Joe holds himself back this time and tries to maintain a strictly platonic relationship with Love. In his mind, though, he keeps fantasizing all about her. But every time she tries to get close to him, he takes a step back. In episode 3, the two of them finally give in and Joe even feels convinced that she is unlike every other girl he has been with. That's when they have sex for the first time.
The scene is nowhere close to being as provocative as the ones in season 1 and like almost all the sex scenes of this show, it does not even last too long. When it comes to its significance in context with the overarching plot, though it does not directly influence any events, it marks the beginning of Love's relationship with Joe. And it's this relationship that eventually leads to a lot of trouble.
1. Season 2 Episode 4
Like every other girl from his past relationships, Joe now begins to idealize Love and even learns to live with her annoying twin brother, who really depends a lot on her for everything. Episode 4 starts right off with another sex scene in which Joe and Love start making out as soon as they wake up in the morning. This is when Love's brother, Forty, calls her. What follows is a kinky scene wherein the two make out while Love talks to her brother. He even asks why she's so breathless early in the morning, to which, she simply replies that she's working out on the elliptical. She then hangs up and they have sex all over again.
Considering that 'You' was initially just a Lifetime show, it sure does have quite a lot of sex scenes. Even when it comes to its source material, a large part of the story deals with the sexual components of all the characters. However, if we compare it with other adult shows, there is nothing boundary-pushing or exceptionally controversial about the nudity or sex in 'You'. It, in fact, abstains from showing in form full frontal nudity in any of the scenes.
Read More: You Season 1 Ending, Explained