Netflix's equal parts thrilling and emotional Hindi drama show 'The Railway Men' follows a devastating night that took over an entire city in 1984. Union Carbide's factory, dealing with the lethal MIC chemical, turns the city of Bhopal into a death chamber after incompetent safety measures lead to leakage, spewing poison in the air. As a result, chaos reigns across town, with people dropping dead around every corner. Those who manage to survive a bit longer clamor for a way out. As this tragedy unfolds, Iftekaar Siddiqui, better known as the Bhopal Junction's Stationmaster, takes up the responsibility of keeping his people alive and tries to save numerous lives, risking his own in the process.
Within the show's narrative, Kay Kay Menon embodies the role of Iftekaar Siddiqui, the Stationmaster, with commendable morals and devotion to his duty as a railway worker and human. As one of the lead protagonists in the show, Iftekaar's character and his monolith contribution to saving numerous lives are bound to attract the audience's attention. Therefore, considering the show's basis in real-life events, a natural curiosity arises about Iftekaar Siddiqui and his own connections to reality. SPOILERS AHEAD!
Ghulam Dastagir and Madan Gopal Parashar
Iftekaar Siddiqui is partially inspired by real people involved in the 1984 Bhopal Gas Leak Incident. Even though 'The Railway Men' has rich roots in true events, the show's narrative infuses fact with fiction to deliver a well-rounded tale of a real-life tragedy. As such, characters— such as Stationmaster Iftekaar— remain works of fiction essayed by screenwriter Aayush Gupta.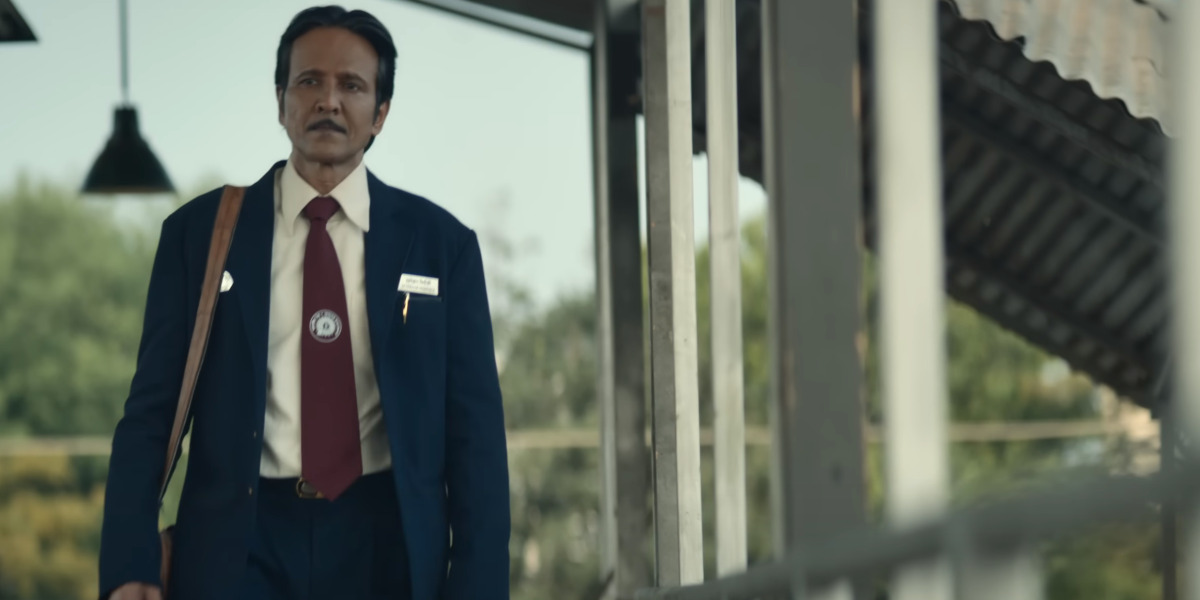 Nevertheless, Iftekaar's character still possesses a connection to reality due to the stark resemblance he shares with real-life railway employees who put their lives on the line in an act of selfless heroism. Ghulam Dastagir, a Deputy Station Superintendent, was one such person. Past midnight, when December 2, 1984, was giving way to December 3, Dastagir was caught up in paperwork at his office in the Bhopal Railway Station.
Eventually, as the Deputy Stationmaster left his office to check up on an incoming train, he realized something grave was afoot as unknown fumes hit his eyes and throat. Unbeknownst to Dastagir, the Union Carbide's leaked MIC chemical, mixed in the air, reached the station, claiming lives in its path. Still, even though the man was half-informed, he quickly took charge of the situation.
The Gorakhpur-Kanpur Express stood on the tracks, flooded with passengers, with 20 minutes to departure. Yet, Dastagir recognized the situation's gravity and rounded his co-workers to prepare for the train's early departure, ready to shoulder full responsibility for the decision. Afterward, the man alerted his seniors to ensure that no other train passed by the station. Furthermore, he sent out distress signals to neighboring stations for medical help.
One of Dastagir's colleagues, Manzoor Ahmed Khan, recalled the terrifying night, sharing how he saw the other man "running from one platform to another, attending and consoling victims." Iftekaar Siddiqui may not be an exact on-screen replica of Ghulam Dastagir, but the similarities between the two stand evident. As such, the possibility remains that Dastagir's untold story of courage inspired the show's creators in the creation of their own Stationmaster's character.
Madan Gopal Parashar, an Assistant Stationmaster, is another real-life individual who shares a point of commonality with Iftekaar Siddiqui. After noticing the aggravated condition of numerous passengers aboard the Kushinagar Express, Parashar rushed for the train to go on. His actions likely saved the lives of hundreds.
Shortly after, Parashar fell out of consciousness and awoke surrounded by dead bodies, with someone having assumed his own self as deceased, too. Thus, the Assistant Stationmaster's story is likely the inspiration for Iftekaar's storyline, specifically his character's emotional climax.
The Origin of Kay Kay Menon's Character
Although the real-life stories certainly served in infusing Iftekaar Siddiqui's character with realism, Kay Kay Menon's moving performance truly helps bring the on-screen Stationmaster to life. While discussing the casting choice with Republic, Director Shiv Rawail said, "Everyone's a fan of Kay Kay Menon, and when we were casting for our rule-following stationmaster with a past that haunts him, he was the obvious choice. He truly gave it his all."
In his extensive career, Menon previously partook in a depiction of the Bhopal Incident in his 1999 film, 'Bhopal Express.' As a result, the man was already familiar with the event's massive tragedy. "What drew me was this new aspect of some brave people and especially the railways," said the actor in an interview.
"The railways have been an integral part of every Indian's life, and seldom do we realize the kind of focus they put on safety apart from making us reach our destinations on time. Each one has to be vigilant all the time. We take this organization for granted, and in this show, it is the railways in the fore. Those men managed to go beyond what they were supposed to do, and the courage and valor they showed was extraordinary."
Therefore, awed and inspired by his character, Menon was able to embody Iftekaar with moving authenticity. Ultimately, although fictional, Stationmaster Iftekaar Siddiqui undoubtedly draws from real-life personalities, cementing his ties to reality.
Read More: Where Was The Railway Men Filmed?