In the second episode of 'In/Spectre' season 2 Muroi Masayuki, an ordinary young adult is pushed from a mountain by his long-time friend because of jealousy. Although he gives up on his life and accepts his death because of his serious injuries, Muroi ends up meeting a Yuki-Onna who rescues him. However, she makes him promise that he will never reveal how he survived to anyone as long as he is alive. But many years later while he was casually walking in the market, Muroi's eyes fall on a woman and he immediately realizes that she is none other than the Yoki-Onna he had met in the mountains. Here's everything you need to know about the ending of 'In/Spectre' season 2 episode 2. SPOILERS AHEAD!
In/Spectre Season 2 Episode 2 Recap
A young adult named Muroi Masayuki is climbing a snow-covered mountain with his friend, Hayato. Because of the harsh weather, there is no one around them. Although everything seems to be perfect, Muroi gets the shock of his life when Hayato pushes him down the cliff expecting him to die. Despite surviving the initial fall, Muroi gives up his hopes of survival because of his countless injuries and the impossible task of climbing up to the spot from where he fell in his poor condition.
Suddenly a Yuki-Onna appears right in front of him. Although there are rumors that their kind often kill human beings, she argues that there are also reported cases of cooperation that are often neglected. In order to ensure that he is safe, she builds him a nice spherical ice room where Muroi spends that night. The following day she carries him back to the hotel where he and Hayato had been staying before trying to climb the mountain. On their way, Yuki-Onna makes Muroi promise that he will never tell anyone how he survived the accident.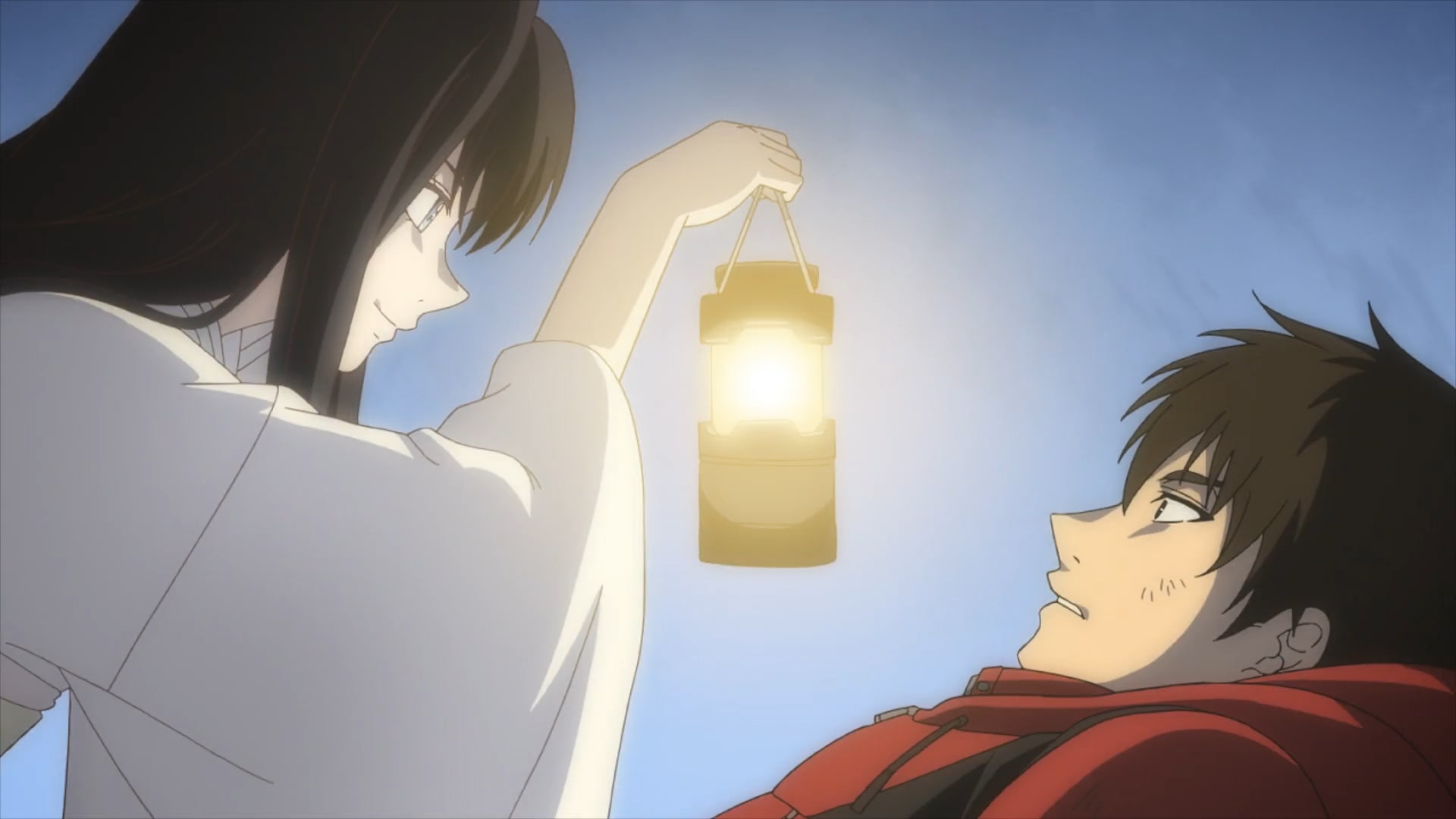 When Muroi finally manages to get back, he finds Hayato telling everyone a made up story about him and the accident. He immediately clarifies that he did not fall from the cliff by accident but was intead pushed off by Hayato himself. Muroi is taken to the hospital after he has thoroughly explained how the crime had happened. He is later informed that Hayato tried to kill him because a girl he liked was in love with him. Hayato felt that after Muroi dies, he can become her emotional support and form a bond with her.Since Hayato's family is quite wealthy, they offer Muroi a monetary compensation for his troubles.
Muroi does not wish to see his old friend ever again, so he lets his lawyer handle everything including a trial. Many years later while through the market, Muroi meets Yuki-Onna once again. They immediately hit it off just like on the previous occassion and get to learn more about it each other. It turns out that Muroi got a divorce just last year and he lost his company as well after his friend betrayed him. But luckily he has more than enough money to lead a comfortable life for the next few decades. Interestingly, Yuki-Onna accompanies him to his apartment where he cooks for her, which eventually become a regular ritual for the duo.
In/Spectre Season 2 Episode 2 Ending: Who is Harada Miharu And How is She Related to Muroi? What Happens to Her?
One ordinary day as Yuki-Onna is hanging out with Muroi at his apartment, someone knocks on the front door. When he goes to check, Muroi is greeted by police officers who give him a piece of haunting news. It turns out that Harada Miharu, his ex-wife whom he had divorced the previous year has been killed. Her body was found just recently and it is evident from her injuries that she was beaten to death.
Interestingly, the police consider Muroi as the prime suspect in the case because of the tumultuous relationship that the duo had shared. Since the police question him for a while, the food gets burned in the meantime and Yuki-Onna worries that by the time he will be back in the kitchen, it will be too late. So she tries to check what he has been up to so far and is shocked to find two officers sitting with their backs to her while Muroi gives her a shocked look. She immediately turns into a rabbit to protect her identity.
Meanwhile, Kotoko learns about the murder as well and tells Kurou about it. Although the police consider him a prime suspect, Muroi interestingly has an alibi. Unfortunately for him, only Yuki-Onna can back up her alibi, which means that both of them are helpless and can't really mention it to the law enforcement authorities. This is why Yuki-Onna has asked for Kotoko's help as she is the only one that could potentially save Muroi at this point.
Read More: In/Spectre Season 2 Episode 1 Recap and Ending, Explained