In 'Kimi wa Houkago Insomnia' or 'Insomniacs After School' episode 2 titled 'Cat's Star,' Ganta ignores Isaki in the class and later informs her that he does not want her to tell others about their friendship. It is an understandable request considering the fact that the two of them have never been with each other. Ganta wants to ensure that no one is suspicious of them as it may lead to others finding out about their insomnia. Meanwhile, they also start working on renovating the Astronomy room to make it more accessible to their needs. However, they do no realize that someone will find out about their secret very soon. Here's everything you need to know about the ending of 'Kimi wa Houkago Insomnia' or 'Insomniacs After School' episode 2. SPOILERS AHEAD!
Insomniacs After School Episode 2 Recap
As Nakami arrives in his classroom, his eyes immediately fall on Isaki who is running towards him. Although the two of them look at each other, he simply ignores her and walks to his seat which perplexes Magari. But then she receives messages from Ganta who reveals that he wants to keep their friendship a secret from anyone. He opines that it is critical in their hopes to keep their insomnia a secret. Magari agrees with him and the duo continues to live as strangers in front of others.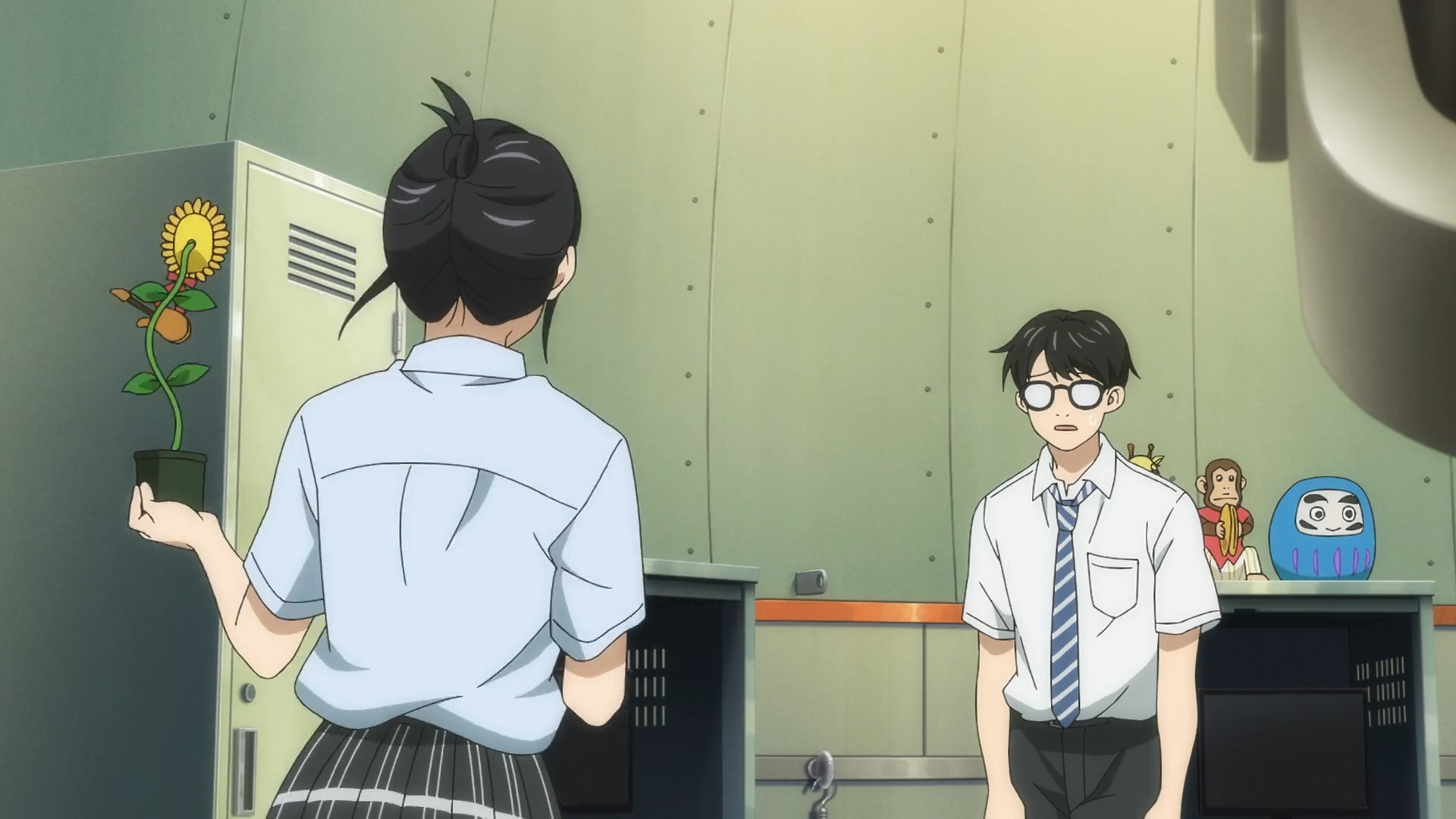 Ganta and Isaki then discuss the plan to renovate the Astronomy club so that they can make it more comfortable for their use. They eventually find a sofa that can be used to sleep on. The duo then sneaks into their hideout but are alarmed when they hear someone approaching the room. Luckily, they later find out that it was just the stray cat that roams around the school. However, it does not take long to get their worst fears realized as Ganta is found near the Astronomy club room repairing the doorknob one ordinary day by Miss Kurashiki.
Insomniacs After School Episode 2 Ending: What Happens When Miss Kurashiki Finds Out About Isaki and Ganta's Secret Hideout? Who Joins the Astronomy Club And Why?
After Miss Kurashiki finds Ganta repairing the Astronomy room door, she barges in to check what he is up to. When she notices that the room has been transformed, Ganta is quick to take the blame and lies that he did everything on his own. Unfortunately for him, Isaki arrives there soon afterward and the duo gets caught red-handed. Miss Kurashiki asks the two friends if they have been having sex there and when the duo is quick to reject the assumption, she asks them to explain themselves.
Ganta and Isaki admit that they suffer from insomnia and the Astronomy room gives them a safe space to get some rest after their long sleepless nights. They ask for her permission to let them continue using the room as no one really comes there. But as a teacher, Miss Kurashiki's hands are tied as she admits that she has no option but to inform the school authority about it. She then reveals that the teachers have already been discussing the Astronomy club and the fear that the high-precision telescope that is installed there can slowly break down.
Nakami suggests that he and Isaki can join the Astronomy club, as it will give them access to the room. Miss Kurashiki is unsure and tells them that she will have to discuss the same with the higher-ups before making the final call. The following day, Magari and Nakami are called to the staff room where Mr. Hakui, Miss Kurashiki, and the Vice Principal are waiting for them. Mr. Hakui reveals that they have learned everything from Miss Kurashiki and are glad to let them join the Astronomy Club.
It turns out that the school was facing an embarrassing situation as they had no one in the club even though they are classified as the Super Science School by the government. Isaki and Ganta solved this problem and the teachers were quite happy because of that. Later that day, Nakami started working on the telescope so that they make observations and keep a record. He spends some quality time with Isaki and the bond between them appears to get stronger.
Read More: Insomniacs After School Episode 1 Recap and Ending, Explained