When I look back at the time I first started watching 'Inuyasha', I get mixed feelings now. Those were the days when the world of anime was first introduced to cable TV through Animax. One long-running anime, except for the mainstream ones like 'Naruto' and 'Bleach', was on everyone's watch list because it brought forth a new realm of Japanese culture, and that was 'Inuyasha'. Anyone who started watching anime about 10 years ago, just like me, will have some really fond memories linked to this series. It took a lot of dedication back then to stick with it for over four years because online streaming and bingeing was not really an option. But like I said, now when I look back at the anime, keeping aside the pleasant memories, it makes me realize that I've come a long way from it. It did introduce me to the world of Japanese cartoons but it wouldn't be fair to say that it's one of the best anime I've ever seen.
My love-hate relationship with 'Inuyasha' is shared by pretty much everyone who has watched it, because of elements like the insanely long runtime, the reuse of old scenes for action sequences and also the characters walking around in the same darn clothes after 4 long years. Kagome, who is one of the protagonists, wears nothing but a Junior High school uniform until the very end. Her lack of a wardrobe is understandable in a normal situation but she's battling demons out there wearing the same thing every single time; this makes no sense at all. But then there has to be a reason why 'Inuyasha' has reached the kind of popularity most anime won't reach in an entire lifetime. And the reason clearly lies in the characters, subplots and arcs, all of which together make up for all the ridiculous flaws that it has.
Speaking of the characters, the show has some great character development which, in the end, proves to be the only foundation of the show. You almost get to see how the main characters, especially Inuyasha, transform into responsible adults. Inuyasha, though 50 years old, initially comes off as very immature and even rude for his age. But you see him grow into a man as he works his way up from being an underdog (no pun intended) to a more successful person. The characters may act all shallow at times, but nonetheless, their romance is beyond entertaining and certainly makes every bit of the anime worth it, especially the sequel: 'Inuyasha: The Final Act.'
It's nearly impossible to cover every single aspect of this anime that has close to 200 episodes. I've written so much about it already but still haven't even scratched the surface of it yet. But let's leave that here because if you haven't watched it yet, then this intro should be enough to at least get you started. People like me, who have seen it, in spite of having the love-hate relationship I mentioned earlier, wouldn't mind watching another season. We might have some good news regarding that further up in this article.
InuYasha Season 3 Release Date: When will it premiere?
'Inuyasha' season 1 premiered on October 16, 2000 and ended its run on September 13, 2004. This was followed by 'Inuyasha: The Final Act' that came out on October 4, 2009, and ended its run on March 30, 2010. Back then, this was marked as the end of the anime and it proved to be a really good ending. But die-hard fans of the anime, even today, want more of it.
The good news for all Inuyasha fans is that the anime has now been renewed for a whole new season. The sequel of 'Inuyasha,' titled 'Yashahime: Princess Half-Demon', is scheduled to release sometime in Fall 2020 in Japan.
Official artwork for Yashahime: Princess Half-Demon pic.twitter.com/d0epfqq7xV

— TheOASG (@TheOASG) May 9, 2020
InuYasha English Dub:
The English Dubbed versions of both 'Inuyasha' and 'Inuyasha: The Final Act' can be found on Viz Media, Netflix, and Amazon Prime.
InuYasha Plot:
'Inuyasha' is an adaptation of an award-winning manga that goes by the same name. It centers around a 15-year-old girl named Kagome Higurashi who lives the life of an ordinary high school teenage girl, until one day, she falls inside the dark cursed well of her family's Shinto Shrine. But instead of hitting the bottom and dying, she gets transported to a completely different realm where she magically finds herself to be 500 years in the past. She encounters a demon named Naruko, who is looking for a Shikon jewel that has been reborn inside her.
Knowing that the demon is looking for something she owns, she seeks help from a dog-human/devil creature named Inuyasha. An incident causes the Jewel to shatter into many different places. Inuyasha and Kagome together try to look for these shattered pieces of the Jewel before they end up in the demon's hands. The two of them are soon joined by three more characters along the way, namely Shippo, Miroku, and Shango, all of whom come from very diverse backgrounds. But in the end, they must leave all of their differences behind in order to find the wish-granting jewel in the dangerous lands of feudal Japan.
This is where 'Inuyasha: The Final Act' picks up and the five of them still seem to be searching for shards of the jewel before they end up in the hands of the corrupt demon. But Naruko is now more determined than ever and will destroy anything that comes in his way. Meanwhile, Inuyasha and Kagome get closer to each other, leaving Inuyasha at a crossroad between choosing his ex-lover Kikyo and Kagome. Inuyasha must also amend his past feuds with his brother Sesshoumaru because, in the end, it's only the two of them who can bring an end to the evils of the demon Naruko.
As the name suggests, 'Inuyasha: The Final Act' ends on a fairly conclusive note. The main reason why this conclusive season was released years after the initial run of the anime is because it had ended quite abruptly. The sudden ending was rather disappointing for most anime lovers. The creators expected the fans to refer to the manga for a "real ending". But being the highly popular anime it is, fans kept demanding for a fair, conclusive ending and the creators had to finally give in. Unlike the slow run of the show's initial 4 years, 'The Final Act' rushes through the remaining 21 volumes of the manga in just 26 episodes but nevertheless, the anime gets an ending it deserves.
InuYasha Characters:
Kagome Higurashi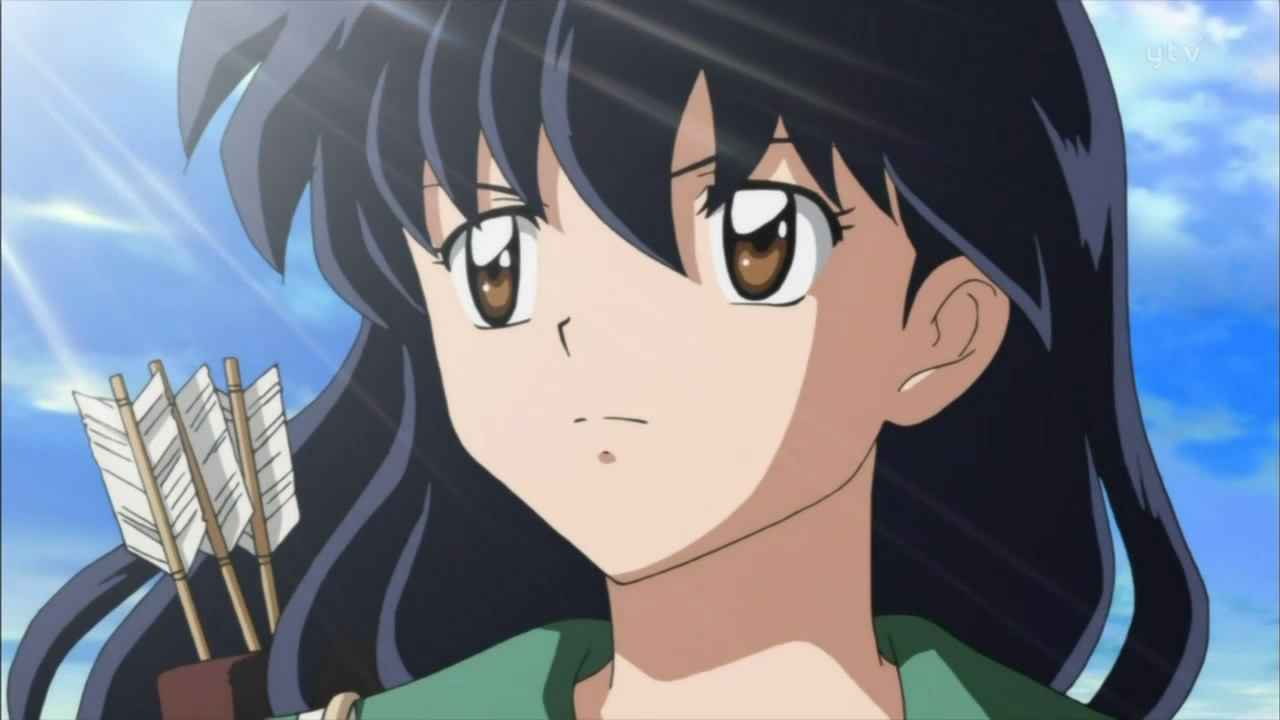 Kagome is the female protagonist of the show. She is very sweet by nature and this allows her to make new friends very easily. It is because of her that even Inuyasha, who initially comes off as a little anti-social, is also able to make many new friends along the way. But if provoked beyond a certain limit, Kagome can also be very dangerous and can cause some serious harm to the ones who try to hurt her loved ones. Kagome is a bold character who is very expressive about her thoughts and feelings but often her innocent face suggests that she is suppressing some of her feelings just to protect the ones around her.
Inuyasha wears a necklace around his neck that only responds to Kagome's orders. When she says sit, the necklace makes him sit down. It was initially designed to control Inuyasha during his uncontrollably dangerous state but Kagome rarely uses it to bring him in control. Even when she does, it's more or less for the sake of comedy and not more than that.
Inuyasha
Inuyasha, as the name makes it obvious, is the male protagonist of the anime and is probably one of the most bizarre characters you will ever come across. He is a half dog-half human demon who can wield the Tessaiga sword when he wants to. This is one big reason why he and his brother earlier decided to split ways because he can wield the sword and his brother cannot. Inuyasha has super healing abilities and can recover from even the most fatal wounds faster than any normal humans. He was previously with a maiden named Kikyo, who had sacrificed her life for him but was later reincarnated. His new feelings for Kagome really begin to complicate things for him and he finds it extremely hard to choose between the two women.
Read More in Anime Preview: Naruto Season 6 | Assassination Classroom Season 3