Tyler Perry's Netflix debut, 'A Fall from Grace' brings his penchant for drama to a legal thriller that centres around a law-abiding woman who suffers a gross miscarriage of justice. The film marks the continuation of Perry's longest running trope – that of the tragic black lady, making the film both a compelling thriller and touching story about freedom and the restoration of justice.
As is typical of Perry's stories, he builds his narratives around three women of colour, each one of whom shows great strength, for better and for worse. The film boasts of dynamic performances by its stellar cast which includes Crystal Fox, Phylicia Rashad, Bresha Webb, Mehcad Brooks, and Perry himself.
'A Fall from Grace' follows the tragic story of a lonely, kind-hearted, aging woman who is accused of murdering her husband who only married her to defraud her of all her life savings. A determined but inexperienced female lawyer decides to prove the woman's innocence when she learns the truth and realizes that the body is missing. Along the way, the film tackles pertinent issues that are common in today's day and age, as it addresses loneliness and aging, and of course, the people who prey on them because of this.
Is 'A Fall from Grace' a True Story?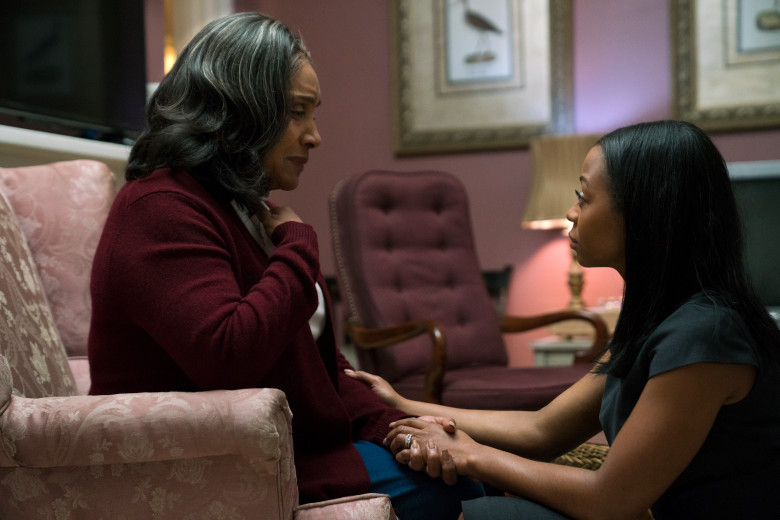 The way the narrative of 'A Fall from Grace' is built and the tragedies it focuses on, it wouldn't be hard to believe if the events in the film actually took place in real life. All of us have heard of similar incidents where innocent, vulnerable individuals become victims to horrendous scams that ruin their lives forever. But to answer the question simply, Perry's 'A Fall From Grace' is not based on a true story. There is no Grace Waters in real life.
But instead, there are several individuals like Grace Waters that were exploited by several conniving scammers that defraud them. There have also been cases where vulnerable individuals were kidnapped for their social security as is revealed in the feature. So, even though the film isn't based on a true story, it addresses the cruel reality of our times.
Basement of Horrors
Towards the end of 'A Fall from Grace', Jasmine learns about the several women that are kept chained and trapped in unfit and desolate conditions. The mother-son duo responsible for the operation hold these women hostage after completely defrauding them of all their life savings. In her own words, Sarah serves as their "caretaker", keeping them alive inhuman conditions so that they exploit their social security, earning millions from their cruel ways.
Unfortunately, this is not far from the reality of the times. We don't even have to go far back into history for this. In 2011, in Philadelphia, four mentally disabled adults were found malnourished, chained to a water heater, and locked in a 15-15 foot closet in the basement of an apartment complex. Just like Sarah Miller, the "caretakers" of the four adults were responsible for kidnapping and assaulting them.
The main culprit behind this was Linda Weston who got a sentence for 80 years, after pleading guilty to 196 criminal counts, which included kidnapping, racketeering, sex trafficking, fraud, and murder. She used to particularly target people who were estranged from family, elderly and mentally disabled. According to U.S. attorney Zane Memeger, Weston used "cunning, trickery, force and coercion" to get mentally disabled people to designate her as their caretaker. She then illegally collected about $212,000 in Social Security payments over 10 years. She also forced her female victims into prostitution to make more money from them.
Of course, there is no way to know if Tyler Perry was inspired by this particular case. It is also one of the many horrifying incidents that are a part of our reality. I wouldn't even delve into men conning aging women for their money as the stories are endless. But we can certainly assume that all these stories that are rooted in the reality of our times served as inspiration for Perry's 'A Fall from Grace'.
We also understand from the incident above that Grace makes for an ideal victim. She is divorced and living away from family. She is also aging and terribly lonely, making her all the more vulnerable and gullible. Sarah only preys on her after she is completely alone in her life – which happens after her son's marriage. Of course, Grace works at a bank, which makes her all the more beneficial for scammers like Sarah and Shannon.
Read More: A Fall From Grace Ending, Explained