'Champions' is a sports comedy movie that revolves around a short-tempered minor-league basketball coach Marcus. His gimmicks land him in legal trouble, and to repent for his actions, he opts to train a team with intellectual disabilities. What starts as a means to fulfill community service requirements spirals into something beyond his imagination. Marcus realizes his belief in the team and some hard work can pave the way for them to become limitless.
The film is the solo directorial debut of Bobby Farrelly, who beautifully encompasses the dynamics between the coach and his students. If you were moved to tears by how glorious this cinematic treat is and the relatable narrative makes you wish to dig in for any nuggets of truth from real life, we've got you covered!
Is Champions a True Story?
Yes, Champions is indeed based on a true story. The movie is an English-language remake of a 2018 Spanish film, 'Campeones' which translates to "champions," and its screenplay is written by Mark Rizzo. The original version was helmed by Javier Fesser and the Aderes team in Burjassot, who played basketball, won 12 Spanish championships between 1999 and 2014, and served as an inspiration for the plot. The chronicles of this determined team of intellectually disabled people were first adapted into a screenplay by David Marqués and Javier Fesser.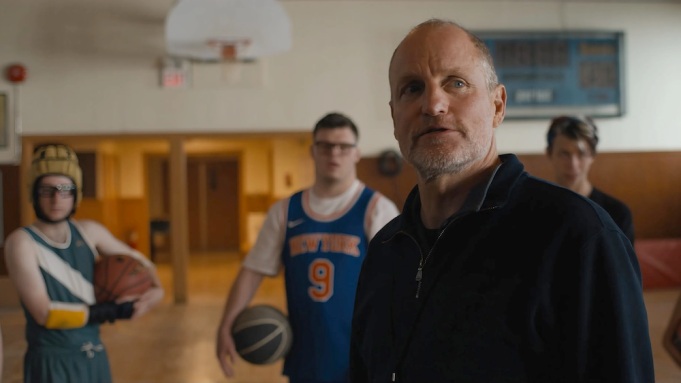 As per reports, the real team was formed in 1998, and Paco Sánchez, who participated in these matches, spoke about how the actual players could relate to the characters in the film. The Sports, Rehabilitation and Social Association (Aderes) of Burjassot conquered 12 (almost consecutive) championships at the FEDDI, i.e., the Spanish federation of sports for people with intellectual disabilities.
The real-life coach shared his experience of watching the movie. He said, "The movie is very good; it moved me. You see many moments that touch you a lot, there are phrases that have been said to you, and you see that they feel it. There are many anecdotes that have lived them. They see it very real that they are."
In an interview, Javier Fesser revealed how he fell in love with screenplay and felt like he was the right person to depict this touching story. He also spoke about the casting process and rewriting the script to fit the personas. He explained, "Usually, in casting, you are looking for the perfect actors to play the roles that you already wrote. In this case, it was the opposite. After casting, the original author and I rewrote the entire screenplay using the personalities of the people, their experiences, and their real lives. I was forgetting my imagination and taking everything from them."
Kaitlin Olson, who essays Alex, expressed her joy in being a part of the movie with such an amazing story in another interview. She commented, "We had so much fun making this movie. It is a true underdog story. It makes you feel good. We worked with some incredible actors, some of them were first-time actors. We're just so incredibly proud of this movie. It makes you feel good, and it makes you laugh. So please enjoy.
The movie is uplifted by the twist in its climax, which portrays what it truly means to be a "champion." The film strikes a perfect balance between being hilarious and sensitive to the struggles of intellectually challenged people. Moreover, the characters are showcased in a realistic light, and their battles are in no way undermined.
The film is quite relatable for everyone because it allows us to embrace the fact that we're all traversing life for the first time. It also highlights the theme of redemption through Marcus, who is initially not well-receiving of his new students but slowly comes to his senses. This signifies that change is possible, and one's past beliefs cannot be held against someone to taint the person they are today.
The original film might also spawn sequels in India and Saudi Arabia after becoming one of the most critically acclaimed and highest-grossing movies in Spain. The beauty of the storyline is that it can be molded to fit into the context of all countries and enlighten the viewers about a less-discussed topic.
In conclusion, 'Champions' is based on a true story and adds a layer of fictional elements to get its message across. The riveting plot junctures, the performances, the epic background score, and the display of true sportsmanship stir up all kinds of emotions in the viewers' hearts.
Read More: Where Was Champions (2023) Filmed?