Netflix's comedy-drama series, 'Glamorous,' follows the story of Marco Meija, a young man who loves makeup. He works at a store selling makeup and makes videos for his YouTube channel. He dreams of something bigger in his life, but he seems stuck in a rut until he crosses paths with Madolyn Addison. Madolyn is a former model and the creator of a makeup brand called Glamorous and is looking for someone who can help her get back in touch with what her customers want. Marco's life changes when Madolyn hires him as her second assistant.
Created by Jordon Nardino, the show follows Marco's story as he figures out what he wants, who he wants to be, and what his sexuality and makeup mean to him. Marco's journey resonates on several levels, especially regarding the struggles of someone in their early 20s exploring their dreams and desires. If you are wondering whether the show is based on a true story, then here's what you should know. SPOILERS AHEAD
Is Glamorous a True Story?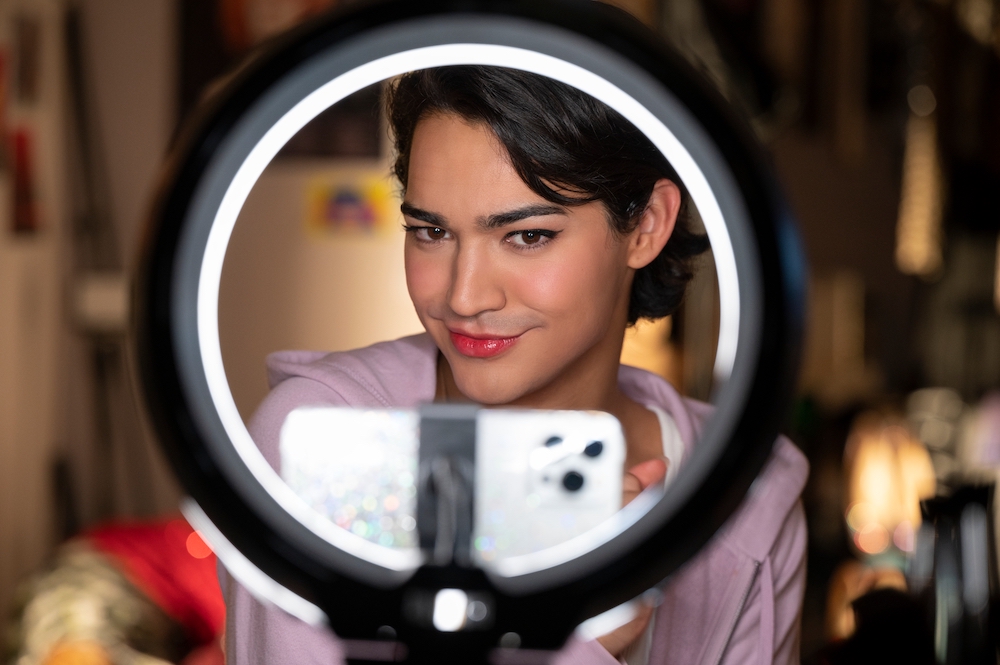 No, 'Glamorous' is not based on a true story. The idea for the show was proposed by Jordon Nardino a few years back. In early 2019, it was developed by The CW, with Miss Benny starring in the lead role as Marco. Back then, it was "a coming-of-age show involving a makeup influencer." The pilot episode was shot, but the network didn't order it to series. Over the years, the show's creators looked towards other mediums to get Marco's story to the audience. Eventually, Netflix saw the potential in it. Miss Benny, who described Marco as their "dream role," is the original cast member who carried on to the new version of the story. "I feel like I've grown up with this show and character," they said.
Miss Benny added, "And it's funny that it's just now coming out because I feel like I've been doing it for years," they said. For them, Marco's story is somewhat familiar. They called it "the amalgamation of everything I've worked towards." Several aspects of Marco's life are similar to Benny's. Both are gender-nonconforming people who share a love for makeup, which they talked about on their YouTube channels. Over the years, Benny moved on from makeup videos, created music videos, and then segued into acting. Marco's story felt all too familiar to them. "I've worked in comedy, I've worked in social media, and I've worked in makeup," they said.
Marco added, "And so, right now, getting to do all those things at this scale is mind-blowing. It feels major." Since the first pilot didn't receive a good response, the show went through a makeover. Initially, it was supposed to follow a teenage Marco, fresh out of school, who gets to live the dream when he lands an internship with Madolyn Addison's company. It was a different story and has "changed a good amount" since getting a rework before landing on Netflix. In the current version, Marco, who is in his 20s, goes through a series of challenges and heartbreaks in his personal and professional life and tries to stay true to himself no matter what.
While the story might have undergone some changes, its heart and soul remain the same. Miss Benny described it as a story about "a queer young person's first experiences with career success and failure, [as well as] heartbreak and falling in love." "We kind of see him get into trouble, which personally I love," the actor added. The show also leans more towards exploring other characters and their relationships, giving them the space to evolve, like Marco, and presenting different sides of love and heartbreak to the audience.
"What's so great is that the majority of our characters are queer, and different types of queer. Normally, when there's a queer character on a show, [the writers] put all of the stereotypes and jokes that they can into that one character," Miss Benny said, adding that it leads to the loss of "individualism and nuance" in the characters who don't "really get to breathe." Considering all this, it is clear that the creators of 'Glamorous' have tried to keep it rooted in reality and close to real-life experiences that the audience can relate to, even if the show is fictional.
Read More: Where is Netflix's Glamorous Filmed?