From flamboyant styles to endless partying, 'The Girls Next Door' focuses on the lives of Hugh Hefner and his girlfriends at the infamous Playboy Mansion in Los Angeles. The reality television show does not just look at the drama between Hugh Hefner and his girlfriends but also follows the events and parties related to Playboy. Since its premiere in 2005, the E! Reality show has accrued a wide viewership.
Kendra Wilkinson is one of the stars who has fascinated fans the most in the show's five-year run. While her professional feat and appearance on the reality show are well-known, many are curious to learn more about the details of her personal life. Luckily, we've got all the information right here!
Kendra Wilkinson's Ex-Husband
Despite the parties and glam that came with Hugh Hefner's Playboy Mansion, it was Kendra Wilkinson's meeting with Hank Baskett that changed everything. The reality star first met the former NFL player during the annual Playboy golf tournament. Smitten with each other, both Kendra and Hank did not take long to make things official. As the two got to know each other better, they realized that they wouldn't want to spend their lives with anyone else. In 2009, after just six months of dating, Kendra Wilkinson and Hank Baskett announced their plans to get married.
The couple tied the knot in June 2009. While their relationship's foundation seemed unshakeable, a number of events ensued that threatened their marriage. Major drama erupted when Kendra's sex tape was released in 2010. Only 18 in the video, Kendra and her family had to bear the brunt of rumors and backlash because of the tape. However, the couple managed to weather the storm, and Hank continued to lend his support to his wife.
For a few years, Kendra and Hank managed to make their relationship work even in the light of the long distance and struggles of new parenting. However, things changed in 2014 when Hank allegedly cheated on a pregnant Kendra with transgender model Ava Sabrina London. At eight months pregnant, Kendra was beyond angry and even ended up throwing her wedding ring in the toilet. In July 2015, the duo appeared on 'Marriage Boot Camp,' and Hank opened up about the allegations against him.
The former football player stated that he had headed somewhere to buy weed to alleviate stress, only to meet with something he'd never imagined. In an interview with People, Hank explained that he froze upon being approached by a transgender woman. The entertainment star compared his situation to a bank robbery and alleged he was fondled and exploited.
After the media onslaught and drama that ensued behind closed doors, Kendra and Hank managed to work out their differences and reconcile. Despite the mutual work that the parties put in, the incident set the precursor for their marriage, and both Hank and Kendra felt extensively unhappy in the relationship. In March 2018, Kendra finally filed for divorce, seeing that their differences had become irreconcilable.
While their divorce settlement was finished by October 2018, the couple did not part on sour terms. With a marriage of almost a decade, Kendra and Hank remained courteous throughout the divorce proceedings and believed that they would always wish each other the best. Moreover, with their children involved in the picture, both Kendra and Hank decided to do what was best for their children's interests and now share their joint custody.
Kendra Wilkinson's Children
Just weeks before Hank and Kendra tied the knot at the Playboy Mansion, the couple announced that they were pregnant with their first child. The duo welcomed their son Hank IV on December 11, 2009. Now a teenager, Hank IV, is taking after his father and excels at a number of sports. The entertainment star regularly gushes about her eldest's athletic prowess on her social media. Not just this, she also posts snippets on days she's a Soccer Mom or whenever Hank IV accrues another medal in hockey, soccer, or basketball.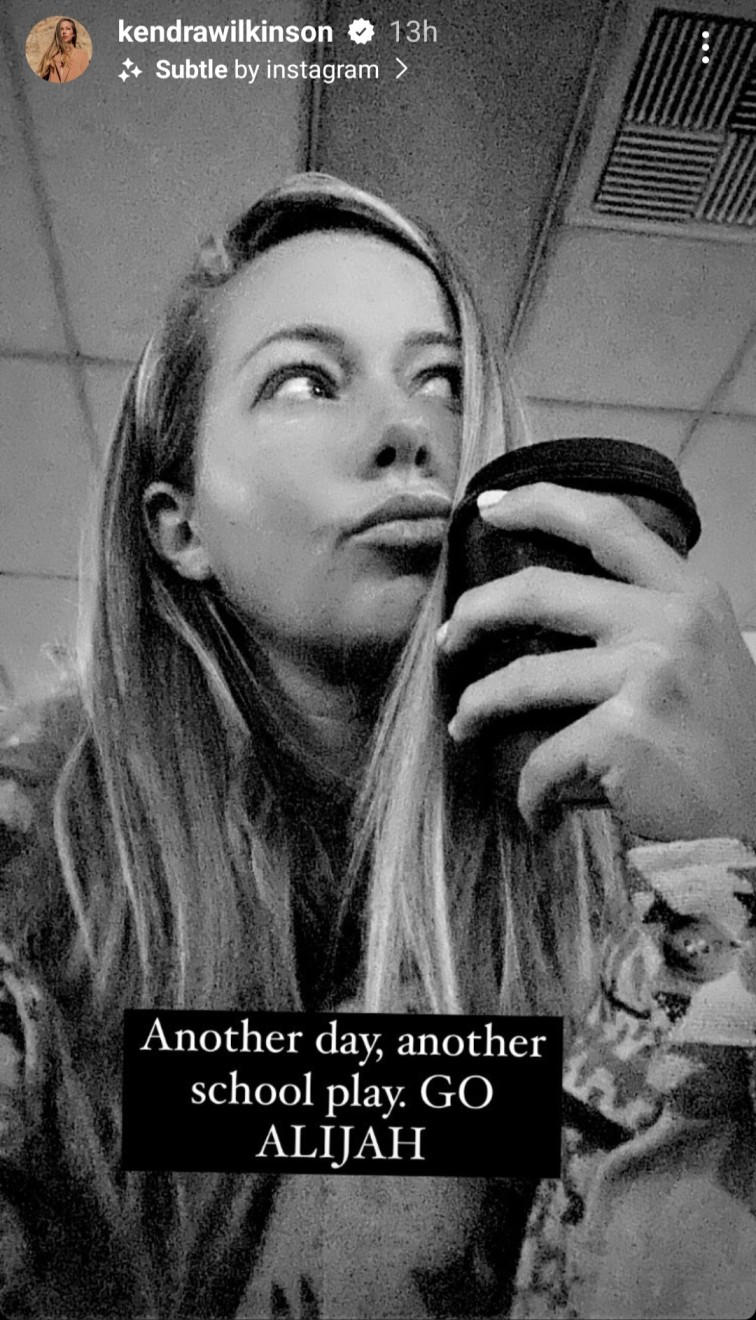 Kendra's youngest is Alijah, who was born amidst the clash in May 2014. Unlike her elder brother, Kendra describes Alijah as a creative soul who expresses herself best through singing and performing. Despite the tribulations that have affected Kendra over the years, the reality star continues to make a number of changes for her children.
Is Kendra Wilkinson Dating Anyone?
No, Kendra Wilkinson is not dating anyone. After parting from Hank, Kendra has kept her personal life under wraps and does not make her relationships public. Moreover, the absence of a partner on social media leads us to conclude that Kendra Wilkinson is single at the moment, and her top priority is her children.
Aside from focusing on her children, Kendra has also established her own brand as a realtor. From picking up real estate from scratch to working twice as hard to provide for her children, Kendra continues to create new strides in her professional career as well. Now the subject of 'Kendra Sells Hollywood' on HGTV, Kendra Wilkinson continues to achieve new heights personally and professionally.
Read More: Are Apollo Nida and Sherien Almufti From Couples Retreat Still Together?