Portrayed by Alex Wyndham as adult, Kevyn Tan is an important supporting character in Showtime's 'Yellowjackets.' Two different actors depict Kevyn as a teen — Charlie Wright in the pilot and Sean Martin Savoy in season 1 episode 4. Kevyn is depicted as a goth teen, who likes Nirvana, but has started to think they have become too mainstream. In 1996, he attends the same school as the Yellowjackets and is Nat's (Juliette Lewis as adult; Sophie Thatcher as teen) closest friend. One day, while the two are spending time, Nat's father discovers them and tries to attack him. Kevyn manages to escape, and Nat's father later accidentally kills himself after threatening Nat and her mother.
In the present day, Kevyn is a police detective tasked to investigate the murder of Adam Martin. He is divorced and has a son with his former wife. He and Nat briefly date, but their relationship falls apart when it becomes apparent that she used him. In season 2, Kevyn gets a new partner — Matt Saracusa (John Reynolds), who goes undercover and tricks Callie Sadecki into revealing sensitive information about her parents. Kevyn and Saracusa more or less figure out what really happened to Adam Martin and close in on Shauna (Melanie Lynskey as adult; Sophie Nélisse as teen) and Jeff (Warren Kole). If the events of the season 2 finale have made you wonder whether Kevyn is dead and Wyndham left 'Yellowjackets,' we got you covered. SPOILERS AHEAD.
Is Kevyn Tan Dead?
Yes, Kevyn Tan is dead in the second season of 'Yellowjackets.' In the season finale, Kevyn and Saracusa arrive at Camp Green Pine while following Jeff and Callie. While the latter two drive off to find another entry point into the facility, Kevyn and Saracusa enter through the main gate. Kevyn later finds Walter (Elijah Wood) as the latter prepares hot cocoa. Upon learning that Kevyn is a detective, Walter expresses child-like enthusiasm, which seems to put Kevyn at ease, and he accepts a cup of cocoa for himself. As they converse, Walter reveals to Kevyn that other Yellowjackets are at the camp along with Shauna.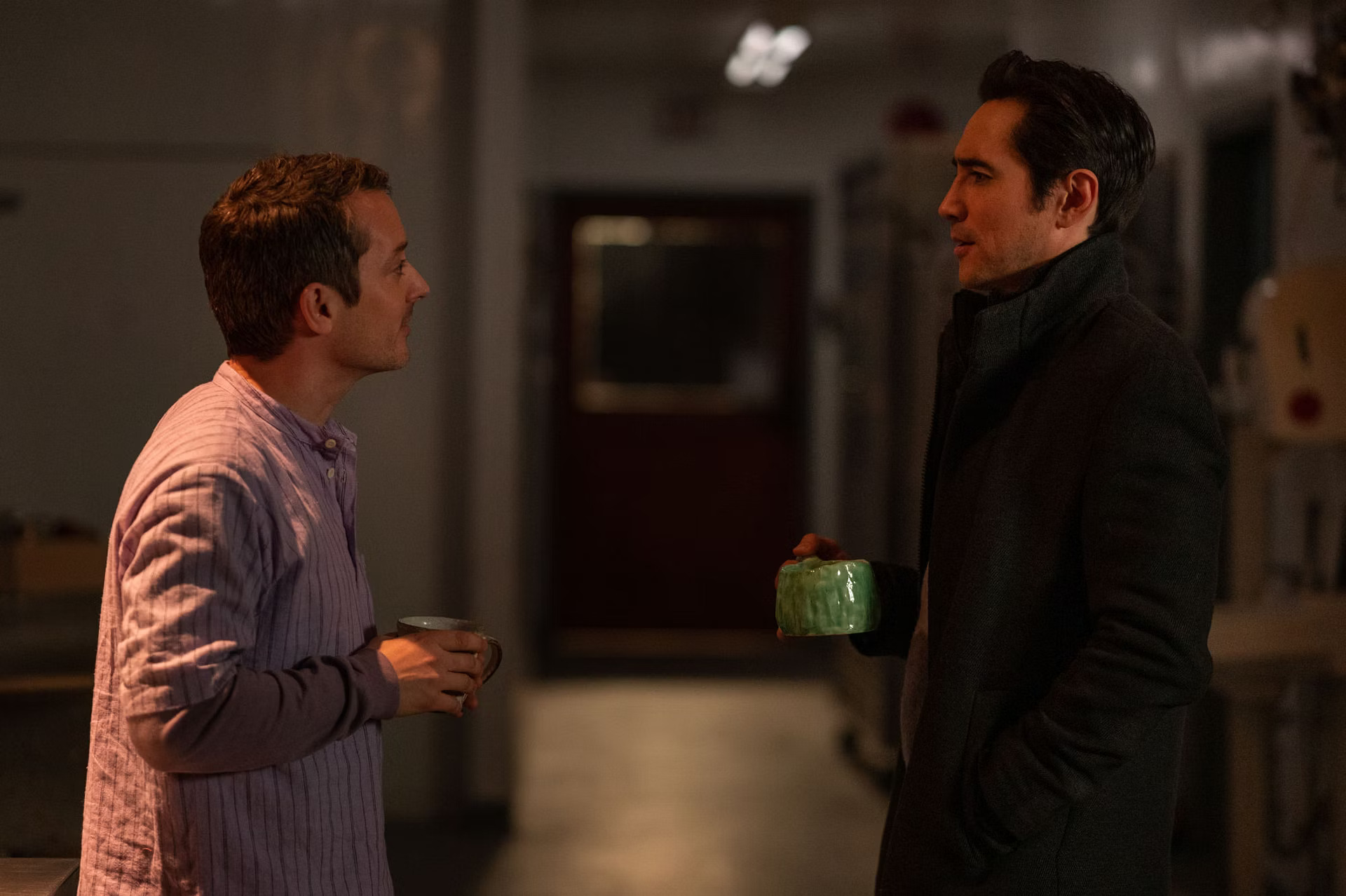 Meanwhile, Jeff and Callie find their way to the building as well. Jeff sends Callie away to find her mother, promising her that he will take care of the situation. After Callie leaves, he approaches Kevyn and Walter, accusing the former of following him and his daughter. The detective defends his action by pointing out that Jeff had shut him out, leaving him no choice.
After Walter steps away, seemingly to give them space, Jeff attempts to surrender, claiming that he killed Adam. This exasperates Kevyn, as he knows that Jeff is only saying this to protect his wife. But before he can arrest the other man, Kevyn literally drops dead. A stunned Jeff checks on him and starts to panic when he realizes what has happened. This is when Walter reappears and reveals that he put a phenobarbital solution in Kevyn's cocoa. With Jeff's help, Walter then ensures the Yellowjackets will no longer be bothered by these issues with law enforcement.
Did Alex Wyndham Leave Yellowjackets?
With his character dead, it's safe to assume that Wyndham has left 'Yellowjackets.' Originally from Winchester, England, Wyndham attended Winchester College and received a degree in history from the University of Oxford. He later studied at the Royal Academy of Dramatic Art. Wyndham began his professional career as an actor on stage, making his debut by portraying Silvius in Kenneth Branagh's adaptation of 'As You Like It.' He debuted on the small screen in 2005 in an episode of 'Totally Frank' (2005-2006). Besides 'Yellowjackets,' he has also appeared in 'Rome' (2005-2007), 'Little Dorrit' (2008), 'The Crimson Field' (2014), and 'The Messenger' (2015). Wyndham is slated to appear in Bret Robbins' upcoming film 'Immortals of Aveum.'
Read More: Is Nat Scatorccio Dead? Did Juliette Lewis Leave Yellowjackets?