Portrayed by Christian McKay, Samuel Blake is one of the important characters in the first two seasons of Max's (formerly on Cinemax) martial arts crime drama series, 'Warrior.' When the show begins, he is the opportunist mayor of San Francisco, trying to appease both the industrialists, who want to employ Chinese immigrants in their companies, and his disgruntled voters, among whom anti-Chinese sentiment is on the rise. He has a loveless marriage with Penelope (Joanna Vanderham), who only agreed to marry him so her father's business would not go belly up. While Blake often secretly visits the brothel run by Ah Toy (Olivia Cheng) in Chinatown, spending time with both men and women, Penelope has an affair with Ah Sahm (Andrew Koji).
Despite the clandestine visits, the Chinese immigrants become one of the biggest sources of contention between Blake and Penelope, with the latter passionately arguing in favor of more humane policies. If the events depicted in 'Warrior' have made you wonder whether Samuel Blake is dead and Christian McKay has left the show, we got you covered. SPOILERS AHEAD.
Is Mayor Samuel Blake Dead?
Yes, Mayor Samuel Blake is dead in the second season of 'Warrior.' In the course of the series, we learn that Blake hails from an affluent family and grew up in San Francisco. In the pilot episode, two labor gang members kill two Chinese immigrants. To appease industrialist Lymon Merriweather, for whom the Chinese men worked, Blake agrees to the formation of the Chinatown Squad to better police the area.
When Blake learns about the attack on his wife, he pays little attention to her accounts as he begins to suspect her rescuer, Ah Sahm, because of his connection to the Hop Wei tong. Remembering that the two gangsters, who killed the Chinese immigrants, were murdered themselves with a hatchet, he points out that Ah Sahm had a hatchet on him when he was arrested.
Following the dismissal of the trial against Ah Sahm, Blake gives an anti-Chinese speech to his constituents. Deputy Mayor Buckley later tells him he would eventually have to pick a side. Blake shares a complex relationship with his deputy. Although Buckley seems subservient to him, he is effectively the man in the shadows, pulling the mayor's strings.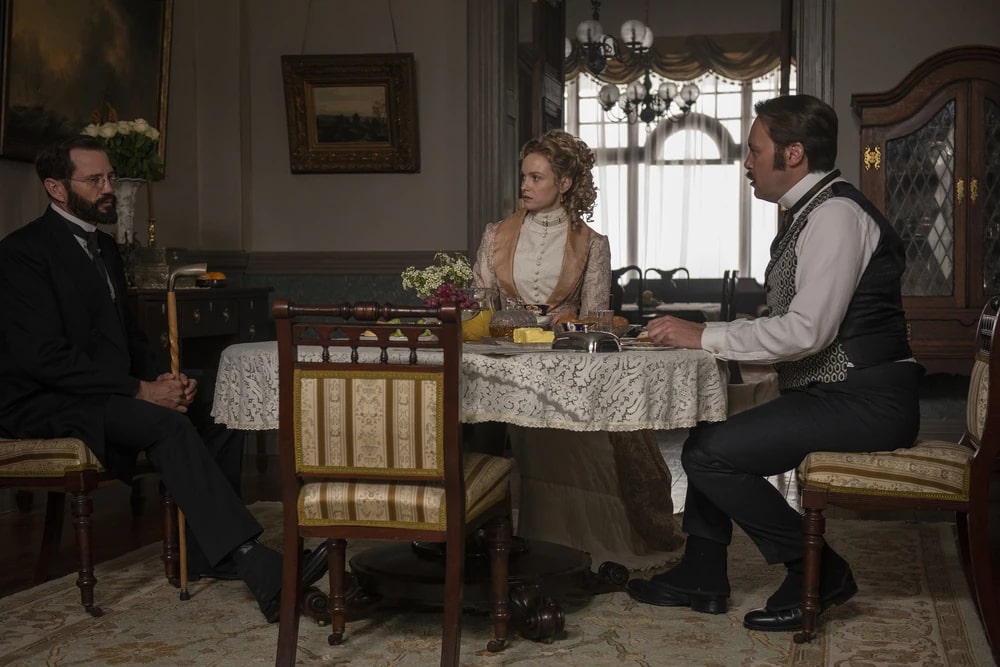 After the bombing of Chinatown, the audience is introduced to Robert Crestwood, the Senator of San Francisco, who seeks to become the President of the United States with a campaign supported by an anti-immigrant platform. Meanwhile, the already strained relationship between Blake and Penelope continues to deteriorate as she begins to run her father's company, hiring a Chinese workforce. Following the attack on Sergeant O'Hara's home, Blake takes an official anti-Chinese stance for the first time.
Blake is killed in season 2 episode 7. He receives threats from Merriweather and other industrialists about the consequences of not letting them use Chinese labor at their companies. They warn him that his political career will be cut short if he doesn't stop his anti-Chinsese rhetoric. Blake gets completely drunk before returning home and becomes involved in an argument that quickly transforms from verbal to physical. Blake punches Penelope in the gut, grabs her by the hair, and holds her against the wall. Penelope's sister, Sophie, tries to intervene, but Blake throws her off. As he begins to strangle Penelope, her manservant, Jacob, kills him by hitting the back of his head with an iron poker.
Did Christian McKay Leave Warrior?
As his character is dead, it's safe to assume that McKay left 'Warrior,' though it's always possible that he might appear in flashback scenes in the future. McKay is an English actor originally from Bury, Lancashire. He initially pursued a career as a pianist, performing Rachmaninoff Piano Concerto No. 3 at age 21, before switching to acting and attending the Royal Academy of Dramatic Art.
A versatile actor, McKay has appeared on stage and in films and TV shows. Since leaving 'Warrior,' he portrays various roles in Anthony Fabian's comedy-drama 'Mrs. Harris Goes to Paris' and the 2022 TV series 'Dangerous Liaisons.' McKay also plays Franklin D. Roosevelt in the History documentary 'FDR.'
Read More: Shows Like Warrior