How safe would you feel if you learned that your neighbors are constantly spying on you? Miranda enjoys watching her neighbor, Cleo, from afar as the sex worker satisfies her clients routinely. Starring Débora Nascimento, Emanuelle Araújo, Angelo Rodrigues, and Nikolas Antunes, Netflix's crime thriller series 'Lady Voyeur'( originally titled 'Olhar Indiscreto') recounts the story of a professional hacker, Miranda, and her inconspicuous desire to watch Cleo indulge in sexual activities.
Created by Marcela Citterio, the Brazilian series has a lot to offer: from a web of lies and deceit to an array of sexual adventures undertaken by almost every central character on the show. It presents Miranda's journey to the center of the chain of events from being an outside viewer. Consequently, if you are wondering how such a unique story came to be, we have the answers you are looking for!
Is Netflix's Lady Voyeur a True Story?
No, 'Lady Voyeur' is not based on a true story. Camila Raffanti has penned the original screenplay, along with creator Marcela Citterio. The Netflix series revolves around the titular character Miranda, who has a boring life of her own. Despite that, she lives vicariously through Cleo and her exotic sexual adventures.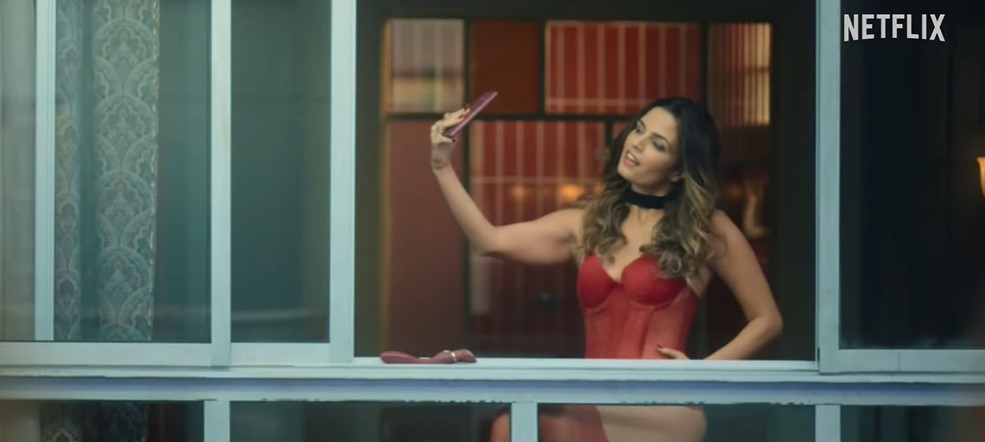 Voyeurism is pretty common as it implies people who enjoy watching other people getting intimate. However, the consequences faced by Miranda are very uncommon. When Cleo wants a weekend getaway, she asks the former to dog sit for her pet. Ultimately, her disappearance causes a stir, and Miranda questions everything she witnesses. She sleeps with one of Cleo's clients, unraveling her whole life. Viewers are bound to ask about the plot's origins, given how it unfolds in all directions.
The creator and directors of the series have done a great job of tying all loose ends together—the sequence of events and the ultimate climax answer all the questions viewers might have. Miranda's story is realistic as her job relies on snooping around and finding the truth behind people's actions. She is inherently curious about everything, so she becomes a voyeur.
Furthermore, the show features a dysfunctional family where nobody is honest with each other. An honest portrayal of relationships and family ties furthers the originality aspect of the show. Heitor and his family are incredibly wealthy, yet they have no love or respect for one another. They feed off each other and only hide behind a facade of intricate lies. The characters in the story are also willing to go to any lengths to protect themselves and let someone else take the fall.
In a world where honesty and integrity are diminishing daily, such harsh depictions of people and society are necessary to open our eyes to the truth. Moreover, the show sheds light on the concepts and conditions of prostitution and sex trafficking. As it turns out, the whole operation is at the center of the plot and makes us see the reality of sex workers in the 21st century.
People can sell human beings or even auction them off to the highest bidder to make money. Thankfully, this aspect has been fictionalized with the help of dramatic elements for the story's sake. To reiterate, even though 'Lady Voyeur' poses some realistic situations, it is not based on actual incidents. The show's storyline is a work of fiction and thrives in its accurate portrayal of revenge and corruption.
Read More: Where is Netflix's Lady Voyeur Filmed?