Netflix's 'Love, Sex and 30 Candles' is a South African drama film that centers upon a group of four childhood best friends — Dikeledi, Sade, Linda, and Nolwazi — who share a close and special bond with one another. During the year that they all say goodbye to their 20s and turn 30, the four friends must confront various personal issues in their respective lives as they navigate relationships, heartbreak, and even pregnancy. When the news of one of the friends' pregnancy is revealed, they celebrate the occasion with genuine happiness.
But as the secrets of their past begin to come out into the light, it threatens to ruin their decades-old friendship and tear them apart once and for all. Helmed by Stephina Zwane, the movie features impressive performances from a group of talented actors, including Amogelang Chidi, Bahumi Madisakwane, Gabisile Tshabalala, Candice Modiselle, Terence Bridgett, and Lunga Shabalala. Since it explores numerous seemingly realistic themes and elements, including friendship and its complications, you are likely to wonder if 'Love, Sex and 30 Candles' is an authentic tale or not. In that case, let's explore the same in detail, shall we?
Is Love, Sex and 30 Candles a True Story?
No, 'Love, Sex and 30 Candles' is not based on a true story. However, it is inspired by a novel titled 'The 30th Candle' by Angela Makholwa. The novel works around the realistic theme of having a quarter-life crisis, which is not something unheard of in real life. Taking inspiration from Angela's work, Zoë Arthur and Stephina Zwane collaborated, putting their brilliant penmanship and creative minds at work to come up with the enthralling and true-to-life screenplay for the Netflix movie.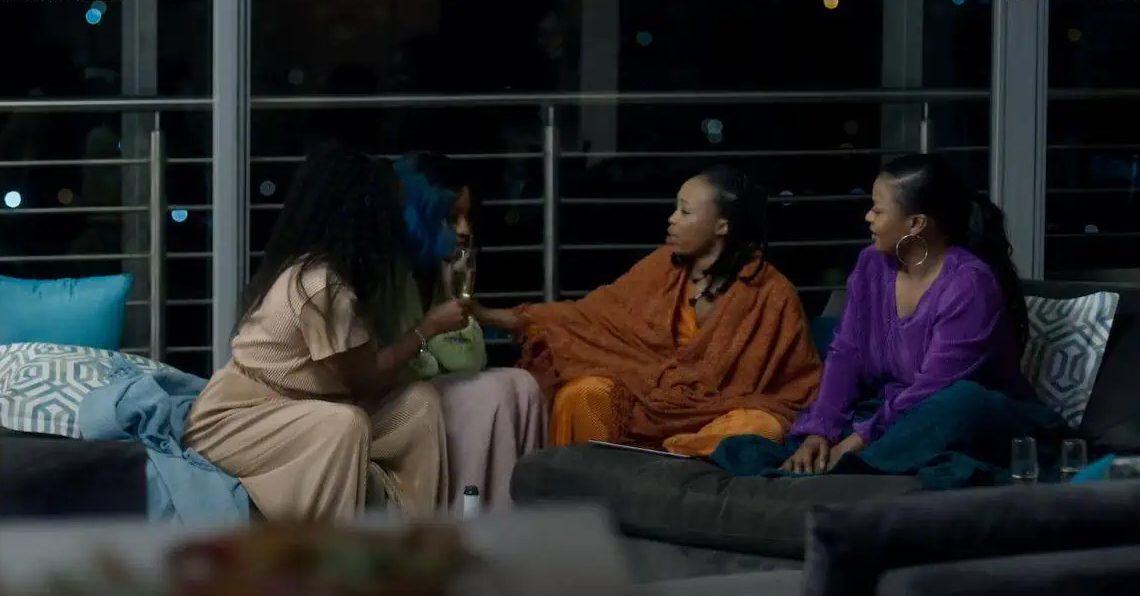 While most of Angela's novels are heavily inspired by the high crime rate in South Africa, as it is a permanent fixture of their lives and the core fabric of what it is like to be a native, 'The 30th Candle' strays away from it and highlights the experiences of women in their 30s. The sophisticated yet flawed heroines in the novel, just like all her other books, serve as a catharsis for her own life experiences. During a conversation with Crime Beat in March 2008, Angela gave out a few details about the novel months before it got published.
Angela revealed, "…I've just completed a little novella aimed at those who are going through or are about to encounter the so-called 'quarter-life crisis', which I was a victim of myself. The working title is 'The Thirtieth Candle'. Of course, it's not a crime thriller, but there are some unexpected dark twists that will comfort those who read Red Ink and are hoping for more murderous intentions from my work."
The co-screenwriter and director Stephina Zwane, with 'Love, Sex and 30 Candles,' tried to shed light on several universal themes that people around the world can relate to. The filmmaker stated in a press release, "…we aimed to craft a story that resonates with viewers on a deep, emotional level. The bond of friendship and the journey of self-discovery are universal themes that we hope will touch the hearts of our audience."
Throughout the years, there have been several other movies and TV shows that highlight similar themes of friendship and self-discovery, including 'The Sisterhood of the Traveling Pants' and 'Sex and the City,' which is the primary reason why the Netflix film seems familiar to you. So, keeping all the above-mentioned factors in mind, we can come to the conclusion that although it deals with various realistic subject matters, 'Love, Sex and 30 Candles' is a work of fiction.
Read More: Where Was Netflix's Love, Sex and 30 Candles Filmed?