'North Country' is a drama film that centers around Josey Aimes, a single mother of two who runs away from her abusive boyfriend and comes back to her hometown in Northern Minnesota to live with her parents. In order to make a stable livelihood, Josey joins the local mining company as a miner. But things don't turn out as good as Josey had hoped, with all the men working in the mines constantly harassing the women and management that refuses to take action against them. With no other recourse left to her, Josey files a lawsuit against the mining company itself.
Directed by Niki Caro, the 2005 film features the talents of Charlize Theron, Woody Harrelson, Frances McDormand, Amber Heard, Sean Bean, Richard Jenkins, Michelle Monaghan, Jeremy Renner, and Sissy Spacek. Charlize Theron's raw portrayal of Josey Aimes and her struggles as a single mother draws in the audience and makes them sympathize with her. In fact, none of the characters seem exaggerated, which adds to the realism of the film and makes the audience question whether or not there are real-life origins to the story. If you're one of these people, then we have the answer for you.
Is North Country a True Story?
Yes, 'North Country' is inspired by a true story. Writer Michael Seitzman penned the screenplay for the screen by taking inspiration from Clara Bingham and Laura Leedy Gansler's book 'Class Action: The Story of Lois Jenson and the Landmark Case That Changed Sexual Harassment Law.' The book was published in 2002 and spoke about Jenson v. Eveleth Taconite Company, the first class action sexual harassment lawsuit ever filed in the United States. The film serves as a fictionalized account of the same.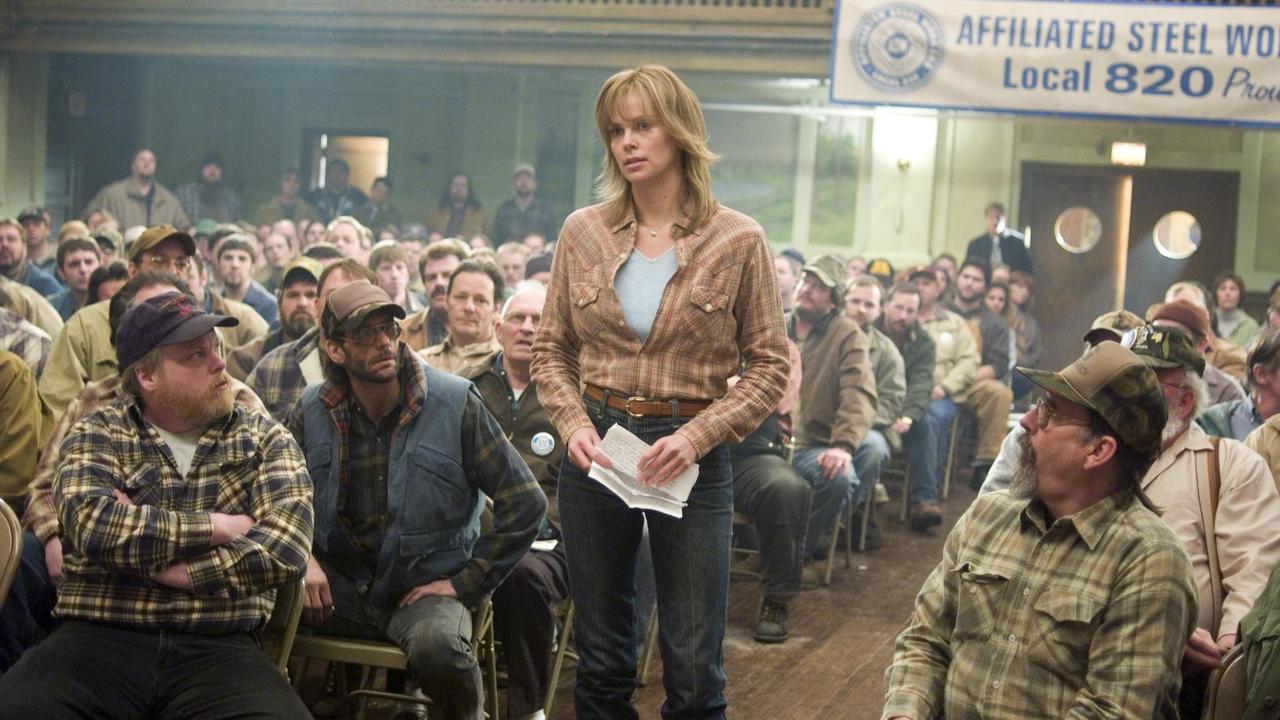 The landmark case was put forward in 1988 on behalf of Lois Jenson and other female workers at the Eveleth Taconite Company mine in Eveleth, Minnesota, and went on till 1998 before it was settled in favor of the women miners. While the actual lawsuit may have been filed in 1988, the real battle between Lois Jenson and Eveleth Taconite Company began in 1984, when she sent in a complaint about the treatment of women by their male co-workers to the Minnesota Department of Human Rights and was faced with increased harassment in return.
Josey Aimes, the character based on Lois Jenson, goes through a similar experience in the film. She had a child out of wedlock when she was in high school and is therefore seen as promiscuous by everybody around her, including her own father. So when Josey brings up the problems that she is facing at the hands of the men working in the mines, her claims are dismissed right in front of her face. Some either choose not to believe her or accuse her of trying to seduce the men instead – a situation that is seen all too often in real life, where the victim somehow becomes the perpetrator as well.
The challenges do not deter Josey, and she does everything she possibly can to bring to light the near-constant sexual harassment within the mines that takes place not just against her but other women as well. But when all doors close, Josey approaches Bill White (Woody Harrelson), a lawyer, who advises her to file a class action lawsuit as it would have more of an impact. To make 'North Country' more realistic and relatable to the audience, the film was captured on location in various mining towns that are located on the Mesabi Iron Range, including the town of Eveleth, where the real-life incident took place.
Speaking about her experience of shooting in a mining town in an interview with Scott Huver, Charlize Theron said, "…Very similar to where I grew up, yeah. I grew up in a, you know, a harsh landscape like this [the mining town]. A smaller community and a lot of mining in my country, so I knew a little bit about mine life. But I'm very comfortable in this kind of communities; I have a great respect for these people. They are hardworking good people." The film also looks at the relationships and bonds that form between women as they go through the same hardships.
The aspect of female friendship is brought out beautifully by director Niki Caro. "The one thing that was really beautiful to watch that I really, um, I thought I had a lot to do with her [Niki] being a woman was the fact that when we went there [Eveleth], the women, the real women trusted her really, really quickly, and I don't know how long they [the women miners] would have taken with a man…" Charlize Theron said on her experience with working with director Niki Caro in an interview with ScreenSlam while they visited the mining town to collect the in-person record of events.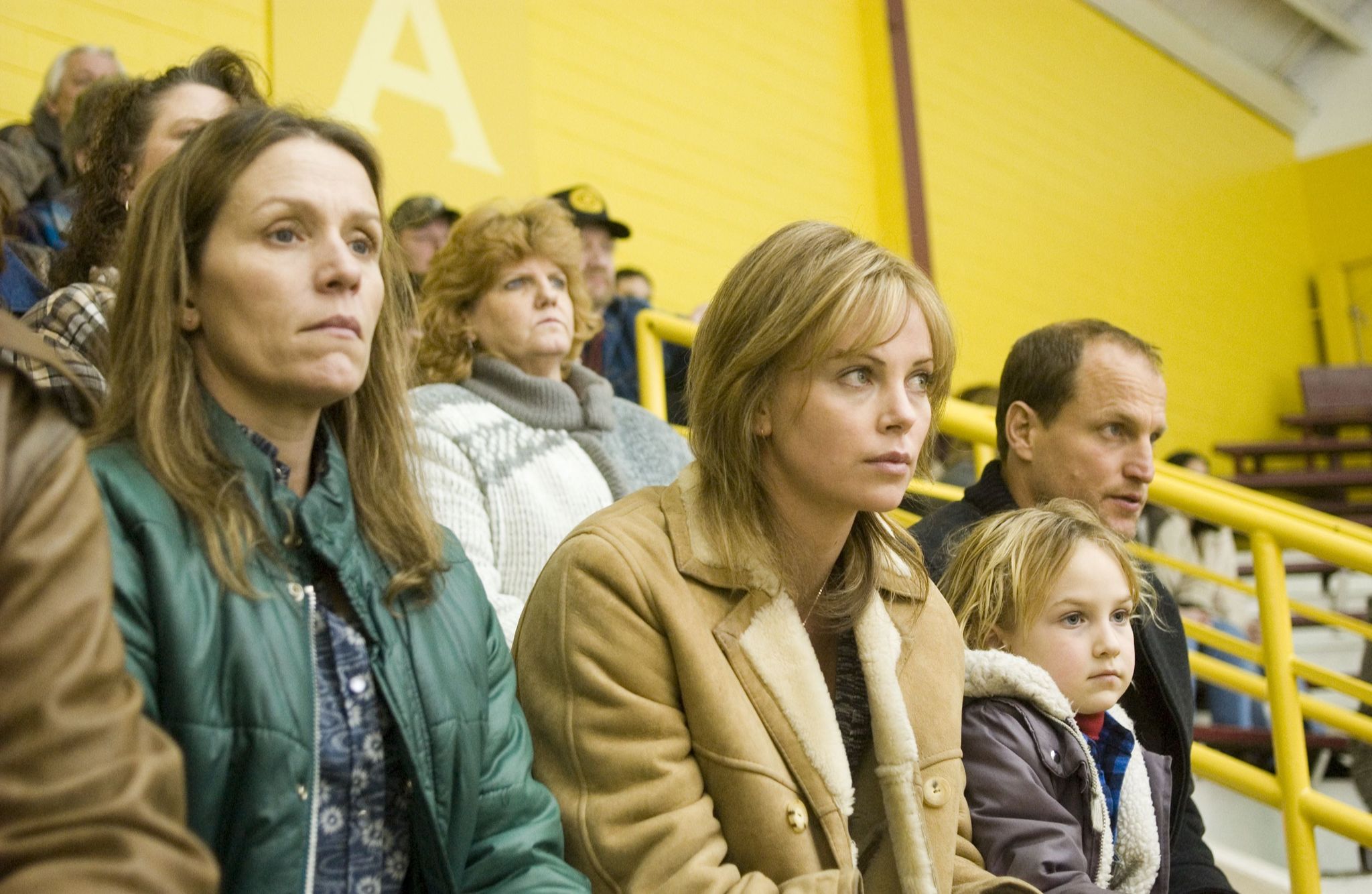 The actress added, "…they were incredibly open and incredibly honest with her [Niki] right from the beginning and I think they felt comfortable with her and safe with her, and I thought that was really beautiful to watch." Now, while 'North Country' may have been inspired by true events, it is still a fictional portrayal of the story of Lois Jenson and the class action lawsuit since Jenson never signed off on the rights for her life's story. Regardless, the film riles the audience up and makes them care about issues that women face in everyday life visualizing it without any sugar-coating.
Read More: Best Biographical Movies of All Time