Peacock's 'Paul T. Goodman' is an enigma of a show that makes its audience question whether what they see on the screen is reality or fiction. This incredibly meta series revolves around the making of another, albeit seemingly a more serious one. It comprises what is supposed to be dramatic scenes from the serious series and behind-the-scenes footage from its production. Florida resident Paul T. Goldman portrays himself in the show, which makes the entire experience quite unique, especially with Panot beingnot a reliable narrator. If that has made you wonder whether 'Duplicity – A True Story of Crime and Deceit,' the book on which the show within the show is supposed to be based, we got you covered.
Is Paul T. Goldman's Duplicity a Published Book?
Yes, Paul T. Goldman's 'Duplicity – A True Story of Crime and Deceit' is a real book. He self-published in 2009, and it even received a modest response. In 2014, he published 'Double Wife | Double Life,' which is essentially a renamed version of 'Duplicity,' through the self-publishing platform Smashwords Edition.
The book is about how Paul met his second wife, Audrey Munson (not the real name, apparently changed for various reasons, including legal). Paul thought she would be a great stepmother to his son and married her soon after, only to divorce her later after apparently discovering that Audrey runs a prostitution ring.
As with Audrey, Paul changed the names of other people in his book well. That's how his first wife, Galina, became Talia. He even changed his own surname, which is actually Finkelman. He started using Goldman because he thought it had more flow than his surname. Paul wrote a script based on his book and approached various filmmakers with the request to make a film out of it. Jason Woliner ('Borat Subsequent Moviefilm'), whom Paul contacted via Twitter in 2012, was one of the few that responded positively. It was Woliner who ultimately ended up creating the project for Peacock.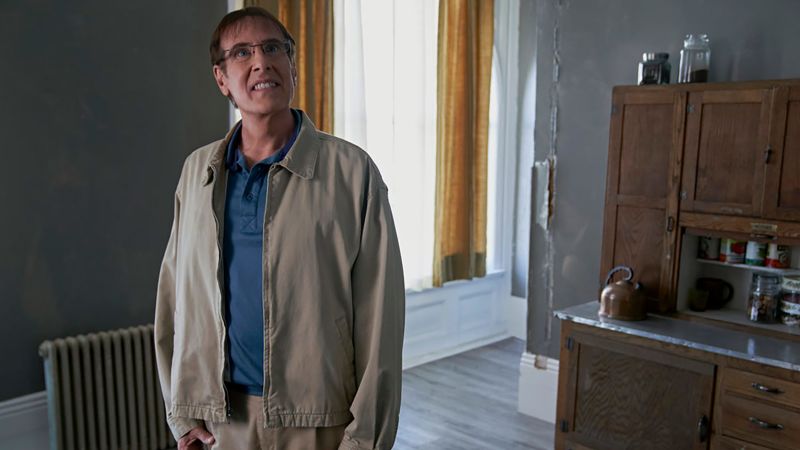 In 'Paul D. Goldman,' Woliner keeps true to Paul's script while shooting the dramatic scenes. As Woliner intended, that, combined with the fact that Paul plays himself in the show, made him an integral part of the series. This often led to Paul vehemently disagreeing and sometimes overruling Woliner. This is something that the series creator didn't have problems with, as the show is about Woliner telling the story of Paul telling his story. "I needed him to be on board the entire time, and because, really, what to me was most interesting about this were his choices and telling his story, how he wanted to tell the story, what was important to him, what were interesting details to him, and so on," he told Slash film.
At the same time, Woliner and his team were working under a time constraint, so they had to find a balance between Paul's whims and finishing the project. "So trying to do that and follow his whims where he wanted to do these ideas that would come into his head, there were definitely times — and then you can see it, there are scenes in it that to me were very interesting and funny on paper in terms of what it would explore or reveal about him, and then shooting it on set was brutal. It was really difficult. And I tried to be honest about that in the show and tried to include all of that," Woliner elaborated.
Although Paul portrays himself, professional actors portray other people in the dramatic scenes, and some of their real-life counterparts appear in the show. Documentarian Jason Tippet, filmed these scenes as if the camera was a fly on the wall, capturing interactions between Paul and other actors. "From editing the pilot and getting some moments that we really liked there, where [Paul]'s talking about what awards he thinks he'll win, or when he is telling the stand-ins his story, he would just keep telling his story to whoever would listen," Woliner told the same outlet. "There were interesting and funny things about that. We realized that was going to be a very important part of the show, just these kind of quiet moments captured between scenes and between takes."
Read More: Is Paul T. Goldman Real or Fake? Is It Based on a True Story?