Based on the 2013 namesake video game by Naughty Dog, 'The Last of Us' tells the story of a world ravaged by a fungi epidemic. 60% of the world's population is either dead or has transformed into zombie-like creatures because of Cordyceps infection. The plot predominantly revolves around Joel Miller (Pedro Pascal), a hardened survivor tasked to take Ellie (Bella Ramsey), a 14-year-old girl immune to the pandemic, to the people who can potentially create vaccines. As they travel across the United States, they encounter a variety of people — both infected and non-infected. Portrayed by Rutina Miller, Maria is one such person. As the character is pregnant in the show, many of you might be wondering whether the actress is as well in real life. Here is everything you might want to know about it. SPOILERS AHEAD.
Who Is Maria?
We are introduced to Maria in episode 6 of the series, titled 'Kin.' After surviving multiple close encounters with the Infected and non-infected alike, Joel and Ellie finally arrive in Wyoming searching for Joel's brother Tommy (Gabriel Luna), where they meet an elderly Native American couple, Marlon and Florence. Despite Joel's initial hostility, they advised him and Ellie not to continue westward because of the dangers awaiting them.
However, Joel and Ellie don't have much choice but to continue. After crossing a couple of rivers, they come across a group on horseback; one of them, a woman, seems to recognize Joel after he says his name and that he has come looking for his brother.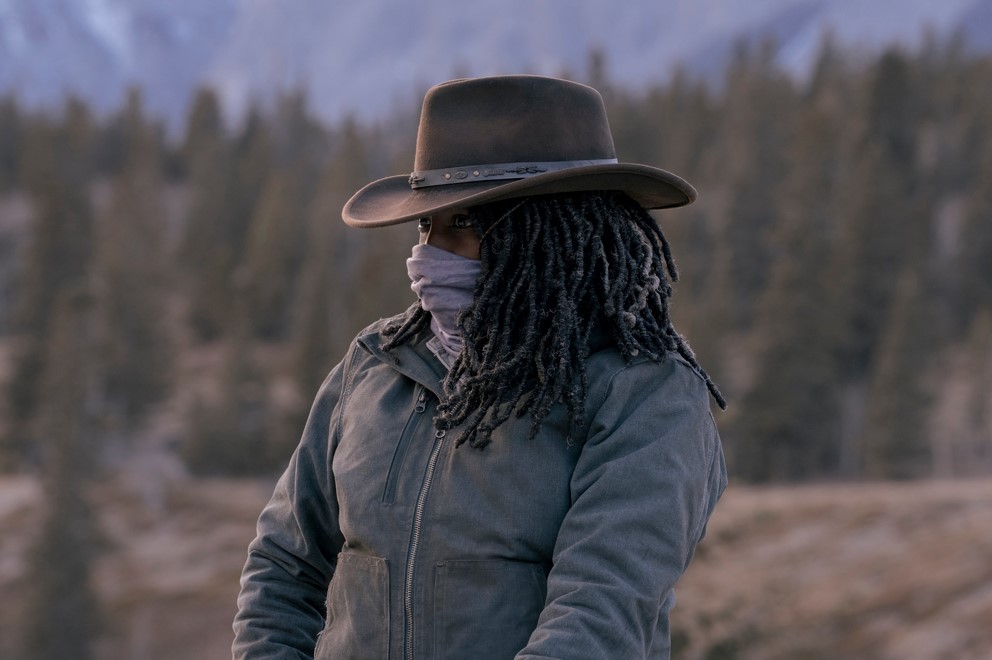 The woman is revealed to be Maria, Tommy's wife and a member of the council that governs the thriving and friendly Jackson Community, situated in Jackson County, Wyoming. Joel initially lies to Tommy about why Ellie is with him and asks for his brother's help to get Ellie to the Fireflies.
This is when Tommy reveals that Maria is pregnant. The brothers subsequently have a falling out when Tommy brings up the death of Joel's daughter, Sarah, but they later reconcile after Joel reveals that Ellie is immune. Tommy even agrees to take Ellie to the Fireflies in Colorado in his brother's stead, though Joel is the one who ends up going. Meanwhile, Ellie spends time with Maria and learns that she used to be an assistant district attorney before the pandemic. When Maria warns Ellie about Joel, she becomes defensive, pointing out that Tommy also killed people.
Is Rutina Wesley Pregnant?
By all indications, Rutina Wesley isn't pregnant. Wesley made her screen debut in 2007 in the film 'How She Move.' In 2008, she started portraying her breakout role, Tara Thornton, in 'True Blood.' Between 2016 and 2022, she played Nova Bordelon in OWN's (Oprah Winfrey Network) 'Queen Sugar.' Wesley was previously married to fellow actor and Juilliard classmate Jacob Fishel. After their divorce in 2013, she began a relationship with a chef from New Orleans named Shona, in 2017. They split about two years later.
Maria Miller also appears in the games, where she is modelled after Caecilie Carlsen and voiced by Ashley Scott. Wesley told EW that it was "terrifying playing a character that's been established, even though it's a game. But I also was up for the challenge of playing her in my way and putting my energy on it to see what people would think of that."
Reflecting on the scene where Maria cuts Ellie's hair, Wesley pointed out the importance of that interaction in the context of Maria's impending motherhood. "When you are going to be a mother at some point, I think she naturally gravitates towards Ellie in that motherly way without her really even knowing she's doing it," the actress stated. "It's her instinct because she can't help that fact. Also I think that Maria is challenged by Ellie in a way that she secretly loves."
Read More: Is Perry dead? Did Jeffrey Pierce Leave The Last of Us?