Portrayed by Jeffrey Pierce, Perry is an important supporting character in the HBO post-apocalyptic action-drama series 'The Last of Us.' Perry is second-in-command of rebel forces that overthrew FEDRA in Kansas City, Missouri. He is extremely loyal to the cause and their leader, Kathleen Coghlan (Melanie Lynskey). He is one of the 2003 Cordyceps fungi outbreak survivors and has seemingly lived in Kansas City since then, though he is not originally from there. Although depicted as an antagonistic character, Perry, like other supporting characters in the show, is a complex individual who has been forced to be indifferent toward others so that those he has chosen to protect can survive. If you are wondering whether Perry is dead and Jeffrey Pierce has left 'The Last of Us,' we got you covered. SPOILERS AHEAD.
Is Perry Dead?
Yes, Perry is dead in 'The Last of Us.' Like in other major cities in America, FEDRA set up a quarantine zone in Kansas City after the outbreak. The fascist regime was brutal, killing any voice of dissent. Eventually, a people's resistance formed under the leadership of Michael Coghlan, Kathleen's brother. He was a man of principle, honor, and forgiveness. According to Lynskey, series co-creator Craig Mazin referred to Michael as a Jesus-like figure.
After Michael was caught and killed, Kathleen took charge and guided the rebels to a surprising victory against FEDRA. However, she soon proved to be just as ruthless. Seeking vengeance for her brother, she targets Henry, a young man she believes supplied information about her brother to FEDRA.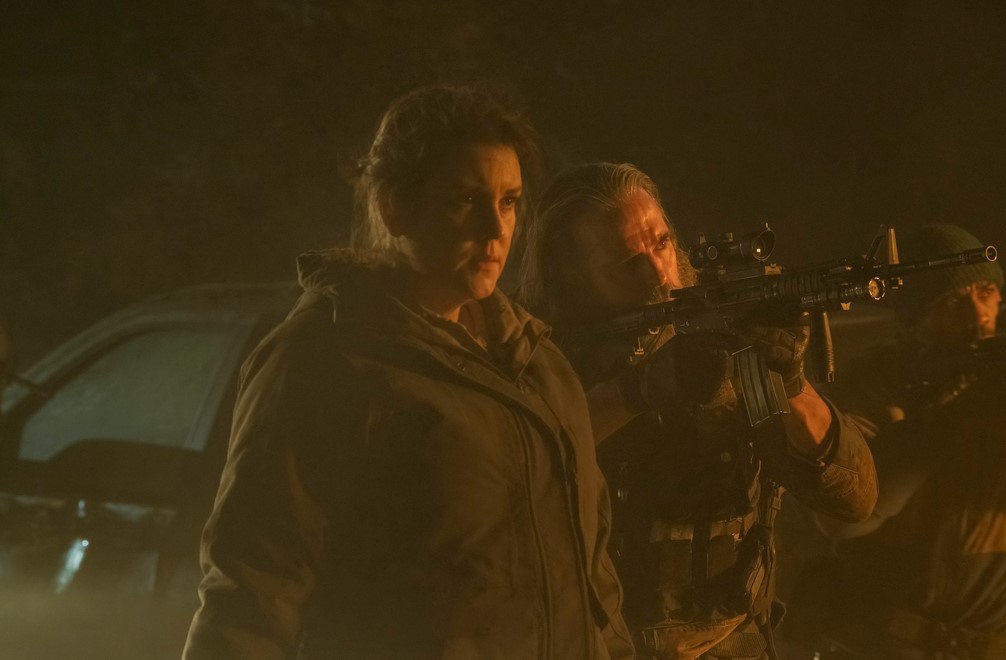 Perry served under Michael before he became Kathleen's second-in-command. Even though he may have certain reservations about how Kathleen does things, he recognizes that it was Kathleen who freed them from the tyranny of FEDRA and is staunchly loyal to her. However, as it is ultimately proven, it would have been better if Kathleen had listened to his advice and warned their people about the fact that the Infected were soon going to burst out of the ground.
FEDRA originally drove the Infected under the surface. Toward the end of episode 5, the Infected come out of the ground and start slaughtering the rebels. There is a bloater among the Infected. After telling Kathleen to get away, Perry faces off against the creature, but it rips his head off. However, Kathleen doesn't go far, either. She tries to shoot Henry, Sam, and Ellie, and a clicker attacks and kills her.
Did Jeffrey Pierce Leave The Last of Us?
Like Kathleen, Perry is a show-original character, though there is a rebel group in the Naughty Dog game that overthrew FEDRA. Joel and Ellie encounter that group and Henry and Sam in Pittsburgh, Pennsylvania, not Kansas City.
Pierce portrays Joel's brother Tommy in the games. When he heard about the HBO series, he asked Neil Druckmann, series co-creator and game co-director, about how he could support the project. "Neil is a friend, and I knew that there had been a lot of different iterations over the years," Pierce told Vulture. "Having seen 'Chernobyl,' I knew as soon as Craig was on that they were going to do something special. My window to play Tommy closed in live-action probably about a decade ago, so I knew that wasn't going to happen, but I said to Neil, 'Look, if there's any way that I can support what you guys are trying to create, I'll be there in a heartbeat.' I was lucky that something came up that fit."
According to Pierce, the dynamic his character shares with Kathleen is thematically similar to some of the other relationships we have seen in the show. "I think that he [Perry] meshes a lot with the themes that exist in the show, as seen in the relationship between Joel and Ellie, the relationship between Bill and Frank, and the idea of having found your purpose within this new world," the actor said. "One of the things that was described in Craig's script was that maybe he was in the military, so I just kind of ran with that: This guy was a professional before the outbreak, and then was able to use those skills as he sort of wandered, and then found his purpose with Kathleen and the fight against FEDRA."
As his character is dead, Pierce has most likely left the show. But given his longstanding relationship with the franchise, it wouldn't be surprising if Pierce returns to the HBO series in some fashion in future seasons.
Read More: Is Kathleen Dead? Did Melanie Lynskey Leave The Last of Us?