With the advent of science and the resources available to television, the idea of the apocalypse has been quite enticing to audiences. What was once firmly in the domain of cinema is now easily within the reach of the small screen. Post-apocalyptic shows do a great job at portraying a decrepit world, and a fallen social order where chaos reigns. The struggles faced by the last vestiges of humanity make for compelling television and something that raises important lessons for sustainable living, cooperation, and scientific security.
While most shows have a typical premise of a deadly virus killing/infecting humans, some of them subvert this superbly to form something new as part of this genre. Here is the list of top post-apocalyptic TV shows of all time. You can watch some of the these post apocalyptic shows on Netflix.
8. Day 5 (2016- )
Rooster Teeth's web television series 'Day 5' opens this list, with a thoroughly unique premise and engrossing characters. The show stars Jesse C. Boyd as a junkie who wakes up after a drug-induced binge to find out that most of humanity has died after falling asleep. This premise, coupled with the sparse production budget, ensured that this apocalypse is a tellingly relatable one, amidst all the exhaustion the modern work ethic imparts onto us.
Read More: Best TV Shows of the 21st Century
7. The Leftovers (2014-2017)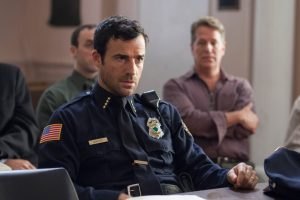 This HBO post-apocalyptic, psychological thriller starred an all-star ensemble cast with Justin Theroux, Liv Tyler, Christopher Eccleston, and Amy Brenneman among others. The show is based on Tom Perrotta's eponymous novel and is centred around the Garvey family in Mapletown, New York. The world has been affected by the incomprehensible disappearance of 140 million people in 2011, dubbed the "Sudden Departure." The show's depiction of cultist religious sects and establishment of new structures in this strange world places it among the most unique of post-apocalyptic shows on television.
Read More: Best TV Shows of 2016
6. Into the Badlands (2015- )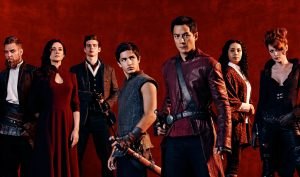 AMC's 'Into the Badlands' is a masterful depiction of power equations in a world reeling from the brutal ramifications of war. The show is set in a world 500 years after a war that left all of civilisation in tatters. Due to a lingering fear, guns are shunned and there is a reliance on bows and arrows and other melee weapons despite the survival of most modern technology. The show follows the journey of M.K. (Aramis Knight) whose potential skills are valuable to the barons of the feudal land of the Badlands, and his relationship with the warrior Sunny (Daniel Wu). This show is a must-watch for its representation of religion, social class, and Machiavellian power in a post-apocalyptic feudal milieu.
Read More: Best TV Shows Inspired From Movies
5. Jericho (2006-2008)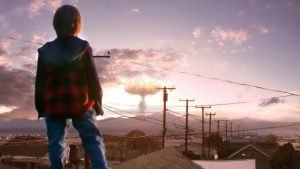 It was widely expected that 'Jericho' would not be renewed for a second season after its first one in 2006. The show was a veritable political potato, depicting the aftermath of nuclear attacks on 23 cities in the United States. This was extremely significant, especially in the Bush presidency, when it had aired, owing to the then administration's proclivity towards stockpiling nuclear weapons and adopting an aggressive international foreign policy. However, 'Jericho' was actually renewed for a second season due to fan campaigns. Although that season would be its last, the show produced several spin-offs in other media, and would rightly go on to garner a cult following and be one of the most accomplished post-apocalyptic TV shows of all time.
Read More: Best TV Shows to Binge Watch
4. Electric City (2012- )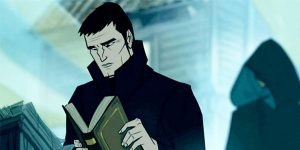 'Electric City' is an animated web television series that focuses on the indispensable role of electrical energy in a world rife with fossil fuel use. The show is created by none other than Tom Hanks, and stars himself as Cleveland Carr, an operative whose life is changed forever after a mission, along with a star-filled supporting cast of Holland Taylor, Ginnifer Goodwin, Chris Parnell, and Jeanne Tripplehorn, among others. The stark depiction of the precincts of the eponymous city, and the role of energy and technological resources in determining several aspects of society, such as law and order, social bias etc., makes 'Electric City' a gem of a television show.
Read More: Best TV Shows of 2017
3. Lost (2004-2010)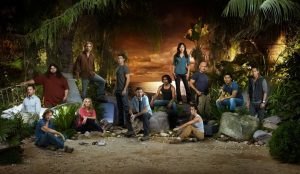 One of the most prominent shows in the modern era, and one that redefined popular television with its themes of mystery and intrigue across several storylines promoting intense discussions among fans, 'Lost' was, at its core, a post-apocalyptic show, albeit in an atypical way. The show boasted of a stellar cast, picturesque locations, and high production values, all of which gave an unparalleled fidelity to its surroundings. The cast of Michael Emerson, Naveen Andrews, Emilie de Ravin, Matthew Fox, Evangeline Lilly, Ian Somerhalder, Jorge Garcia, and Maggie Grace among others were convincing in their personal tribulations during their time on the island, conveying mistrust and deception after a plane crash stranded them all together. 'Lost' is undoubtedly one of the best post-apocalyptic shows on television, backed by universal acclaim from both viewers and critics, and the numerous awards it won, all rounded by the impact it still has on the medium.
Read More: Best TV Shows Based on Movies
2. Survivors (1975-1977)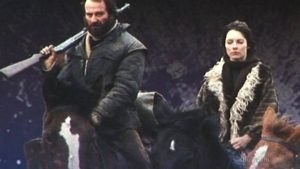 'Survivors' was a BBC series that was set in a world wrecked by a devastating plague pandemic, named simply as "The Death", that spread through air travel. It would be one of the top post-apocalyptic shows of the 1970s, with its striking portrayal of a world bereft of material comforts and modern technology. The series mainly focused on a small group of, well, survivors, who strived against overwhelming odds to form something new amidst the ruins of their time. The cast of Ian McCulloch, Lucy Fleming, Carolyn Seymour, and Denis Lill among others, were fascinating in their roles. This show proved to be an early frontrunner of many modern post-apocalyptic works centred around survival in the aftermath of a plague.
Read More: Best TV Shows About Zombies
1. The Walking Dead (2010- )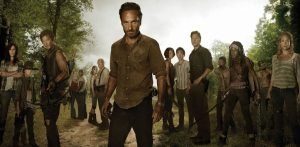 Much of the public notion of the apocalypse and what lies beyond it would be incomplete without 'The Walking Dead.' The show has so completely pervaded modern culture that it is almost impossible to think of the post-apocalypse or zombies without this show stealing the limelight. Based on the comic book series by Robert Kirkman, Tony Moore, and Charlie Adlard, the show focuses on Rick Grimes (Andrew Lincoln), a former sheriff's deputy who wakes up from a coma to find the world infested by zombies, or 'walkers' as the show puts it. Supported by Jon Bernthal, Sarah Wayne Callies, Danai Gurira, Norman Reedus, and Laurie Holden among others, the world of 'The Walking Dead' is a brutal and finely detailed one. The show's handling of complex themes such as survival, cooperation, trust, and resourcefulness are testament to its wide appeal. After multiple seasons, tons of well-drawn characters, fan theories, and many awards and controversies later, 'The Walking Dead' remains a bona fide leader in the post-apocalyptic genre.
Read More: Best Military TV Shows