'Southern Gospel' is a drama movie that chronicles the life of Samuel Allen, a rock star who is rebellious and lost. His actions land him in jail, but life presents him with another chance to redeem himself. Samuel reforms himself and dedicates his life to raising awareness about drug abuse while also being a preacher who frees himself from the shackles of a cunning church leader.
The movie is directed by Jeffrey A. Smith, who masterfully weaves multiple themes together with iconic soundtracks. If you were overwhelmed by the brilliant storyline and are wondering if there really a Samuel Allen in the past, then here's all you need to know!
Is Southern Gospel a True Story?
Yes, Southern Gospel is indeed based on a true story. Penned by Jeffrey A. Smith, it centers on the life of Samuel Allen, a rock star from the 1960s. Rock stars have a stereotypical image of abusing drugs, which might be true in some cases. When Samuelson rose to fame in the 1960s, the "psychedelic era" was prominent, where artists experimented with synthetic drugs to enhance their music and layer their creativity with an outlandish element. Acid Rock was a whole new genre that came into existence during this period, and it was common for artists to consume LSD and other drugs while performing or composing tunes.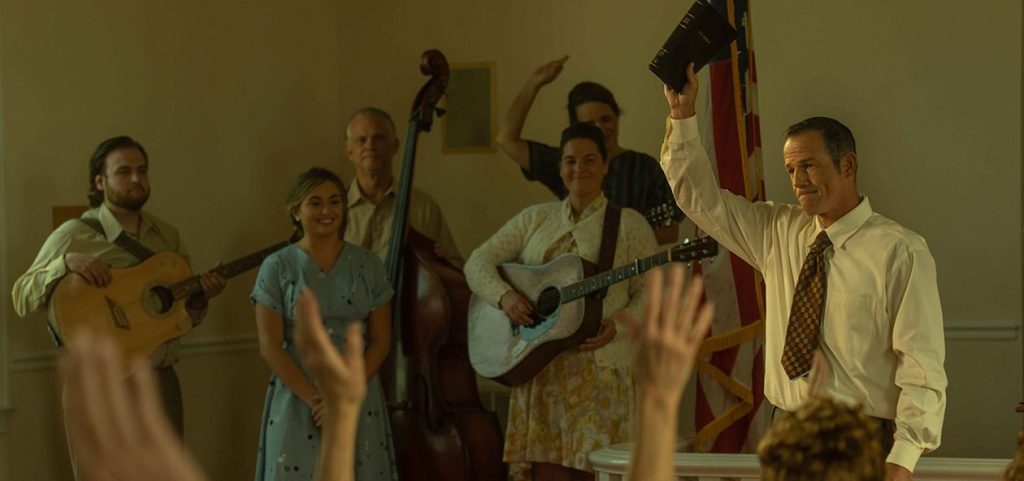 Drug abuse was a growing problem in the country due to the normalization and acceptance of such practices. Similar to Samuel, some other rock stars who reportedly suffered from addiction were Ozzy Osbourne, Kurt Cobain, David Bowie, Neil Young, Syd Barrett, Izzy Stradlin, Jerry Garcia, and John Lennon. Ranging from cocaine to heroin, almost all drugs became a matter of concern for the rock community.
As seen in the movie, some of these musicians went to rehab, recovered, and preached sobriety to the youth after their unpleasant experiences. However, not everyone has a happy ending; some succumb to addiction and never recover. The trajectory of most artists is the same, i.e., they find their passion in music, attain commercial success, indulge in drug abuse, witness their downfall, and lose their careers. One can even say that, to a certain extent, the idea of substance use is romanticized and glorified in the community.
In the movie, Samuel parts his way from drugs and discovers a new path that transforms him into a preacher. Such an instance was also seen in Austin, Texas, where Jacob recovered from heroin addiction and became a community leader, who preached Gospel, fed the poor, and attended to all church duties. There have been many such cases where people have reconnected with their childhood interests, rediscovered their faith, and risen above their addiction through finding God, love, and peace.
The movie heavily focuses on themes of redemption, where Samuel reforms his life by enlightening others about the detrimental effects of drugs. It's quite common for an ex-addict to help others succeed in rehabilitation because living through that experience makes them empathetic toward those struggling with the same problems.
In an interview, Max Ehrich, who essays Samuel Allen, spoke about his dedication to the role. The actor was studying the Bible to integrate its ideas fully, and even got baptized by Pastor Jeffrey Smith (director) to make his character even more impactful and convincing to the audience. When asked about the takeaway of the film, he said, "Yeah, you know, the logline for the film is 'Never surrendered the dream,' and I feel like there are so many obstacles that we face in life, and it's, it's really important, and this film really touches upon the need to lose the judgment of any wrong paths we may have taken, any mistakes."
He added, "We are all sinners, and we're all doing our best, and we all deserve redemption in a sense. I think a huge theme of this film is, is also exploring the need to not necessarily feel so, go into a sense of self-destruction or self-hatred because of mistakes or temptations that we may fall into. It's really about forgiveness and grace. It's really about the grace of God."
Taking the aforementioned points into consideration, we infer that 'Southern Gospel' is a biographical movie that showcases the life of Samuel Allen, a real-time rock star from the 60s. It explores several delicate themes, from drug abuse, to redemption, finding purpose, and giving back to the community. In doing so, it brilliantly evokes a sense of empathy for yourself and others through its narrative.
Read More: Best Dramas on Netflix