'Halloween Kills' helmer David Gordon Green occupies the director's chair in 'The Exorcist: Believer' is a possession film that narrates the tragic tale of Victor Fielding and couple Miranda and Tony as their respective daughters Angela and Katherine get trapped in the web of evil after they wander into the woods one night after school. Victor Fielding is a photographer who is still reeling from the death of his then-pregnant wife, Sorenne. Though he managed to save his daughter, Angela, whom he has raised with utmost love and care, Victor has been dealing with a crisis of faith all these years.
On the other hand, Angela, who has never seen her mother, wishes to make contact with her and get to know her better. Thus, along with her Baptist best friend, Katherine, she ventures into the woods after school. After three exhausting days of searching for the two girls, Victor, Miranda, and Tony find them in a barn, with absolutely no memory of the last three days. Though everything seems normal at first, Angela and Katherine soon begin to show signs of demonic possession.
Having exhausted all primary options to cure the girls, Victor is forced to request help from Chris MacNeil, whose own daughter Regan endured something similar in 1973. Along with Ellen Burstyn and Linda Blair's reprisal of their iconic characters, the horror film is driven by the brilliant performances of Leslie Odom Jr., Ann Dowd, Jennifer Nettles, Norbert Leo Butz, Lidya Jewett, Nigel Barto, and Olivia Marcum, who elevate the supernatural tale to a whole different level of scary. It is only natural that one might be curious to know whether such horrifying events took place in real life and whether the film is based on real incidents or not. Here is everything we know!
The Story Behind The Exorcist: Believer
'The Exorcist: Believer' is partially based on a true story. Written by Green and Peter Sattler from a story by Scott Teems and Danny McBride, the film is a legacy sequel to William Friedkin's 1973 cult classic 'Exorcist,' which is based on the eponymous 1971 novel by William Peter Blatty. The David Gordon Green directorial serves as the sixth installment in the popular horror film franchise. Although it seems surprising to believe, as per some people involved in the making of the film, particularly Christopher Chacon, who served as a Technical Advisor and Creative Consultant on 'The Exorcist: Believer,' its story has some roots in reality.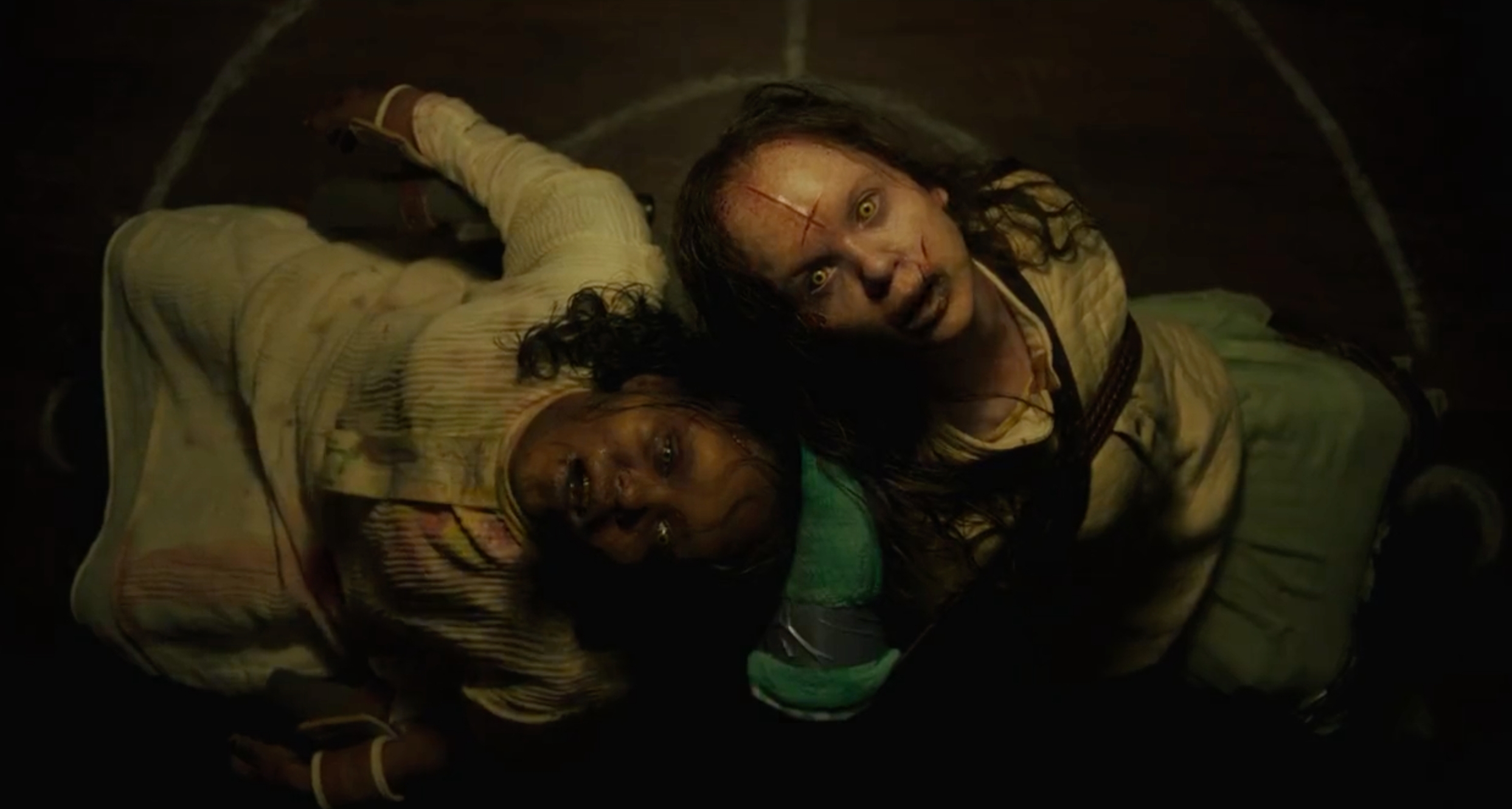 In an exclusive interview with People, said, "These are real phenomena. All the elements we put in The Exorcist: Believer are very authentic and [based on] these experiences that people have encountered. I've seen it demonstrated and take place in real life. Not only that, but we're able to scientifically assess it and analyze it. And even with state-of-the-art technology, you still have no answers because you're dealing with something that science can't measure in every way." While working on the film, Chacon aided David Gordon Green in finding "a cohesiveness for the vision of it." He added, "I'm giving them whatever I can to enhance the authenticity."
For the uninitiated, the novel that served as the inspiration for the 1973 classic was inspired by a 1949 case wherein priests of the Roman Catholic Church reportedly performed a series of exorcisms on a 14-year-old anonymous boy, who was given the pseudonym "Roland Doe" or "Robbie Mannheim." The movie offers a portrayal of demonic possession and the struggle to exorcise the evil spirit that was entirely unprecedented. It generated quite a bit of controversy but was fairly successful at the box office, which led to a whole franchise of films and shows, including 'The Exorcist: Believer'.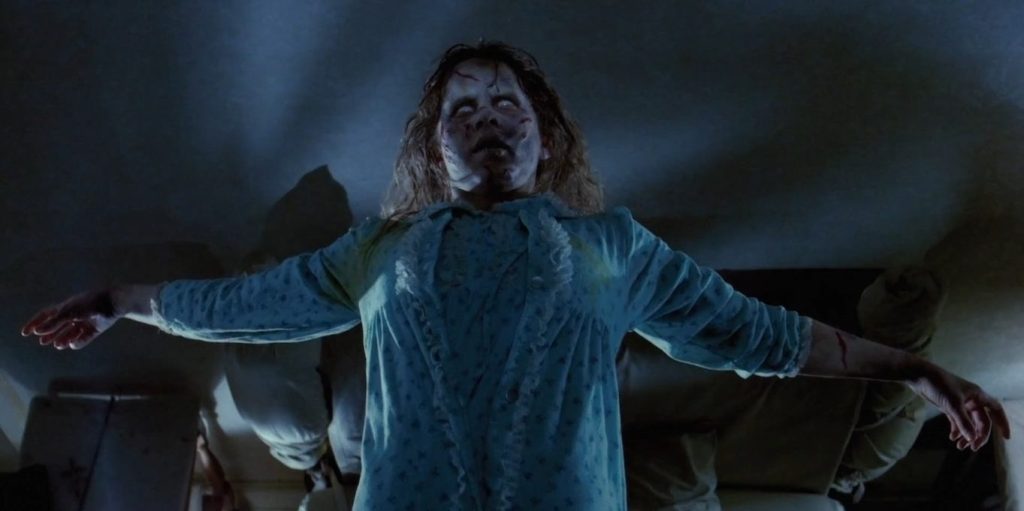 In an interview, Green highlighted the challenge he faced with taking on the project. He said, "It could be said it's daunting to follow in those footsteps, but I also think it's 50 years later, and there's a new audience, new conversations, and an evolved culture, we don't live in a world [anymore] where the word 'exorcist' has the same foreign feeling as it did back then. Everybody knows what one is, everybody has seen an exorcist movie." In another interview, Green spoke about his approach to the film, saying, "I had seen many horror movies, but this felt almost like a documentary."
He added, "It felt really authentic. And I think, you know, knowing more now about the process and how [director William] Friedkin approached that film, it really was, 'If this was really going to happen, how would it play out?' So bringing a clinical authenticity to that, I thought, was important." He further added, "We took that that idea and translated it into our movie where priests play priests—the Haitian priests in the beginning are the Haitian priests—and [actual] doctors are doing examination of the girls. So it's really fun for me to kind of try to bring some of that authenticity inspired by Friedkin's approach."
Commenting on whether the Green directorial managed to maintain the essence of the original, Chacon added, "All the phenomena, the ritual, how people react, it's all accurate, the way it really is," he continues. The Exorcist: Believer takes the same approach, although, he acknowledges, "the phenomenon is much more disturbing than the original one. They did an incredible job of recreating that, putting that chemistry together, of creating that feeling of being grounded. It gets under your skin emotionally."
While co-writing the script for the movie, Green, who refers to himself as a "spiritual buffet" aimed to showcase the power of unity in diverse theologies in the face of an adverse and evil power. "When we look into our mythologies that are around us every day and focus on what makes us similar, then unity becomes our spiritual superpower," he told USA Today. All in all, though 'The Exorcist: Believer' is not based on any particular real events or true story stories, it serves as a solid homage to 'The Exorcist' by touching upon the themes that made the 1973 film a classic.