Books are often turned into movies and adaptations, but there are only a few that receive as many iterations as R.L. Stine's 'Goosebumps' has. Written by him in the 80s and 90s, the books became popular for their use of humor with horror, featuring tweens and teens who were relatable for the audience. In 1995, the books were adapted for an anthology series that ran for four seasons. In 2015, it came to the big screen with a film adaptation starring Jack Black. Now, Hulu and Disney+ have tapped into it to bring a modern twist to the story. Considering that all these adaptations have a common source material, you might wonder if the current adaptation is related to the old ones. Let's find out.
The Connection Between Hulu's Goosebumps and the Previous Adaptations
An adaptation of a book is a chance to tell the story in a new light, to build upon the world that has already been created by an author. With their 'Goosebumps' series, producers Pavun Shetty and Conor Welch wanted to do the same thing. They'd been the fans of the books and the TV show and knew that there was a huge fanbase of Stine's stories, which meant that the fans would be looking forward to something fresh. So, they decided to take a different direction with the 2023 version. The only commonality is that the 2023 show and the Jack Black movies have Rob Letterman as their director.
The 'Goosebumps' stories are known to be standalones that take the audience on a new adventure with new characters. The villains, like Slappy, come back at times, but usually, it's in a new setting. This anthology version worked well with the books and the 1995 TV series, but with the latest iteration, the show's creators were interested in something different. "We grew up reading the books and wanted to honor those original stories but do an updated version that felt more contemporary, more grounded. And, at the same time, a little bit scarier with a little bit edgier jokes," Welch said.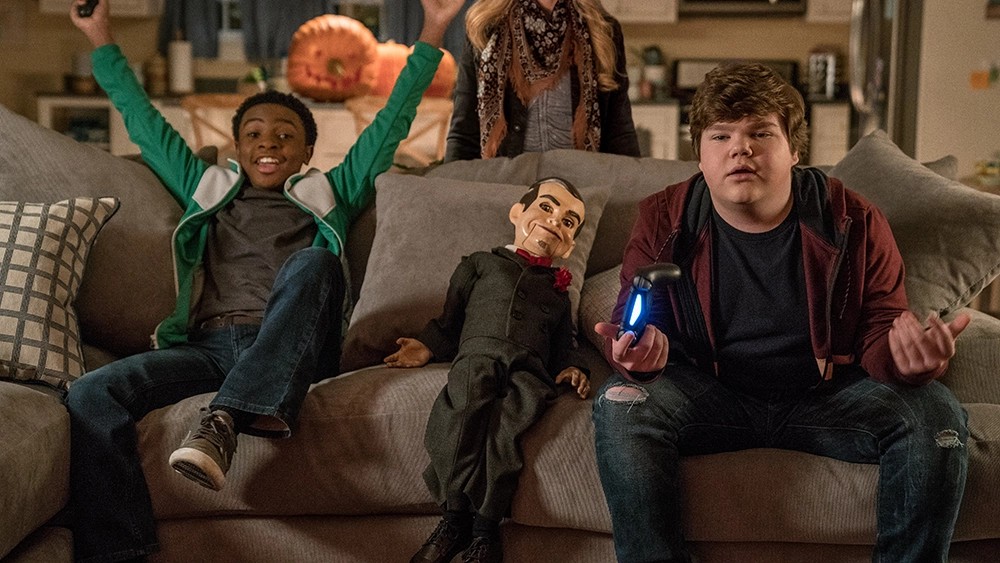 To truly set the show apart, they opted to go for a serialized version rather than doing yet another anthology. It would offer a fresh take, giving them space to create their own world and characters while using Stine's stories as the foundation for their creation. They also focused on a bit older audience, rather than tweens. They wanted the characters and their struggles in the show to feel relevant to current times.
"We wanted to take real issues that teenagers deal with — the awkward, messy, tricky stuff and real issues their parents deal with — and put those together and throw the crazy stuff on top of it. It was to have authentic issues, but then all the crazy scary stuff from the stories and do a real genre mashup that way," Welch explained.
They also didn't want to dial down on the horror and wanted to make it a bit scarier and grittier without compromising on the humor. "The books that I grew up with always felt a little scarier than I expected. It always felt like, 'Ooh, should I be reading this?' I think our intention with this series was for some of the younger viewers to feel the same way but never to take advantage of that. The jokes would never be inappropriate, the scares would never get gory, but they would be titillating in a way that's like, 'Wait, should I be invited to this party? Let's keep watching,'" Shetty added. Considering all this, we can say that the latest iteration of 'Goosebumps' offers a fresh narrative, something that hasn't been explored in the books and its adaptations before.
Read More: Goosebumps: What Happened to Harold Biddle? How Did He Die?