Netflix's 'The Witcher' is set in a fantasy world where monsters and magic exist and impact life on the Continent. The story revolves around Geralt of Rivia, who is tied by destiny to Cirilla of Cintra and Yennefer of Vengerberg. Their story takes many twists and turns as they are pulled together and torn apart while fighting their enemies that never rest. They have to make many sacrifices, and they lose a lot of people along the way, one of which is Tissaia de Vries. The rectoress of Aretuza, Tissaia is a mother-like figure to Yennefer and has been a voice of reason in the Brotherhood. The third season brings her story to a tragic end. Here's what you should know about her. SPOILERS AHEAD
How Does Tissaia Die?
All Tissaia ever wanted and worked for was peace in the Continent. She always tried to do things, no matter how hard they were, for the well-being of everyone, be it mages or humans. However, she is also known to have been blinded by love. Despite Yennefer's many rebellious acts against the Brotherhood, Tissaia continued to love and support her like a daughter. She exhibited the same blindness towards Vilgefortz, and that became her undoing.
When Phillipa and Djisktra declare war on Aretuza, they round up all the mages they consider a threat, especially Vilgefortz, who they know has been conspiring with Nilfgaard. They try to tell this to Tissaia and make her understand why they need to get rid of Vilgefortz, but she is blinded by love and rage. She cannot believe that Vilgefortz, her lover, would betray her, so she frees him and unleashes mayhem on her people.
By now, what Vilgefortz wanted has happened. He has been exposed, so there is no point in keeping up the ruse. He confesses to Tissaia that he had been using her all this while and says that he doesn't need her anymore. He lets the elves into Aretuza, ensuring that the place is destroyed once and for all. This is a huge shock to Tissaia, but the worst is yet to come.
With her home destroyed and most of the mages dead, Tissaia feels guilty for freeing Vilgefortz. It also turns out that the destruction of the Brotherhood was the first step in Nilfgaard's plan to attack the North and take over the Continent. So, by freeing Vilgefortz, Tissaia let it all unravel, leading to the loss of thousands of life. Later, she visits Vilgefortz's secret lab in Redania with Yennefer and the others and discovers that Vilgefortz was the one kidnapping girls and doing horrible experiments on them.
The fact that he had been doing it all under her nose and she never realized it is a huge blow to her. She feels guilty about the girls and all the bloodshed in the Continent. She is unable to forgive herself for not seeing Vilgefortz's true nature sooner and kills herself. She writes a letter to Yennefer, explaining her actions and slits her wrists.
Did MyAnna Buring Leave The Witcher?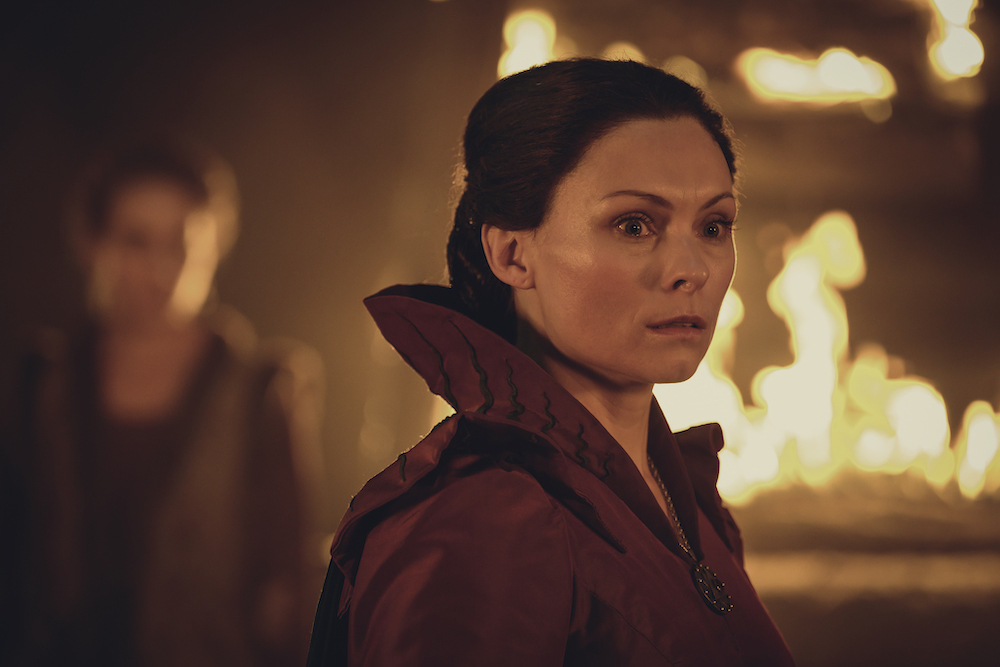 'The Witcher' is based on the book series of the name by Andrej Sapkowski. In it, Tissaia dies following the coup of Thanedd. While the show is known to stray from the books, it stays true to Tissaia's character arc, and she dies around the same time in the TV show. This confirms that we won't be seeing much of MyAnna Buring in the upcoming seasons.
Buring, who is known for her work in a wide variety of roles ranging from 'Ripper Street' to 'The Twilight Saga,' revealed that she loved playing Tissaia. "I love that sort of stern exterior that hides a really sort of warm beating heart. I'm not stern like that at all in my real life. So it's really fun to be able to play that, you know, ridiculous seriousness and that huge power because it's as far away from me as it's possible to get," she said. Buring might return if the show features any flashback scenes about Yennefer, but for the future timeline, Tissaia's part is done.
Read More: Does Geralt Die? Does Vilgefortz Kill Him?