Investigation Discovery's 'Shattered: Do You Know My Voice?' delves into a true-crime case so baffling that not even the people close to the matter believed it until the piling evidence just got too much to ignore. From how a cruel offender managed to lead a double life for decades to his ultimate downfall, this episode highlights it all by exploring the brutal 2017 murder of James Appleton. So now, if you're curious to know all the details about his death and its spiraling aftermath, we've got you covered.
How Did James Appleton Die?
Born on November 14, 1957, in Merriam, Kansas, James Lee Appleton was the kind, bright, and caring son of Jack and Gwen (Gunnels) Appleton. After finishing his education at Southwest High School in 1975, he spent over 27 years at Emerson Electric as a Supervisor before serving another 12 years as a carpenter. However, in the 2010s, James managed to get a position in the Gateway Rural Water Authority and served the Arkansas city that'd become his home. That's when he lost his life in the blink of an eye.
On February 23, 2017, the 59-year-old city worker was sitting in his truck, speaking to his brother-in-law on the phone, when a car pulled up beside him. According to witnesses, a sole man then pulled the trigger on James through the windows of their vehicles and immediately sped away. By the time the first responders arrived at the scene, though, it was already too late. James had passed from the single gunshot wound straight to his face. Thus, began the investigations into his cold-blooded homicide.
Who Killed James Appleton?
Thanks to the witnesses, a name quickly came to light, but it raised some eyebrows because of how prominent he was in society. Grant Hardin was identified as the assailant, with his professional trajectory making it seem almost impossible. After all, he was once a constable in Benton County, a police officer in Fayetteville, Huntsville, and Eureka Springs, and was also the former Police Chief of Gateway. Moreover, at the time of his arrest, Grant worked at the Northwest Arkansas Community Correction Center.
Apart from the testimonies, the other significant aspect against Grant was the fact that his wife admitted that she thought he was out, working in the yard, at the time of the crime. In simpler words, he had no solid alibi. With that, on October 16, 2017, the then-48-year-old former law enforcement officer pleaded guilty to first-degree murder. He refused to reveal his motive, yet some speculate that he had come across James due to their jobs at some point in time, eventually leading to the seemingly senseless crime.
Where is Grant Hardin Now?
When Grant Hardin was standing in court to face the consequences of his actions, a judge repeatedly asked him if he wished to make a statement to his victim's family to help ease their pain. However, he only responded, "I don't know how to say it, but I'm sorry." Thus, owing to his confession, he received a comparatively mild 30-year sentence in prison. It subsequently came to light that Grant had also sexually assaulted an elementary school teacher in November 1997, when he was 28 and in the police force.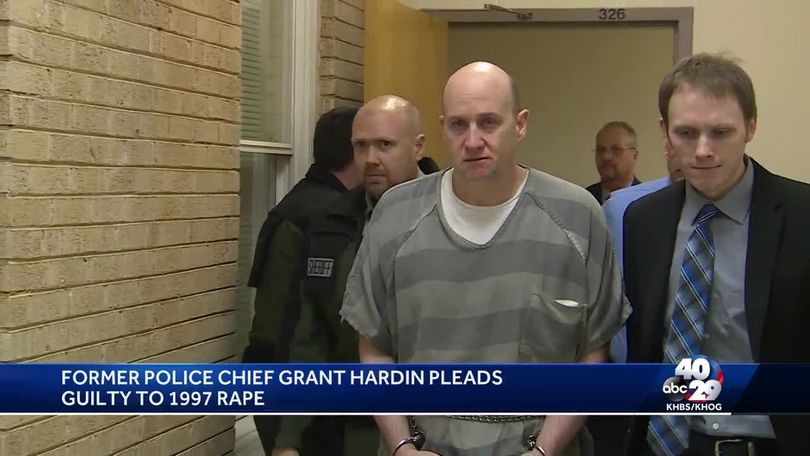 As per the teacher's initial complaint, her attacker held a gun as he forced himself on her in the school's teacher's lounge on that ominous day. He wore a stocking cap and sunglasses with no shoes and was extremely careful about not touching any surface. He also ensured to cover her face during the act. This particular move made authorities suspect the possible involvement of someone who knew how the police worked such cases. Yet, Grant had ejaculated, so DNA did link him to the crime.
In February 2019, Grant Matthew Hardin pleaded guilty to two counts of rape as well. He was sentenced to 25 years on each of the rape counts, meaning that his total penalty went from 30 years behind bars to 30 plus an additional 50 years. As per his plea deal, he'll have to serve 21 years (out of the 30 years) for murder and 14 years (7 each) for assault before he can even be eligible for parole. Therefore, today, in his 50s, he's incarcerated at the minimum to medium-security North Central Unit in Calico Rock, Arkansas.
Read More: Where is Grant Hardin's Wife Now?