On July 4, 1969, Darlene Elizabeth Ferrin and Michael Renault Mageau were sitting inside a car in the Blue Rock Springs Park parking lot in Vallejo, California, when the Zodiac Killer drove up and shot them at close range. Although both were severely injured in the attack, Michael pulled through against all odds, while Darlene ultimately succumbed to the gunshot wounds. While the Peacock documentary 'Myth of the Zodiac Killer' explores the possibility of there being more than one person behind the Zodiac killings, it also features a one-on-one interview with Darlene's first husband, Jim Phillips Crabtree. Well, let's delve into the details surrounding the incident and find out where Jim Crabtree is at present, shall we?
Who Is Jim Phillips Crabtree?
When Jim Phillips Crabtree met Darlene Elizabeth Ferrin for the first time, he believed she was the woman of his dreams. Hence, it did not take long for them to develop a friendship, which gradually turned romantic until they began dating each other exclusively. Interestingly, while on the show, several of Darlene's acquaintances mentioned that Jim was pretty volatile and would often resort to violence when fighting with Darlene. Even the press reports at that time mirrored such a statement, but still, Darlene and Jim tied the knot against all odds before settling in Vallejo, California.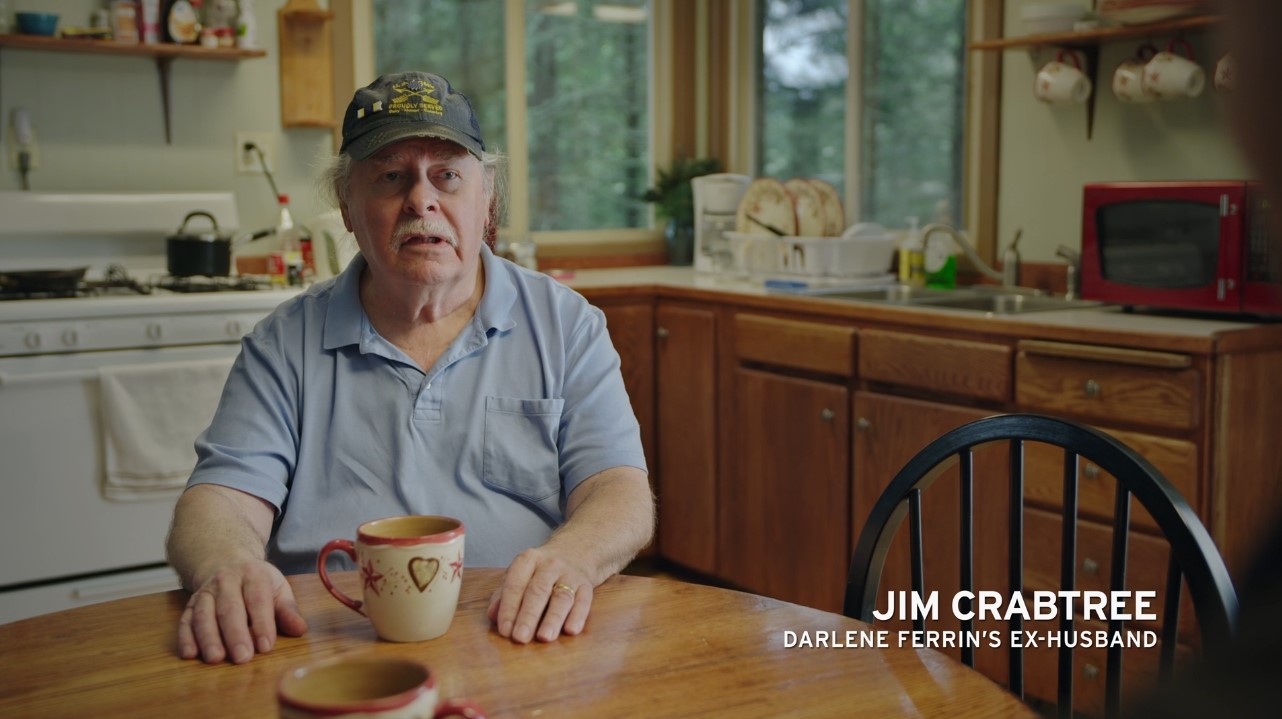 Darlene and Jim were pretty happy with each other in the initial years of their marriage, but things soon took a turn for the worse. As the years went by, the couple found themselves arguing over minor things, and there were allegations of Jim not treating Darlene with respect. In fact, it was around this time that she met her second husband, Dean Ferrin, while working as a waitress at a local diner.
On the show, Dean mentioned that Darlene was looking for a way out of her marriage because of her husband's allegedly violent and erratic behavior. However, readers should take such allegations with a grain of salt as not only are they unproven, but Jim outright refuted being violent with Darlene. Nevertheless, the two eventually got divorced, and once Jim realized that Darlene was planning on marrying Dean Ferrin, he decided to leave the town altogether.
Where Is Jim Phillips Crabtree Now?
Once Jim and Darlene's divorce got finalized, the latter left town and embraced a life of privacy. In fact, he never even resurfaced when Darlene Elizabeth Ferrin was shot and killed on July 4, 1969. Moreover, a few of her acquaintances claimed that while the divorce was tough on Jim, he supposedly began resenting his ex-wife after seeing her with Dean Ferrin. Incidentally, these were the allegations that made law enforcement officers treat Jim as a suspect while investigating Darlene's murder. But when they decided to talk to Jim, they could not find him anywhere, as many believed he was dead.
Nonetheless, law enforcement officers finally managed to track him down. Jim was brought in for questioning after Paul Lee Stine's murder on October 11, 1969. However, further investigation cleared him of all suspicions, and the police had to let him go. When talking on the show, Jim refuted the allegations against him and mentioned that although he and Darlene might have quarreled occasionally, he was never violent with her.
On top of it, he claimed that the divorce was pretty amicable, and he never wished his ex-wife any ill, even when she was with Dean. Additionally, Jim also set the record straight and insisted that he had no hand in Darlene's murder and the rumors about him being the Zodiac Killer were completely false. From what we can tell, Jim likes to keep a low profile to this very day and currently resides in an undisclosed location in Oregon.
Read More: Where Is Kris Chambers Now?