While there's no denying every relationship has its fair share of ups and downs, things get more complicated when the people involved aren't on the same page regarding their future desires. This much is actually perfectly evidenced in Netflix's 'The Ultimatum: Marry or Move On,' wherein five couples attempt to overcome their differences by really delving into the possibilities of it all. Amongst them in season 2 were Kathryn "Kat" Shelton and Alex Chapman — so now, if you simply wish to learn more about them as well as their current standing, we've got the details for you.
Kat and Alex's The Ultimatum Journey
It was reportedly back in 2020 when Travel Nurse Kat first came across Entrepreneur turned Software Sales Executive Alex on Hinge, only for them to fairly quickly fall head over heels in love. In fact, they happily decided to make things official on October 22 and then seemingly didn't even hesitate to introduce one another to most of their friends at one Halloween party or another. The fact the latter subsequently joined his partner on the road to fulfill their unwavering dreams of traveling, experiencing new adventures, and embracing life's many twists just made them stronger.
However, the sheer contrast between Kat's and Alex's personalities soon began to pave problems in terms of what they truly wanted their life to look like a few years down the line as it didn't align. While the duo definitely share a love for spontaneity/outdoors, the conflict avoidant former made it clear she wanted to move to the next step, whereas the logical latter felt they needed more time. He actually went as far as to assert his belief of requiring someone to challenge him rather than just letting him take the reigns, unaware it'd drive her to put her foot down by issuing an ultimatum.
"[Alex] never gives me a real answer…," Kat candidly expressed in the series at one point before adding, "I don't want to go three or four years and still be like, what's going on? I'd rather know now." He then essentially proved her point by stating, "We are this fun, adventure-loving couple who is skiing, surfing, traveling all over the place. I haven't been able to propose because, seriously, we've been busy." Yet it turns out marriage as a whole is not something he's scared of, especially as he helped his trial wife, Roxanne Kaise, see its benefits the way he has always seen them thanks to his parents.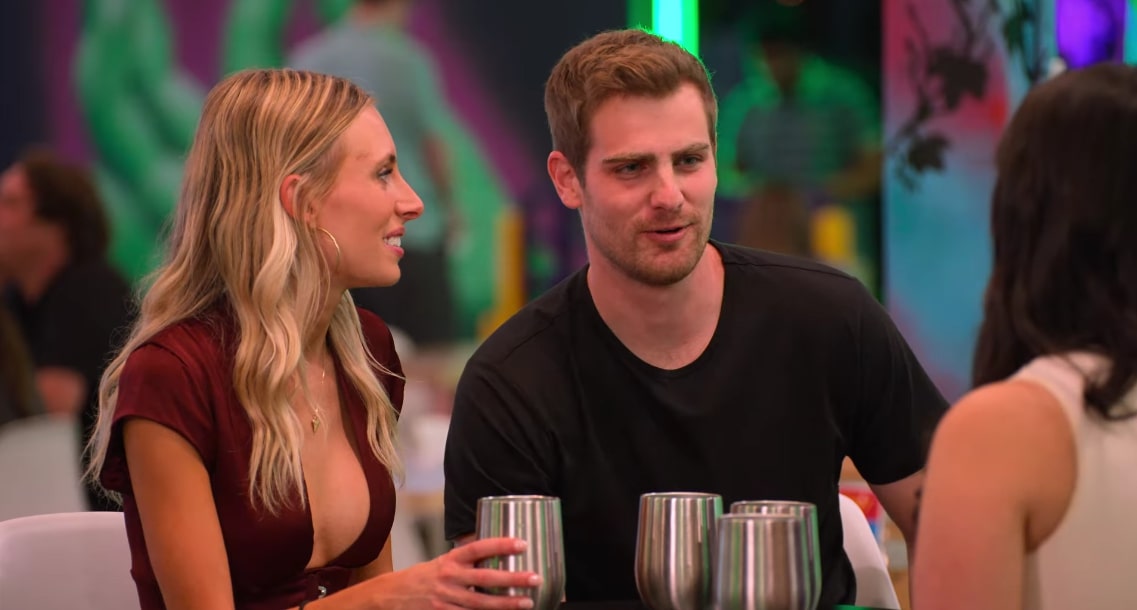 Instead, upon realizing Kat did challenge him in her own quiet way once they reconnected, Alex's hangups only concerned if he was personally ready for forever as well as if he believed she was the one. The fact she'd finally learned to speak her mind from her trial marriage with Antonio Mattei further proved she was ready — evidenced by her clarifying she needed Alex to voice/show he loved her — leaving him with a choice to make. "Once you make [this final decision], you're in. You have to be all-in; you have to stay all-in. It is make or break," he later said, indicating he was still unsure of what he'd really do.
Are Kat and Alex Still Together?
In the end, Alex conceded Kat was the person he wanted to spend the rest of his life with, leading them to get engaged following one of the most straightforward (and on-brand) proposals. Since then, these North Carolina natives have actually confirmed that they're genuinely looking forward to building a life together, especially once they legally tie the knot on May 10, 2024. Moreover, it's imperative to note that during the reunion special, the Travel Nurse revealed her Software Sales Executive beau, who recently became an uncle, has much more of a baby fever than she ever did, indicating they've already started planning for a family too.