In 'KonoSuba: An Explosion on This Wonderful World' episode 2 titled 'The Magic Academy's Taboo,' Megumi returns home from school one day to learn that Komekko has caught a familiar and is planning to eat it for dinner. The following day at school, the students learn that the tomb of the Dark God is awakening and they must learn augmentation surge to prepare for the challenges that lay ahead. Although things are going well when Megumi and her friends go to the forest to train, panic ensues when a gargoyle shows up there out of nowhere. Here's everything you need to know about the ending of 'KonoSuba: An Explosion on This Wonderful World' episode 1. SPOILERS AHEAD!
KonoSuba: An Explosion on This Wonderful World Episode 2 Recap
Megumi and Yunyun spend some time together just before getting to school but when they eventually get there, the former challenges the latter to a dangerous game. Yunyun is not interested in putting anyone in harm's way and gives up immediately following which Megumi celebrates her immature and childish victory. When she returns home, she is greeted by Komekko who has been playing all day and has gotten all her clothes dirty. Megumi gives her younger sister the lamb sandwich that she has bought for her.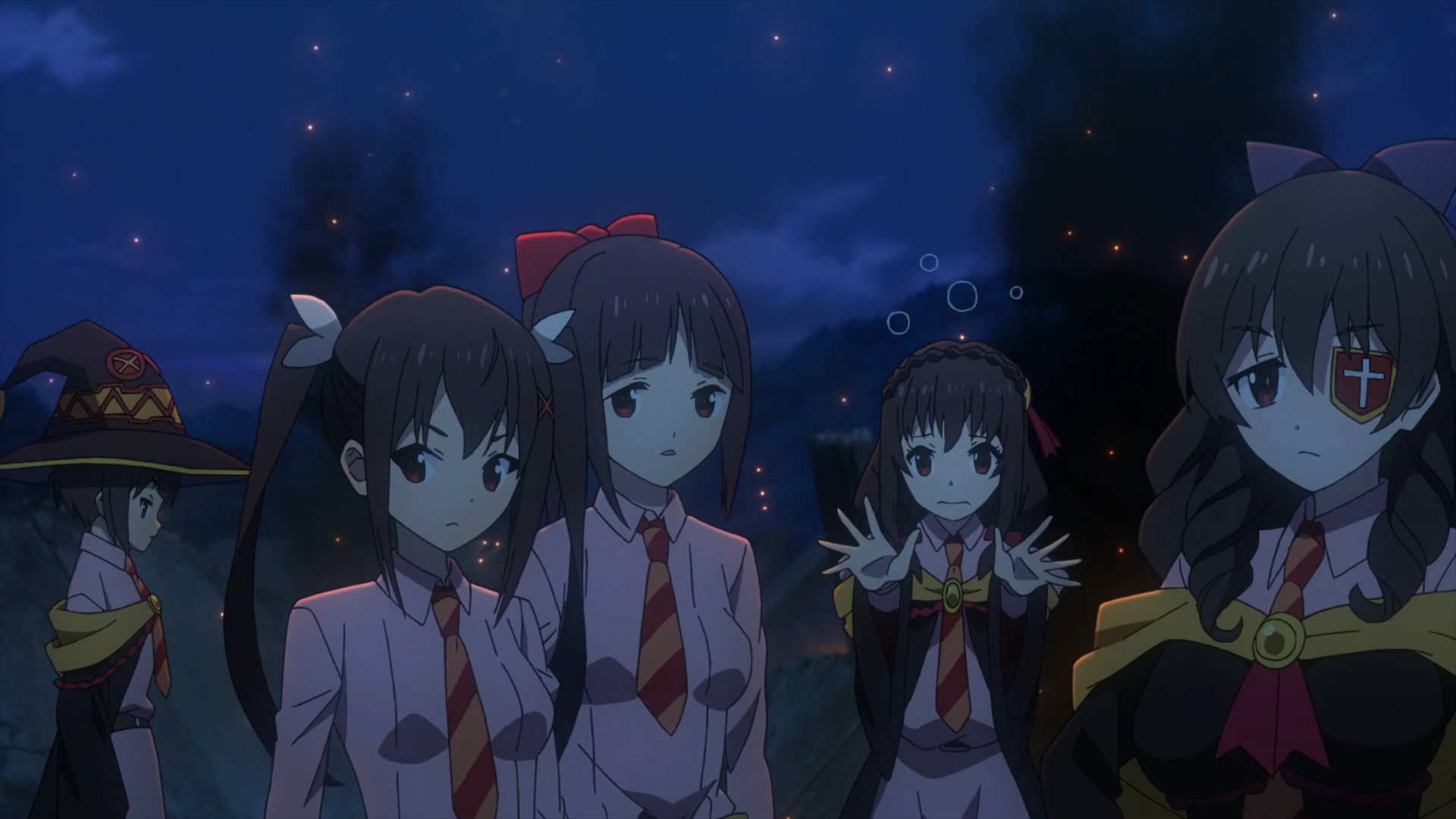 But it turns out that Yunyun has caught something which she is now saving for dinner. When Megumi asks to see what she has got, Yunyun returns from her room with a fierce ebon beast, which according to her was captured after an intense battle to the death. Megumi takes the familiar with her to school the following day and the students are thrilled to see the cute creature. Although the teacher first asks her to take it back to where she caught it, Megumi then manages to convince him by claiming that it is a fragmented aspect of her soul and the incarnation of her dark side.
Then during the class, the teacher reveals that the tomb of the Dark God is awakening, which has led to the monsters in the region becoming quite active. In light of the current threat, the teacher tells Megumi's class that they will be learning Crimson Demon Augmentation Surge in order to raise their levels as soon as possible. The students then form groups and go outside to practice. It turns out that the teacher has already frozen forest animals for the students so that they could kill them.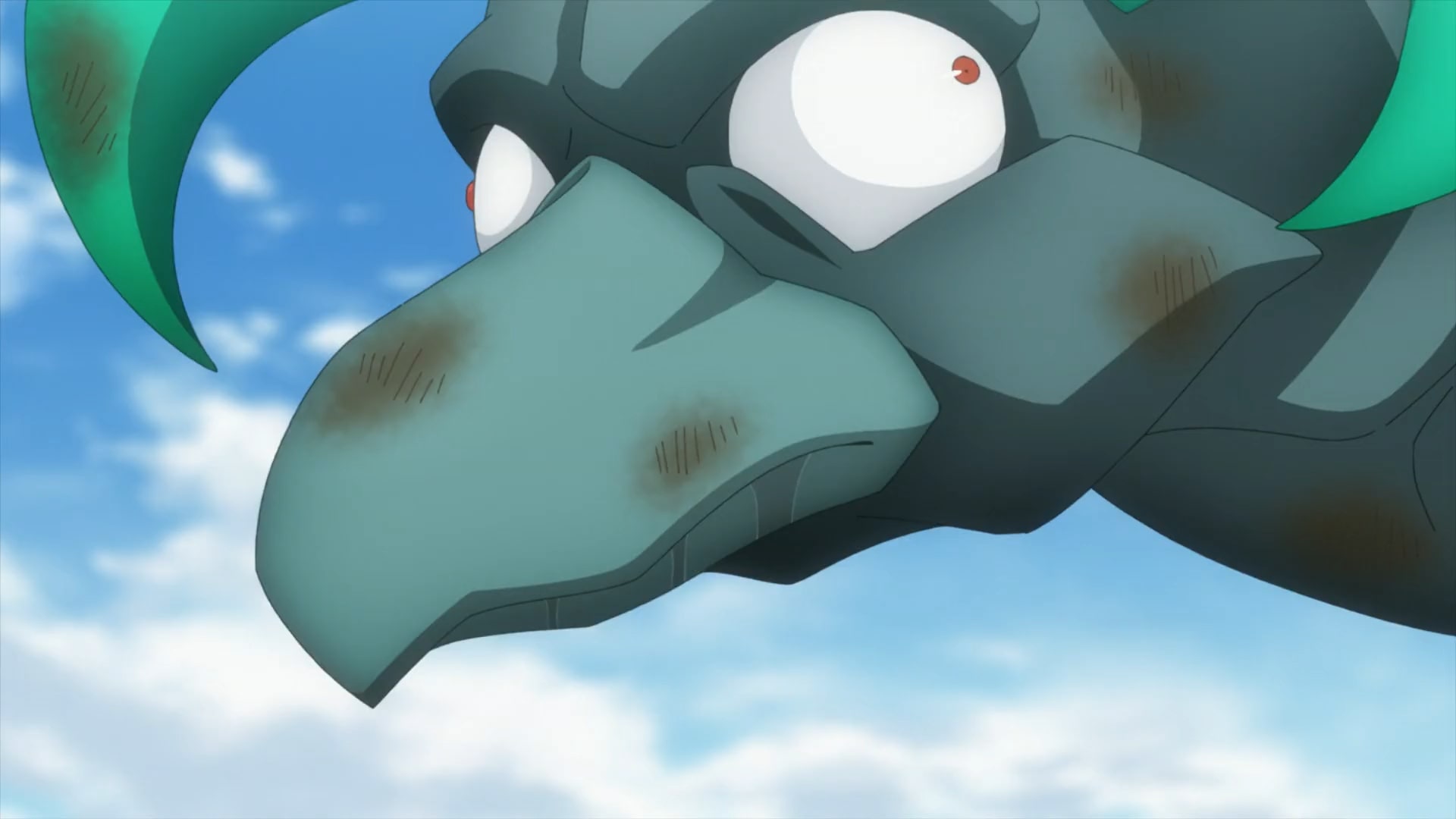 This is an important part of the training and Megumi does not show any hesitation to fulfill the task even though her classmates feel bad for the innocent animals. Things are going well until a gargoyle suddenly shows up there with the teacher not around. The students naturally panic and try to run for their lives. Luckily, they are saved by the Crimson Demon Bukkorori who is stuck in a pit. When he reveals his creepy reasons for going down in it, the students refuse to help him get out of it.
KonoSuba: An Explosion on This Wonderful World Episode 2 Ending: Who Saves the Village From the Gargoyle Attack?
Just moments after Megumi and her classmates walk away from Bukkorori leaving him in the pit that he has dug himself, they are shocked to see their village getting attacked by a horde of gargoyles. There is smoke everywhere and the situation appears very concerning. But their concern turns into fear when a gargoyle appears right in front of them out of nowhere. Luckily, their teacher and the school's headmaster show up there at the right time and take down the monsters. The duo then reassures the students that things are in control as they are ready to fight.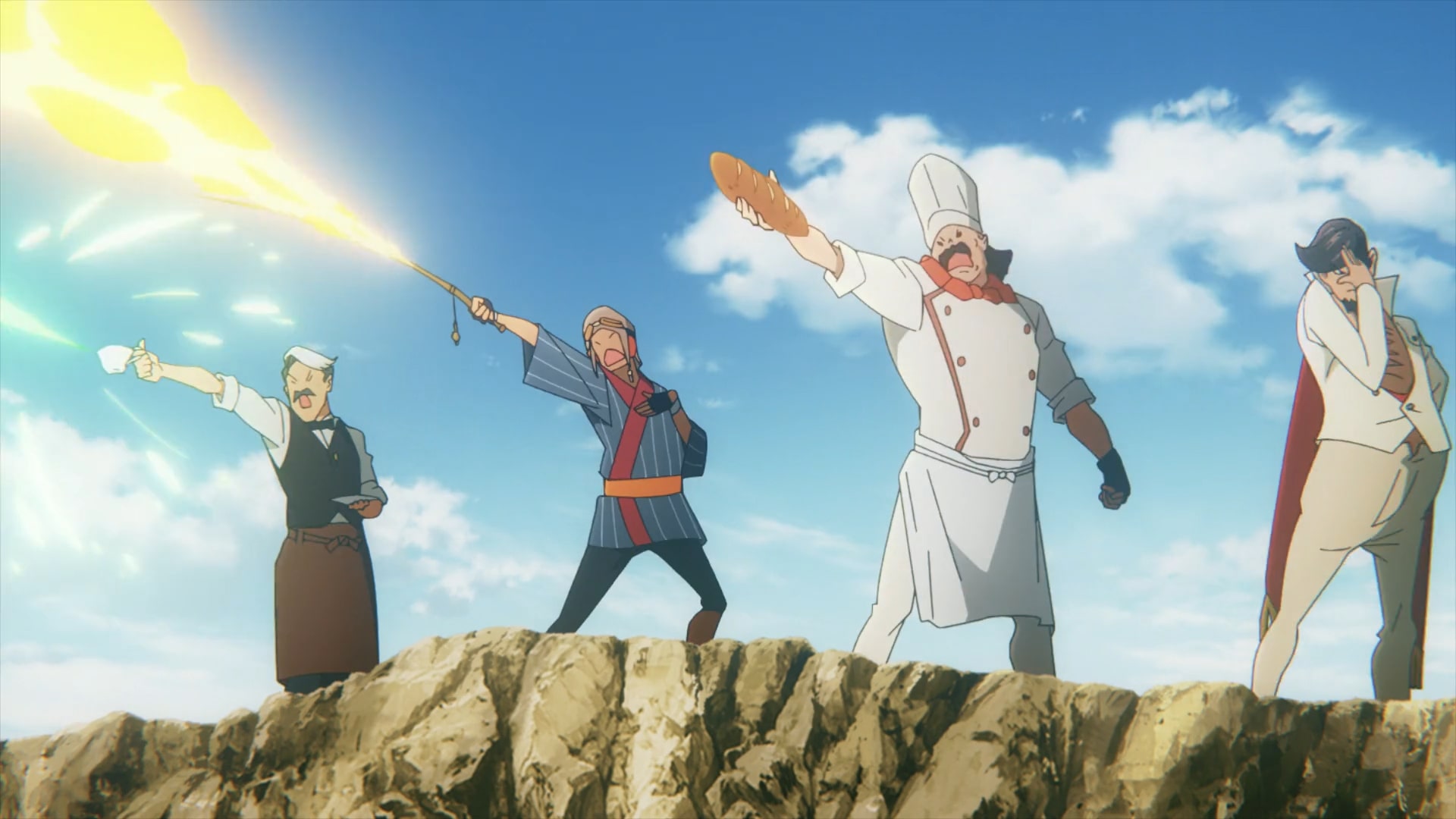 However, they also reveal that they are not alone as Chekera, archwizard and owner of a clothing store; Shikobei, archwizard, and a fisherman; Chakamiya, archwizard, and a baker; Torosuke, archwizard, and a baker are also there to fight the gargoyle. All of them then use advanced magic together to attack the monster flying over the village. While their control over their magic is impressive and other students find it fascinating, Megumi is still thinking about the Explosion magic she has witnessed and feels that everything else just pails in comparison to it.
Although the teachers are relentless in their attacks, they eventually overdo things as their strong magic attacks destroy the entire village. Luckily, the villagers work hard and miraculously manage to reconstruct their homes and businesses. Naturally, the teachers do get a lot of complaints from the parents association but things quite quickly turn back to normal.
Read More: KonoSuba: An Explosion on This Wonderful World Episode 1 Recap and Ending, Explained