In the third episode of 'Kubo Won't Let Me Be Invisible' titled 'The Nobody's Gift,' Nagisa meets Shiraishi-kun's younger brother Seita when he is playing in the park. Later when Shiraishi goes to a bookstore, he struggles to avoid the temptation of having a glance at an adult magazine. That's when Nagisa's older sister Akina stops him. Although both of them do not know the other, Shiraishi ends up dropping his student ID card at the store and while giving it back to her sisters, Akane tells him what happened. The following day when Nagisa meets Shiraishi-Kun, the duo have an awkward confrontation. Here's everything you need to know about the ending of 'Kubo Won't Let Me Be Invisible' episode 3. SPOILERS AHEAD!
Kubo Won't Let Me Be Invisible Episode 3 Recap
When Nagisa Kubo and Shiraishi meet each other at the school, she tells him that the ideal height difference between a couple is six inches. Interestingly, the latter is barely one inch taller than her. While she stands one staircase above Shiraishi to give him a feel of what that difference is like, she eventually reveals that she prefers the way they are. When the classes for that day finally come to an end, Shiraishi leaves without Kubo after informing her that he has some plans.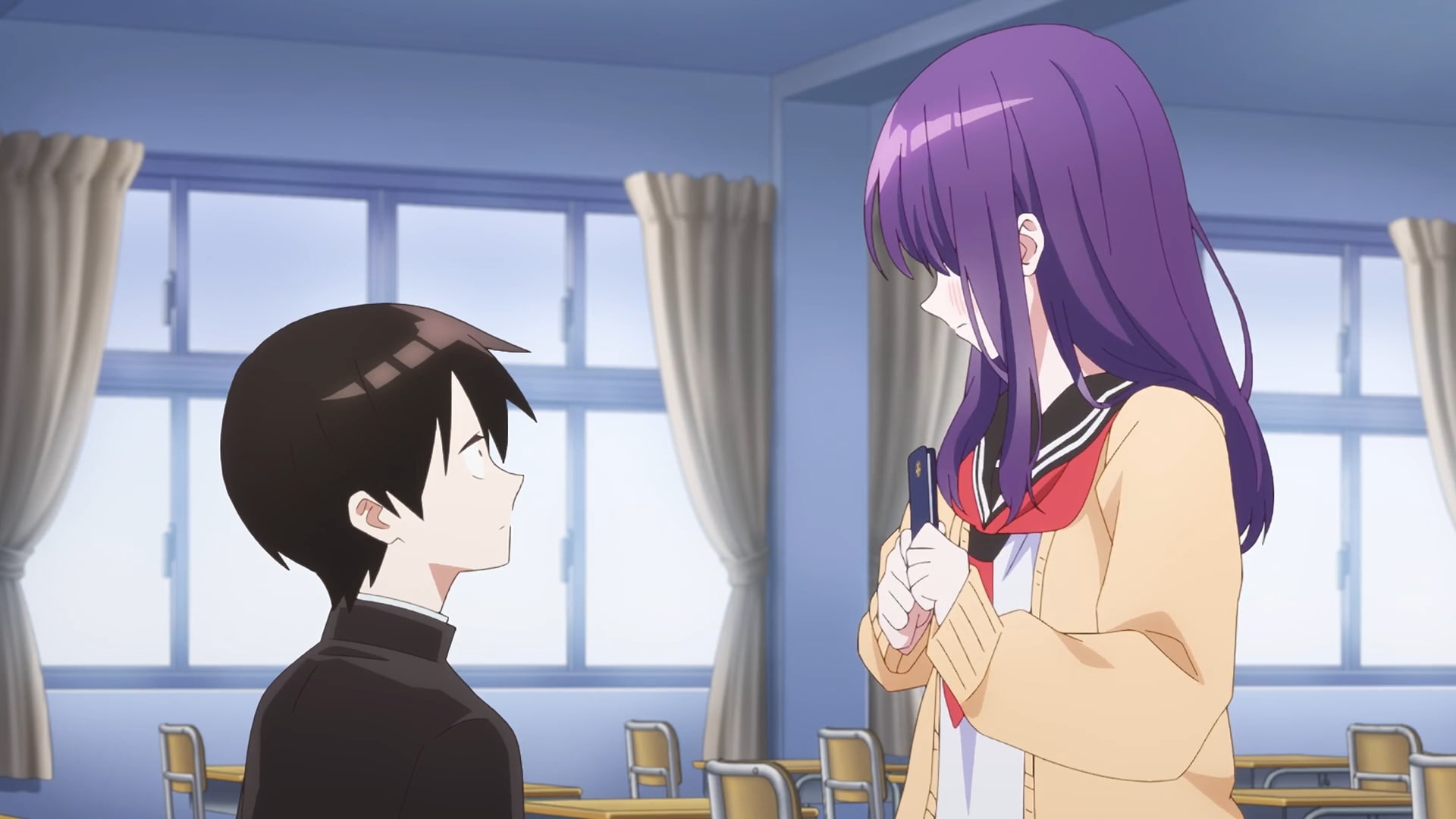 It turns out that Shiraishi has to take his younger brother Seita to the park so that he can play in the snow. Nagisa finds the two of them while passing by and gets introduced to Seita for the first time. When Seita notices that she is carrying a hot beverage, he demands one for himself as well. Nagisa is kind enough to give him the bottle. Interestingly, Seita has a habit of sharing and makes Nagisa drink a little as well. But when he asks Shiraishi to drink too, he becomes quite reluctant.
Nagisa gestures that he can just pretend for Seita so that he won't feel sad. Later when she enquires if he was worried about the indirect kiss, Shiraishi seems embarrassed and runs away after making an excuse. Later that day at his house, Shiraishi can't help but think about the bonus poster of the latest manga that he has been reading. Since the cover page of the book is embarrassing, he goes to a bookstore far away from his home so that no one can recognize him. When he is about to pick the manga, he notices an adult magazine just next to it.
Shiraishi has never read one, so he becomes quite curious and decides that it won't hurt to take a brief peek. But before he could do that, the saleswoman there tells him that the magazine is for adults only and he seems quite young. Although Shiraishi makes the excuse that he was just putting it in the right place, she kind of understands that he did plan to take a brief glance. After he leaves, the saleswoman realizes that Shiraishi's student ID was lying on the ground.
It turns out that this saleswoman is actually Akane Kubo, Nagisa's older sibling who hands over the ID to her sister after noticing that Shiraishi also studies at Haruka North High School. Unfortunately, she also informs Nagisa that the boy was actually staring at adult magazines that had photos of girls with big boobs. The following day at school, Nagisa hands over Shiraishi's student ID. But then she can't help herself and ends up asking if he likes big boobs. Although she runs away, it seems that she feels quite insecure because of the embarrassing revelation.
Kubo Won't Let Me Be Invisible Episode 3 Ending: What Does Kubo Plan For Christmas? What Gifts Do Shiraishi and Nagisa Give Each Other?
One day after school, Akina asks Nagisa if she has plans for Christmas. It turns out that the latter has not really thought about it yet. Interestingly, Akina plans to spend the day with her friends, which intrigues Nagisa to think of something as well. The following day at school, she asks Shiraishki-Kun if he has plans for the coming week. Since he is free and Nagisa reminds him about his promise to hang out as soon as they get time. She asks him to meet at the train station next Saturday, which turns out to be Christmas Day.
When the big day finally comes, Shiraishi gets very nervous and reaches the station 30 minutes before the planned time. Luckily, Nagisa arrives soon afterward and appears to feel sorry that she made him wait. Interestingly, she came to meet him with a gift and tells Shiraishi that she wants the two of them to exchange presents. But Nagisa has not informed him in advance, so Shiraishi came empty-handed. She expected something like this will happen, so she gives him fifteen minutes to pick a gift for her. Shiraishi runs to the nearby shops and starts thinking about what he could possibly buy for Nagisa.
Eventually, he realizes that she may be feeling cold because of the snow. Since she does not have any gloves, Shiraishi buys her a pair. Nagisa appreciates his thoughtfulness and seems genuinely thankful. However, she feels really bad that she bought Shiraishi a yellow t-shirt that has "main character" printed on it. Nagisa thought that it will help him be more noticeable to other but suddenly realizes that it was probably a bad idea. Interestingly, Shiraishi is just happy that at least she bought something for him.
Read More: Kubo Won't Let Me Be Invisible Episode 2 Recap and Ending, Explained