Captivated by the remarkable results of augmented features, individuals employ the help of Dr. Terry Dubrow and Dr. Paul Nassif to initiate aesthetic enhancements in 'Botched.' Lacey Wildd is one of the individuals whose unending strive for perfection becomes a cause for concern. The reality series chronicles the journey of clients who hope to rectify the botched results of their previous surgeries. With high expectations and tricky slopes, the series features the height of medical marvels. Given Lacey Wildd's memorable appearance on the show, fans have continued to wonder about her latest whereabouts.
Lacey Wildd's Botched Journey
Unafraid to test the capacities of her body, Paula Thebert, popularly known as Lacey Wildd, employed the help of experts to make her breasts more prominent than they originally were. Lacey was once a girl with a flat chest. However, her focus was drawn to augmentation after her sibling repeatedly pointed out the same. As she entered adulthood, her obsession also deepened. Before long, Lacey ended up getting breast implants. After her close ones reacted positively, there was no turning back. From securing a spot on the Guinness World Book Records to insuring her breasts for a quarter of a million dollars, Lacey's breast enhancement was no short of a marvel.
However, her journey wasn't without its complications. Over the years, the triple-L implants had taken a significant toll on her well-being. At one point, the extra weight on her chest caused a peck muscle and vein to rip, causing her to undergo immediate surgery. Despite the massive health scare, Lacey was undeterred. Having realized that her breasts could be gone for good, the television personality decided to have pig skin implanted into her body. Ultimately, the doctors placed pig skin around the edges and underneath her chest to secure her 21-pound breasts.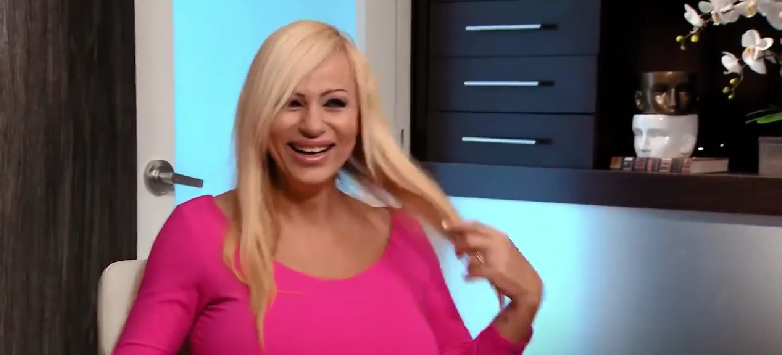 In the hopes of going from 3500CC to 5000CC implants, Lacey sought consultation from doctors Terry Dubrow and Paul Nassif. However, the medical professionals were taken aback as they hadn't ever performed an enlargement surgery of such proportions. Upon learning that there were tissue expanders poured within her armpit, the doctors quickly advised her that going any further could be tumultuous for her health. However, Lacey wasn't deterred and believed that her breasts allowed her to make money and were thus worth the hassle.
Where is Lacey Wildd is Now?
Almost a decade since she flabbergasted the experts at Newport Beach with her cosmetic surgeries, Lacey has gone to explore other avenues of success. Based in Florida, the mother of six first rose to rise after she appeared on MTV's 'True Life.' While the television personality likes to keep the information about her children under wraps, it is apparent that she's reaching new heights professionally.
After opening up about the bevy of cosmetic procedures in 'Botched,' Lacey went on to appear in 'My Strange Addiction' alongside Justin Jedlica. Like her appearance on the E! reality show, Lacey opened up about her addiction to plastic surgeries in 'My Strange Addiction,' too. She has also explored her abilities as an actress and has since appeared in 'Blonde Squad' and 'Beauty and the Beholder.' Having undergone as many as 36 operations in the past, Lacey has come to be known as the 'Human Barbie.'
In addition to her breasts, the television personality has also had enlargements on her buttocks. She has also undergone a rhinoplasty and eye surgery. While her fascination with contouring her body persists, Lacey has discovered other avenues of success, too. Now a professional psychic, Lacey describes herself as clairvoyant. The actress has expanded her operations and works under the pseudonym Ghostbusty. In an interview with Barcroft, she went on to explain how she's always had a connection with the inexplicable.
Citing her childhood experiences, she stated, "I had near-death experiences as a child and I think that is what caused me to have these abilities. I once refused to get in a car that crashed and killed the passenger and another time I fell down a well." Furthermore, she suggested that breast enhancement was the only way for her to help people. The New York Post details her belief, "And I know I was supposed to have huge boobs to help the world one soul at a time." Lacey now conducts readings and entertains the idea of the supernatural in several ways. Her latest movie, 'Beauty and the Bender' is also a horror film. The actress is an avid traveler and has since moved into an RV to visit picturesque locations across the country. Naturally, we await all the significant milestones that lie ahead for Lacey Wildd.
Read More: Justin Jedlica: Botched Star is Now a Cosmetic Surgery Consultant