Among the four finalists that made it to the end of season 1 of 'Surviving Paradise,' Lellies Santiago is perhaps the most captivating of all. From the very start of her time on the show, she maintained a steady presence, and though there were indeed some hiccups along the way, the ending was certainly one that she likely appreciated. As such, many of her fans are eager to know about what the survival series star has been up to these days, and we are happy to explore the same!
Lellies Santiago's Surviving Paradise Journey
As soon as Lellies Santiago, a New Jersey native, set foot in the Netflix series, she was actively making alliances in order to cement her place in the competition. Slightly wary about the tactics that Tabitha Sloane might use, Lellies tried to make as many alliances as possible. This allowed her to not only be the first person to enter the villa but also to bring three additional people with her: Linda Okoli, Alex Dourassof, and Francisco "Sisco" Williams. However, her carefully crafted alliances soon started to crumble.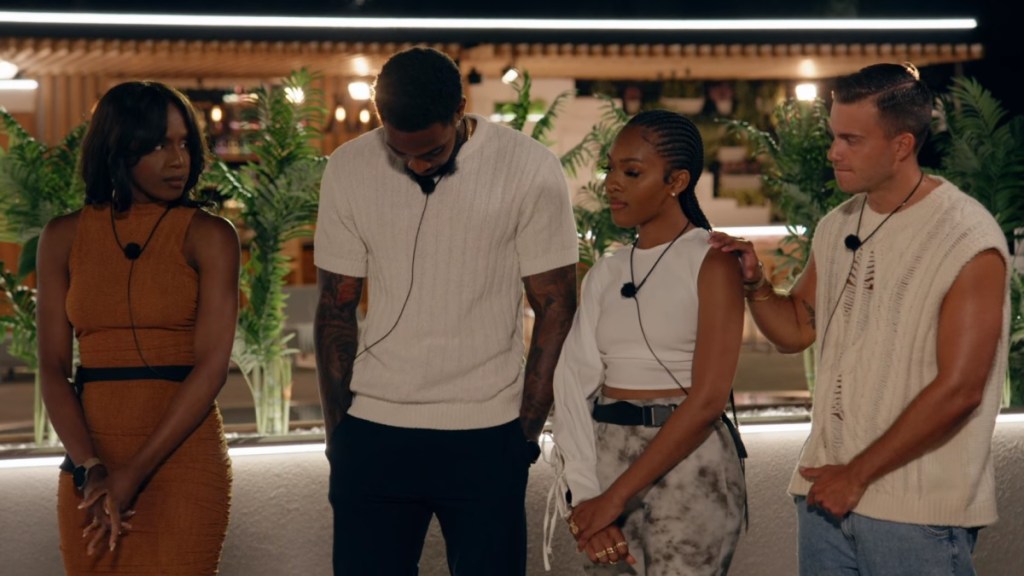 During the subsequent voting, Lellies chose to vote out Linda from the villa instead of Cisco, which baffled Linda and Alex as they had been under the impression that they and Lellies were in a solid alliance of three. While Lellies tried her level best to smooth things over, almost everyone was unsure about what to make of her actions. Things certainly did not seem to be going her way when Tabitha also entered the villa and took the first possible opportunity to convince others to send Lellies back to camp, stating that Tabitha themself did not have any friendly connection with the Outsiders.
That said, Lellies did not forget to mention Tabitha's words to those who did think they were allied with the latter contestant once she went back to camp with toothbrushes and toothpaste. Following this, the Outsiders were able to win a survival challenge and decided to send back Lellies and two others to the villa. This was followed by a major reshuffle, where Lellies' attempt to deceive Eva was not well-received by anyone. However, Lellies did end up going to camp once more, where she was joined by many of her allies, and she was able to repair several of her connections. Things were also helped by the fact that she decided to be upfront about Tabitha's attempts at alliance with everyone else.
Not long after, Sisco was eliminated, which deeply hurt Lellies, claiming that he was like a brother to her. Thanks to her progress with her alliance members, Lellies was back in the villa when Linda decided to invite her to the luxurious home after she herself was voted back in. However, the bond between the two women was tested once more when Lellies and Linda had to choose one person amongst themselves to send back to camp.
Ultimately, it was Linda who decided to go back to camp, especially after hearing how Lellies wanted to use the prize money to help her father. During the final elimination round, Linda survived the purge-like exits and joined Lellies as one of the top 4 finalists. Later on, the last participants standing had to convince the eliminated contestants to vote for them. Though it was Linda who was crowned winner, she chose to split her prize money of $200,000 with Lellies, rejecting the possible pot of $250,000.
Where is Lellies Santiago Now?
Based in Los Angeles, California, Lellies Santiago is a successful model who has been active in the industry since she was in the 9th grade. From fashion events to hair shows, the Netflix star is always there to shine in the spotlight. Apart from modeling assignments, she is also an actor and has been quite proud of her recent reality TV debut. Additionally, she is quite the entrepreneur and is the proud owner of a clothing line called Bad Bitches Don't Crease (BBDC). The company was launched in July 2023, on the occasion of her birthday.
With over 102K Instagram followers and a TikTok account that has more than 133K subscribers, Lellies is certainly quite popular on the internet. Her fame can easily be attributed to her work as a beauty model as well as her entertaining content. She also has a YouTube account that has over 1K subscribers. As for her personal life, we are quite heartbroken to share that Lellies lost her brother, Yonathan, on November 8, 2022. She is seemingly close to her father and is in a happy relationship with Kris Kasanova at present.
Read More: Tabitha Sloane: Surviving Paradise Contestant is Now An Entrepreneur