'Love, Guaranteed' is a romantic comedy directed by Mark Steven Johnson. It stars Rachel Leigh Cook as Susan, a lawyer that always strives to fight injustices for her clients. Nick, a disappointed user of a dating site (and her client), is played by Damon Wayans Jr. The film follows the relationship that develops between the two as they sue the company for false advertising.
Love, Guaranteed Plot Summary
Susan Whitaker is a civil litigator with a very strong moral compass, and she always does the right thing, even if it means taking on pro-bono cases. She also has her own law practice. But sometimes, fighting for the wronged means that there is a dearth of income. Nick Evans, a man who wants to sue the dating app Love Guaranteed for false advertising, hires Susan as his lawyer. He states that he is a victim of fraud and that spending $29.95 every month has not led him to find his soulmate. Moreover, the catch is that the company only applies the guarantee if the subscriber has been on a 1000 dates. Up until that point, Nick had already been on 986 dates.
Initially, Susan feels that this is just an opportunity for Nick to get a big payment, even referring to it as a "gotcha" lawsuit. But she needs to keep her business afloat and signs Nick on as a client. Love Guaranteed is a billion-dollar company, and for Susan to win the case, she needs to do her due diligence. Consequently, the lawyer and her client spend time together and also start developing feelings for each other. However, the upcoming court trial and the pressure to win it start getting to Susan.
What Are Nick's Initial Motivations for Signing Up on Love Dangerous?
Considering that Arianna, his ex-fiancée, left him for someone else without any explanation, one wonders if Nick was really over her in the first place. The engagement predates his subscription to the dating service, so what if he signed up only because he was still hurting and looking for a rebound? Well, it could be a likely possibility. In reality, many people do the same after their existing relationships fall through. The movie does reaffirm his convictions of wanting to find true love time and again. However, it seems as though he was only in love with the idea of love until he meets Susan.
Why Did Nick Not Find a Partner Even After 1000 Dates?
This is a key point in the company's defense strategy and is certainly a question worth pondering over. Online dating can be both a boon and a curse, and yes, Nick may definitely have met a few strange people through the app. But how is it that Nick does not find someone he can click with even after a thousand dates?
It seems to be the case that Nick never followed up with any of the women he dated. In fact, during the trial, there is a woman who states that their date was perfectly pleasant and that there was no second date simply because that is how online dating functions. This explanation almost feels like a cop-out. Plus, if you extrapolate this sentiment of an evening well-spent across all his dates, you realize that there is no way he would not have met a potential partner. Real relationships take time, patience, commitment, and understanding. They are not just established by simply liking someone. Therefore, one can conclude that he was not proactively investing any time, or effort, in making a relationship happen.
Why Did Nick Simply Not Unsubscribe From the Dating App?
Even after going on a 1000 dates, Nick fails to find someone who he can call his partner. After not receiving any results from the service, he decides to sue them for false advertising. Nick is painted as an honest man who would have donated the money from the lawsuit for a children's wing at the hospital, which is definitely a noble way to use the funds. But unsubscribing from the app seems like a more natural path to tread.
Considering that Nick would go on dates for all three meals of the day and that he would always pay the bill, one can't help but wonder how much money he could have actually saved if he just… stopped. Add to this the $29.95 he paid each month for the service, he could have saved up a decent amount. I agree it would, by no means, equal the $500,000 that Tamara Taylor, the owner of Love Guaranteed, ends up donating in the climax. But the journey of a 1000 miles starts with a single step, and his contribution would still have helped the hospital in some way. Therefore, it seems that his dating escapades are only used in the film to advance the plot.
The Ending: What Happens at the Trial?
Susan starts with a funny yet impassioned speech while pleading Nick's case to the jury. However, Bill defends the company's stand and states that people who truly want to find love would have most definitely done so after a thousand dates. He insinuates that maybe the reason Nick was unsuccessful was that he actually wasn't looking for love in the first place. Bill, of course, was referring to Nick's previous heartbreak where his fiancée just up and left him for someone else without an explanation.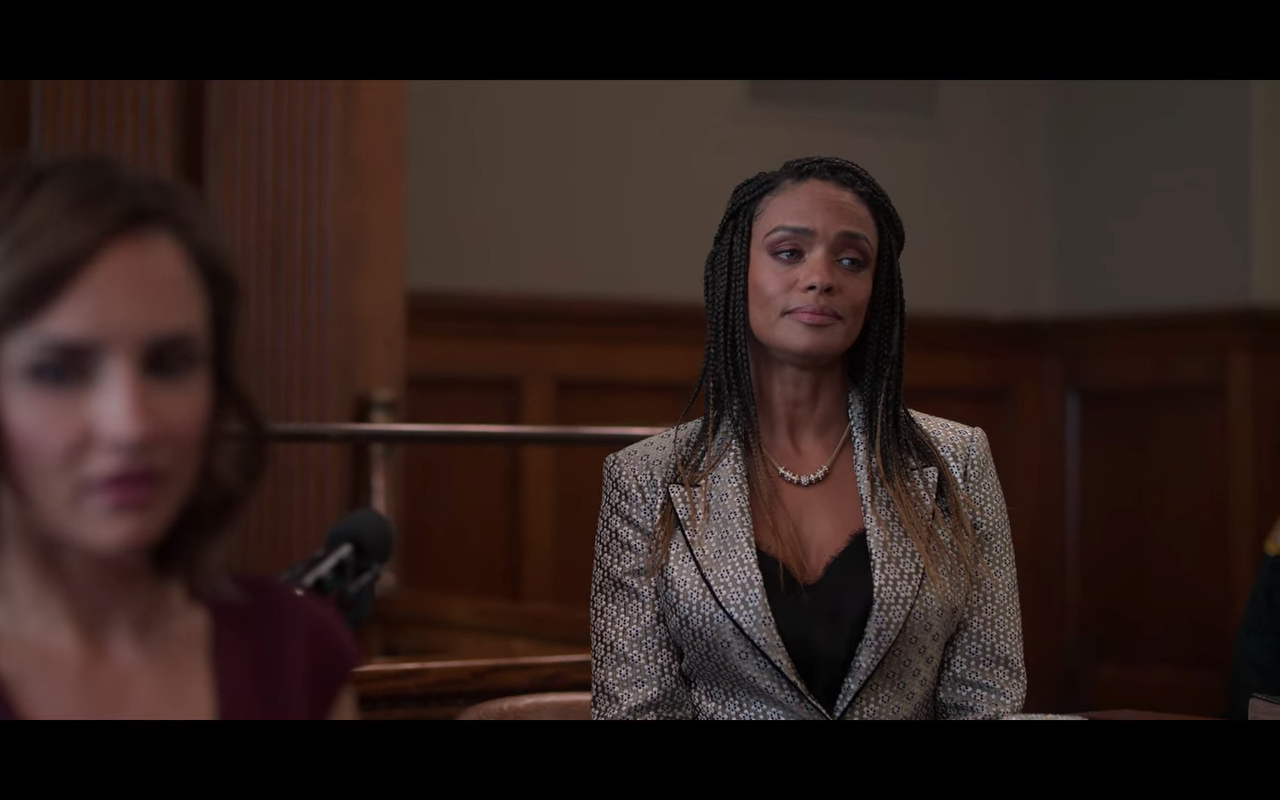 Some of Nick's dates are also called to the stand, and they all testify in support of him. The first woman states that there is no way to predict love and that it is impossible to guarantee when someone finds it. Another witness states that he was a perfect gentleman on their date. Arianna Silvers is then called to testify. She states that she was a little skeptical about Nick not clicking with anyone even after hundreds of dates. But she did not feel the same way anymore, especially because he has always been an honest man and would not lie about this.
When Nick takes the stand, he professes his love to Susan in front of everyone. Bill interrupts and says that the case must be dismissed because of this, and Nick states that there is no need for that. He is withdrawing it himself. He agrees with Bill in that it was eventually Love Guaranteed that introduced him to Susan. Even Tamara sheds a tear after hearing Nick's speech.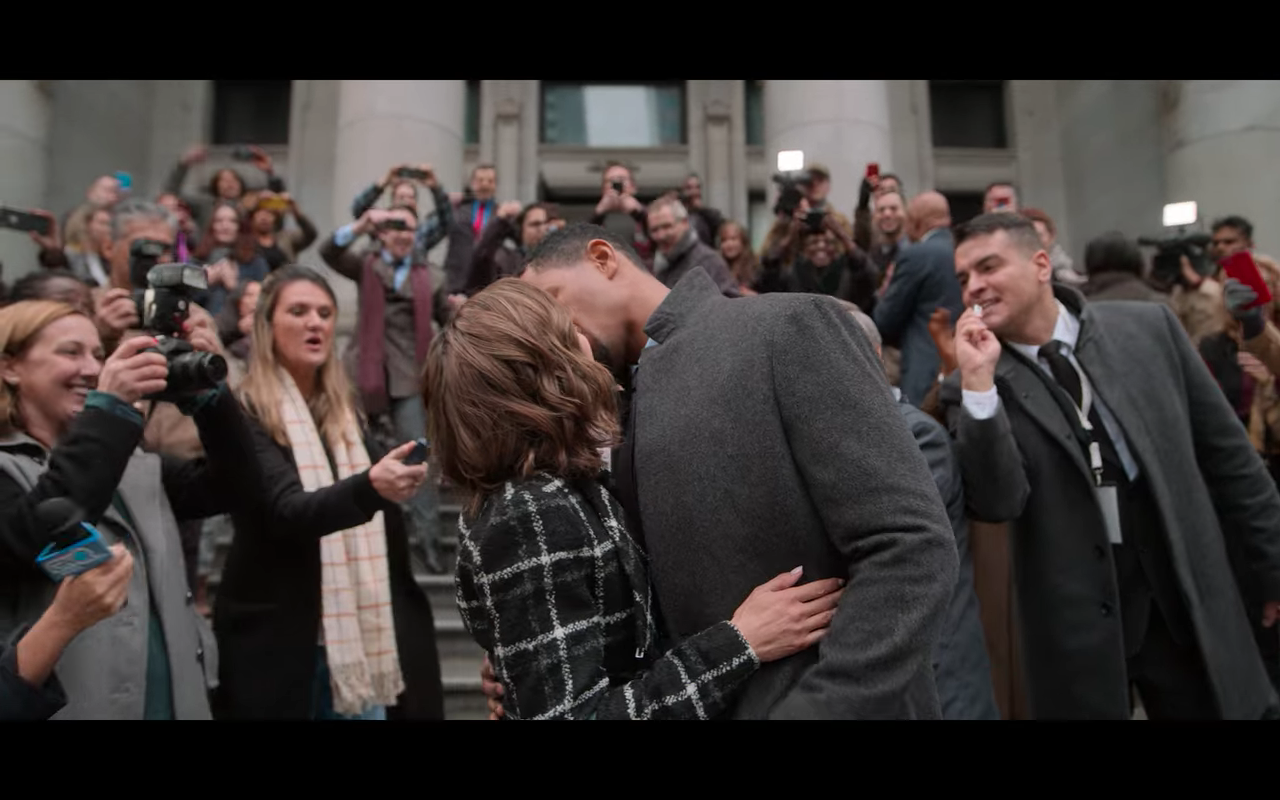 Susan also admits her true feelings for him, and the pair kiss inside the courthouse. Tamara looks at this as a lucrative business opportunity and tells the couple that she will cover their legal fees, and also pay $250,000 for the children's wing at the hospital. In return, she wants Susan and Nick to become the face of Love Guaranteed, stating that a real-life love story such as theirs will be a hit with the public. Being the competent lawyer that she is, Susan negotiates the amount up to $500,000. The couple then leaves the courthouse and shares a kiss again, having found their happy ending.
Read More: Is Love, Guaranteed a True Story?