'Love Island Australia' is a dating show that brings several young men and women to a beautiful villa. Each participant aims to find a romantic match for themselves and establish themselves as one of the front-running couples throughout the season. However, it is not just the winning couple that has the viewers' eyes on them, and many of the cast members retain a large fan following after their time on the show. It has been quite some time since the production of the show was wrapped. Naturally, fans are curious to know where are their favorite couples from season 2 now. We are here to provide answers to the same.
Where are Blake Williamson and Margarita Smith Now?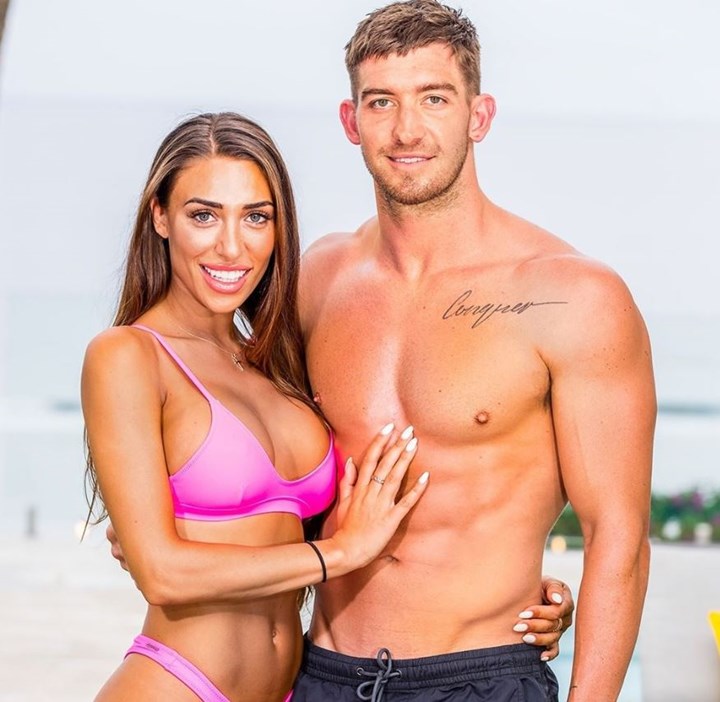 Season 2 introduced the bombshell Margarita in the villa, who quickly grabbed the attention of singles in the villa. After enjoying a few dates with Adam Farrugia and Matt Zukowski, she formed a connection with newcomer Blake Williamson. The pair shared intimate and sweet moments throughout the rest of the season, however, things between them didn't last long, and they reportedly broke up after Blake cut off things with Margarita. He made the decision for the same after Margarita reportedly told the other girls in the villa intimate details about a night they spent together.
He felt that his privacy was invaded after intimate details about his body were shared and talked about with the girls in the villa. They were dumped from the villa shortly after. Margarita is confident like never before now and is very happy with her new features. She is an active social media influencer with a great following on Instagram, TikTok, Only Fans, and Feet Finder. Though her profile is private at the moment, you can always follow her for exclusive content. Blake is a very successful trainer who has launched his own fitness app called EQ strength. He has had his own line of Premium canned water.
Where are Jessie Wynter and Todd Elton Now?
Jessie and Todd had a pretty rough game before they coupled together for the final coupling. Prior to establishing a genuine connection with Todd, Jessie coupled with Eoghan Murphy, Gerard Majda, and Maurice Salib. However, after she laid eyes on the dashing building manager, she was all smitten. The pair secured the fourth position on the show and carried on their relationship off-screen. Unfortunately, the duo decided to split in February 2020 due to differences in opinions. Jessie took to Instagram to address their breakup.
She posted, "This post isn't easy to write and isn't something I want to be confirming, but sadly, yes, the relationship between Todd and I is over." She added, "I've loved every minute spent with Todd from the moment he walked into that villa and absolutely adored him, but I guess some things just aren't meant to be. I know that coming off of a reality television show, people will have their opinions which is a position I put myself in, but please be mindful that at the end of the day, we have feelings and breakups aren't easy."
Jessie confirmed that she had also dated 'Love Island' star Mitch Hibberd briefly; however, that didn't work out, and Jessie is single and focusing on her career as a personal trainer and social media influencer as of writing. After his career as a professional football player who played for the Richmond Football Club in the Australian Football League, Todd has taken a step back from his sports career. He is currently working as a Building Project Manager. He tried his hand at boxing and soon realized it was not for him. Per his social media, he might be dating Natalie, a cosmetic nurse.
Where are Aaron Deacon Shaw and Cynthia Taylu Now?
On-screen, it seemed like Aaron and Cynthia had great chemistry, and they were a picture-perfect couple. However, they broke up shortly after they left the villa, and it was a dramatic one. The breakup was a hard time for Cynthia and she took to Instagram to pen down her feelings. She posted, "Letting go doesn't mean that you don't care about someone anymore. It's just realising that the only person you really have control over is yourself."
Cynthia added, "As you've all probably noticed, Aaron and I are no longer together. I ask you all to please be respectful of me during this time. It's been a very draining and emotional time… but I'm looking forward to the future." Islanders Luke and Cassie commented on their relationship and breakup in an appearance on 'The Kyle and Jackie O Show' where Luke said that Aaron was into blondes and because he wasn't getting to make any connection with them, he turned towards Cynthia.
Cassie nodded in agreement, saying, "'Aaron is the guy for her." Though Aaron chose to refrain from making any statement regarding the allegations, we believe he prefers to stay silent to subside the drama. Both Aaron and Cynthia are happy in their respective lives, and we hope they find their true love.
Where are Cartier Surjan and Matthew Zukowski Now?
Cartier and Matthew had great chemistry between them, which led them all the way to the finale, only to secure the second position. Though the couple seemed very much in love with each, shortly after they left the villa, they decided to remain friends. The two announced their split on Instagram, with Cartier ending their new relationship. She posted, "Hey guys! I've made the decision that Matthew and I are better off staying good friends rather than in a relationship," Cartier posted on Instagram. He's a beautiful guy, no doubt about it!
Hope you all can respect my decision and support both of us in finding true love." However, they ended their situationship on healthy terms and went ahead to find their soulmates. Cartier found hers in a handsome Athlete, Jake Simpkin, and they are very happy with each other. They often post sweet posts with each other celebrating their love. Matthew is busy living his best single life, enjoying himself with his family and friends. His podcast, 'Where's Your Head At,' which he shares with Anna, is looking great and is garnering a lot of attention from fans across the globe.
Where are Anna McEvoy and Josh Packham Now?
Winners of season 2, Anna McEvoy and Josh Packham, had the best run on the show and fans were delighted to see them take home the winning prize money and their significant other. However, after dating and living in together for almost six months during the pandemic, the couple decided to break up. Anna posted to Instagram saying, "It is with great sadness that Josh and I are going out separate ways. I know that so many of you are invested in our relationship but please know we did everything we could to make it work."
Josh added to his own story, "We have had an amazing journey but unfortunately sometimes relationships don't work out and two people grow apart." Reportedly, the pair split after being stuck together for months on end during the pandemic. The lack of healthy space between the two caused several rifts. However, things are really great for the couple in their respective lives.
Anna is engaged to the man of her dreams, Michael Staples, and is soon to get married. She is also the host of her podcast, 'Where's your head at the podcast.' Along with presenting Australia's Best Pools, Josh has been working hard to expand the joint venture he has with Luke in the synthetic grass industry. He is single and a proud uncle to his adorable little nephew.
Read More: Love Island Australia Season 3: Where Are They Now? Who Are Still Together?