A+E's 'Witness to Murder: Digital Evidence: Off the Grid' chronicles how 29-year-old single mother, Maria Jimenez-Rodriguez, disappeared from Houston, Texas, in late June 2018. She was last seen dropping off her infant daughter at a Houston daycare on June 21 morning. While the authorities have never recovered her body to date, they have uncovered enough circumstantial evidence to charge someone with murder. If you want to learn more about the case, including the alleged killer's identity, here's what we know.
How Did Maria Jimenez-Rodriguez Die?
Maria Jimenez-Rodriguez, a dedicated single mother and aspiring attorney, mysteriously disappeared on June 21, 2018. Her absence raised immediate concerns as she failed to pick up her young daughter, Destiny, from daycare in Houston, Texas, and missed her usual post-work meeting with her sister, Gloria Jimenez. As her family began piecing together the events of that day, they discovered that Maria had also not reported to her job at a local law firm. Reports stated she worked as a paralegal working at the Milledge Law Firm.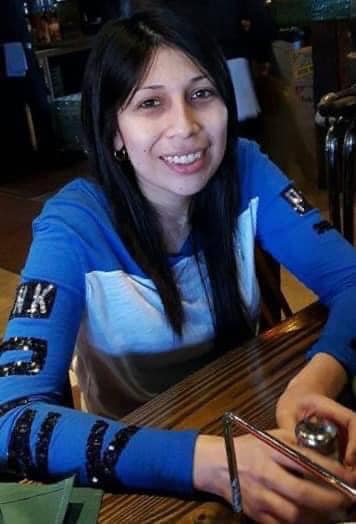 When the 29-year-old never made it to her workplace on that fateful June 21, her co-workers were perplexed by her absence, as it was highly unusual and contrary to her usual behavior. Brenda Lopez, one of Maria's co-workers, stated she received multiple strange text messages from Maria, including one indicating she would be arriving late that day. However, the single mother never appeared, leaving her loved ones and colleagues worried about her whereabouts. Co-workers informed the police that the texts did seem to be from the victim herself.
Brenda disclosed that in a text sent around 6:18 pm, Maria expressed her regret for not being able to make it to the office. She communicated that she believed two men were following her in a red truck and specified the two suspects were either two white or two Hispanic males. Maria assured Brenda to call her once she reached a "safe place," but the expected phone call never materialized. On June 21 evening, concern grew as everyone attempted to contact Maria, including her sister, Gloria Jimenez, but her phone remained switched off.
Recognizing the gravity of the situation, Gloria took matters into her own hands and headed to the police station to file a missing persons report around 9:30 pm on June 21. She explained that the sisters had a routine of meeting up after work each evening, but on that particular day, Maria failed to appear at their usual meeting place. Despite Gloria's repeated attempts to reach out through texts, there was no response from Maria. The authorities have not found Maria's body to date, though they believe the perpetrator killed and dismembered her.
Who Killed Maria Jimenez-Rodriguez?
The police initially believed Maria might have gone away on her own accord, though her family adamantly emphasized that she would never willingly abandon her daughter, Destiny. The child, then three, had a genetic condition that affected her legs and muscles, thus making her entirely reliant on her mother's care. Maria's unwavering dedication to her daughter was evident in every moment of her life. She was last seen dropping off Destiny at daycare around 8:00 am on June 21.
As investigators worked to reconstruct Maria's final movements, they discovered her car in the 100 block of Port Street the following day. The unoccupied vehicle was found abandoned just three blocks from her home. Houston Police Detective Mark Condon reported that Maria's phone, purse, and keys were missing. During the following weekend, over 70 volunteers from Texas EquuSearch conducted an extensive search on horseback in the northeast Houston area, not far from where the young mother's automobile had been located.
Upon reviewing local surveillance footage, investigators observed a black male walking from the car toward Erik Arceneaux's residence. As the police probed further, they discovered a startling fact — Maria had been in an alleged relationship with Eric, which was previously unknown to anyone. When detectives arrived at Eric's home, he cooperated and expressed concern because Maria was supposed to drive him on June 21 morning for a job interview. He claimed to have been in a relationship with her for six months but had not seen her since June 20.
Gloria found her sister's call logs from June 21 morning and said, "I found out that he had called her a million times, so I reached out to him. Supposedly, she was supposed to take him to an interview that day. Supposedly, she never made it to his house." The concerned sister added, "She never said she had a boyfriend. She would go to the gym. I know he was her trainer, and I've learned he kept texting and sending her notes." Maria's disappearance garnered media attention, and Erik joined the search efforts.
However, as time passed, his extensive criminal history spanning two decades became known, and he eventually retained legal counsel, ceasing his cooperation. Reports stated he pleaded guilty to one count of aggravated assault in 2011 for putting a gun to his erstwhile girlfriend's head and threatening to kill her. Initially, the police could not access the phone records to learn more about the locations of Maria and Eric's phones on the day she went missing. It took 90 days for these records to become available.
When the phone history was finally examined, it indicated that Maria was likely at Eric's residence that morning, and her phone remained in his possession throughout the day. The authorities also believed that the individual seen in the surveillance video walking away from Maria's car was Eric, and they traced the phone's location directly back to his residence in the 5000 block of Evella Street. Police tracked his whereabouts further and saw he visited a Home Depot in northwest Houston on June 21 afternoon.
Surveillance video and a signed receipt confirmed he purchased an electric chainsaw and trash bags. Court documents state the authorities searched Eric's home on October 18 and found evidence of blood on the walls and ceiling of the bedroom. However, the blood was unsuitable for DNA testing, and it could not be determined whether it belonged to Maria. The authorities believed all the evidence suggested Eric killed Maria and attempted to establish an alibi by using her cell phone to send text messages.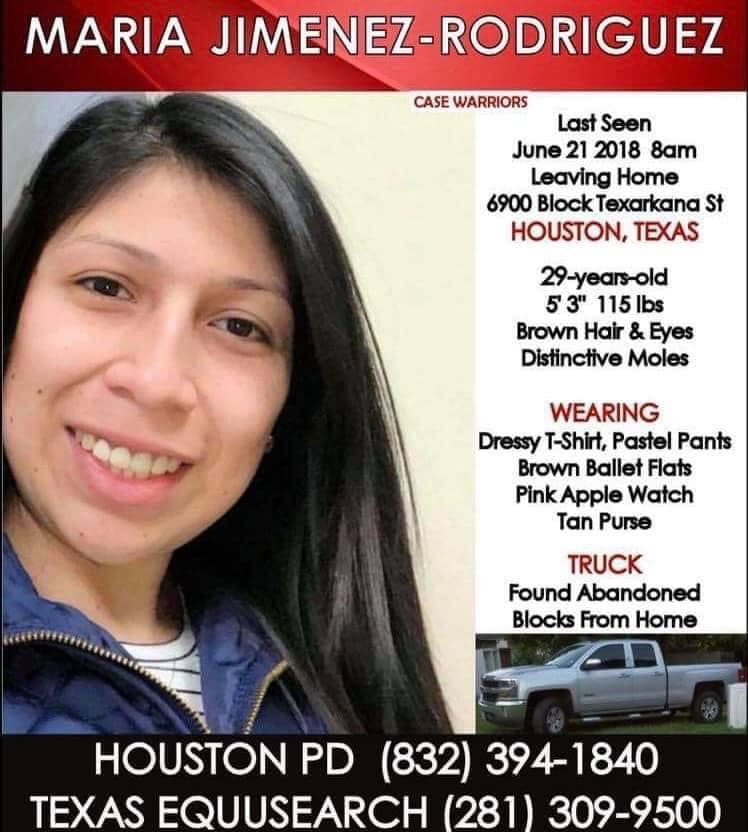 According to court documents, Eric's daughter from a previous relationship told authorities that her father used to beat her deceased mother and that she thought Maria was trying to end her relationship with Eric. The United States Marshals Service continues to fervently search for 50-year-old Erik, who has been described as a "violent and dangerous man." Crime Stoppers of Houston is offering a $5,000 reward for information on Eric. You can report his whereabouts and remain anonymous by calling 713-222-8477 or visiting the Crime Stoppers website.
Read More: Pia Overbury and Hazel Dix Murders: How Did Glyn Dix Die?