Through Netflix's 'Arnold,' famed action hero Arnold Schwarzenegger tells his life story. One of the highlights of the whole documentary series is his relationship with his former wife, Maria Shriver. The couple's journey from start to end is something that has been a subject of public interest for many years. The recent inside glimpse into this relationship has left many people wondering who Maria is and what she is up to these days following her split from the 'Terminator' actor. So, let's explore it all together, shall we?
Who is Maria Shriver?
Born on November 6, 1955, in Chicago, Illinois, Maria is the daughter of Sargent Shriver and Eunice Kennedy and grew up alongside four brothers. Through the latter, Maria is the niece of former US President John F. Kennedy. For a significant period of her early teenage years, Maria lived in Paris, France, before returning to the USA for high school, graduating in 1973. She became a student at Manhattanville College in Purchase, New York. However, after only two years, she transferred to Georgetown University, graduating in 1977 with a Bachelor of Arts degree in American Studies. As one might guess, Maria grew up in a very politically active environment, and her father even ran for the position of Vice-President in 1972 on behalf of the Democrats.
In the year 1977, Maria met Arnold thanks to the help of Tom Brokaw during a charity tennis tournament organized by Eunice Kennedy, Maria's mother. The fateful meeting soon led to the start of their relationship, which would last for nearly 34 years. Talking about their dynamic, Arnold shared in the Netflix series that both he and Maria were running from something. While he wanted to leave his childhood home and feelings behind, Maria tried to separate herself from the heavy influence of politics and power. Maria and Arnold got married on April 26, 1986, in a ceremony held at St. Francis Xavier Roman Catholic Church in Hyannis, Massachusetts, with around 500 guests, out of which Arnold admitted to knowing about 10% of the guests.
As her personal life blossomed, Maria's professional life was also shaping up to be promising. Though she may not have been quite fond of politics, she did develop a liking for broadcast journalism due to the press-related work she did for her father's campaign. Initially working for KYW-TV in Philadelphia, Pennsylvania, she joined Forrest Sawyer in August 1985 as a co-host of 'The CBS Morning News,' retaining the position until August 1986. Starting in 1987, Maria became a co-anchor of 'Sunday Today' for NBC and worked there until 1990. She was also the anchor of 'NBC Nightly News' on Saturdays in 1989 and on Sundays in 1990. She joined the 'Dateline NBC' cast in 1992 as a Contributing Anchor and remained there until 2004.
While Maria had developed a distaste for politics, her husband, Arnold, was hopeful about joining the field and giving back to the USA. However, the 'Total Recall' artist shared in the Netflix series that even the discussion of the same heavily upset Maria, who did not want to enter that world again. He admitted that such a heavy reluctance from her led him to stop his initial plans to become the governor of California. However, in 2003, a special recall election was held against then-Governor Gray Davis.
At this point, Maria decided to throw her support behind her husband if he chose to run for the position. He ended up announcing his candidacy on 'The Tonight Show with Jay Leno,' which soon led him to become the Governor on November 17, 2003, though he had chosen to run as a Republican candidate, even though his wife's family was that of Democrats. Maria herself stepped up as The First Lady of California and introduced many policies and reforms, though Arnold admitted that his marriage was heavily strained due to the distance between them. Additionally, the decreased amount of time that he was able to give to his kids also weighed heavily between them.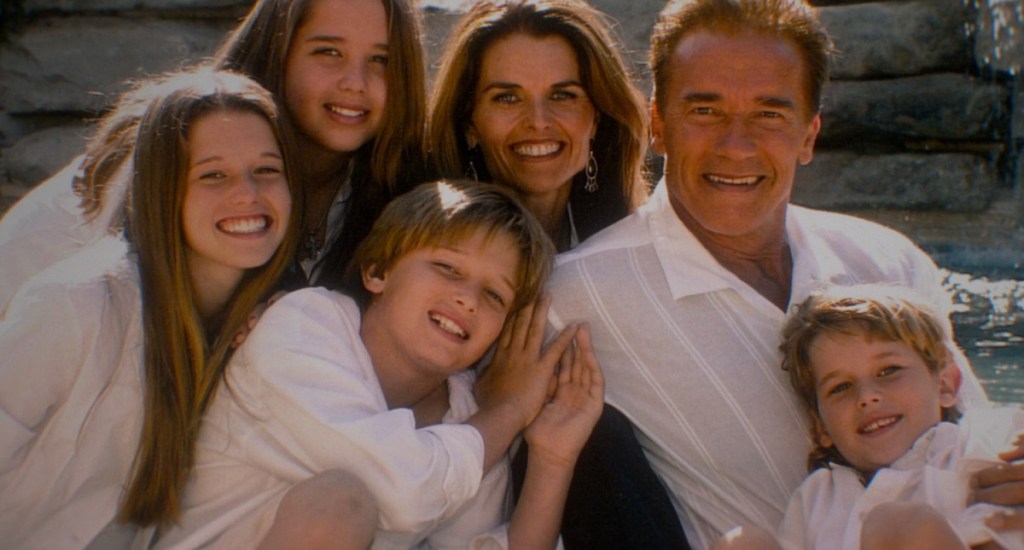 Arnold's term as the governor of California ended on January 3, 2011. In the same year, on May 9, 2011, he and Maria announced their separation, with the latter moving out of their shared mansion. However, there were rumors of the pair's separation had been circulating for a long time, and there were speculations about Arnold having had an affair. On May 17, 2022, he admitted having had extramarital relations with a member of his staff and siring a son. The lady in question is Mildred Patricia "Patty" Baena, the mother of Joseph Baena, Arnold's biological son.
Where is Maria Shriver Now?
Since her separation, Maria has continued her work in the field of journalism and social work. Having left NBC News in 2004 to avoid conflict, given her position as the First Lady of California, she joined the network in 2013 as a Special Anchor. From 2013 to 2014, she was also an HBO Executive Producer for 'Paycheck to Paycheck: The Life and Times of Katrina Gilbert.' Since then, she has partnered with many networks to produce amazingly captivating projects.
In 2012, Maria established the Women's Alzheimer's Movement, followed by the start of Shriver Media in 2014, with the NBC Anchor as the Founder of both organizations. Through her marriage to Arnold, Maria is mother to Katherine Schwarzenegger Pratt (born on December 13, 1989), Christina (born on July 23, 1991), Patrick (born on September 27, 1993), and Christopher (born on September 27, 1997). Through Katherine, she is the grandmother of Lyla Maria and Eloise Christina Schwarzenegger Pratt. Her divorce from Arnold Schwarzenegger was finalized in December 2021, almost a decade after they announced their separation.
Read More: Best Arnold Schwarzenegger Movies