If there's one thing absolutely nobody can deny, it's that Mark Cavendish has earned the tag of "greatest sprinter in history" in the world of road bicycle racing thanks to his unwavering hard work. The truth is this Isle of Man, England, native had first begun riding at the age of 8, only to really start giving it his all by the time he turned 10 to eventually turn professional at 20 in the year 2005. Since then, he has honestly done wonders, whether at the Commonwealth Games, Olympics, World Championships, or Tour de France — Mark actually has 34 stage wins in the latter, tying him for first on the all-time list with Eddy Merckx.
However, as carefully chronicled in Netflix's 'Mark Cavendish: Never Enough,' the athlete's journey to this point has not been comfortable, easy, and smooth sailing in any way, shape, or form. That's because with the combination of a few harrowing tumbles, his Epstein–Barr fatigue diagnosis in 2017, and his admittedly ascertaining his worth through overall success/performance, he'd once fallen into a deep depression. Nevertheless, the cyclist was able to make a comeback unlike any other following nearly four bad years in 2021 — so now, if you simply wish to learn more about his current standing, we've got you covered.
Where is Mark Cavendish Now?
Although Mark couldn't break Eddy Merckx's record in the spring of 2021, he was more than happy to just be cycling, considering he was close to a forced retirement owing to a lack of contract. That's actually when the Belgian world team Soudal-Quick Step had stepped into the picture to give him seemingly one last chance to go out in style, yet it was under the stipulation he had to find his own sponsor and in exchange for a minimum salary. Little did anyone expect he'd suddenly earn his first victories since 2018 with four stage wins at the Tour of Turkey, leading to his unexpected Tour de France entry once a teammate got injured.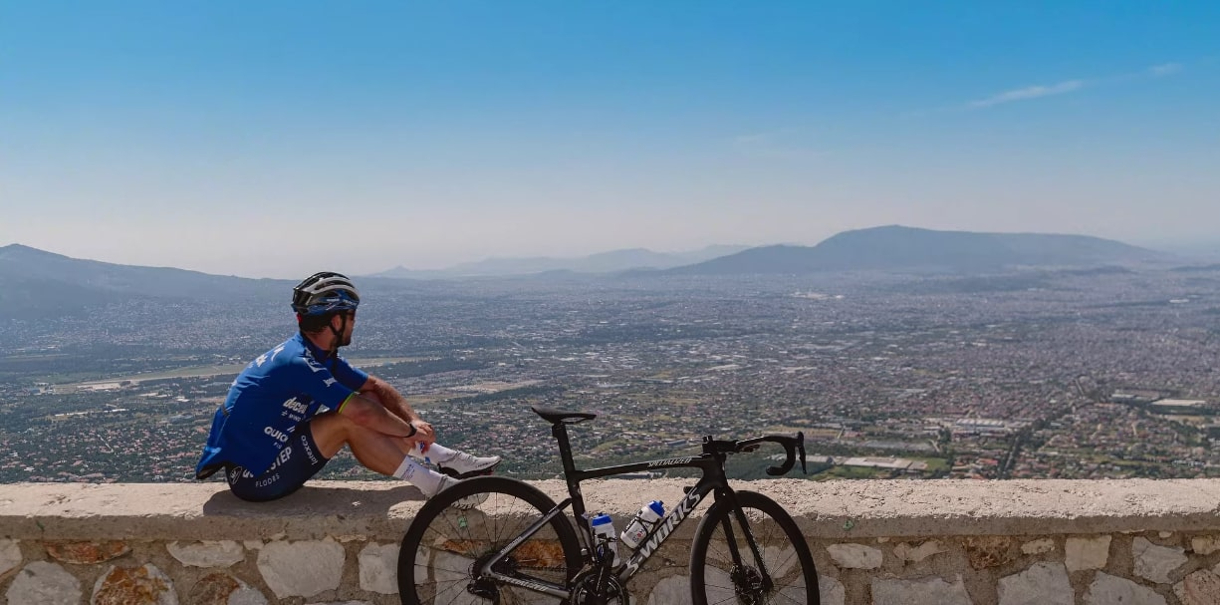 Everyone genuinely, internally thought this Tour could kind of be like a farewell to Mark as he'd already crossed into his mid-30s, and it was no secret he'd struggled a lot in the past few years. Yet he proved everyone wrong by not only doing good but also winning stages 4, 6, 10, plus 13 to bring his total leads for this event to 34 — he missed out on #35 on the last stage by finishing third. It thus came as no wonder when this "Manx Missile" subsequently conceded he still had some fight left in him, resulting in his contract with Soudal-Quick Step being extended for another year.
2022 is hence the year Mark pushed his boundaries even further, causing him to become the first British cyclist to win the Italian classic Milano–Torino as well as win stage 3 of the Giro d'Italia. But alas, as expected, his contract soon came to a mutual end and he had to begin 2023 as a free agent, just for Astana Qazaqstan Team to quickly sweep in with a new deal around mid-January. Though things again changed on May 22, 2023, as the professional announced his intention to retire at the end of the season in order to focus more on his personal life alongside his family.
Mark did thereon win the 21st/final stage of Giro d'Italia a mere week later to bring his career Grand Tour stage wins total to 57, yet he couldn't cross his Tour de France landmark in July. After all, he sadly had to abandon the entire event following a crash during stage 8 that left him with a broken collarbone — as a result, Astana Qazaqstan has asked him to delay his retirement by a year. So, with the incredible, possible 35th Tour de France stage win hanging in front of his face, "Manx Missile" is seriously thinking of a final comeback in 2024, meaning nothing is confirmed as of writing.
As for Mark's opinion on the Netflix original documentary exploring his life as well as career, he's actually "really happy" with it. He recently said, "I feel it shows [a] good representation of the real me, which anyone wants in a film about them. Whether for good or for bad, you want real representation. I laid myself quite bare doing it." Plus, he admits he "learned things from the film from [my wife] Peta's perspective [while i was battling depression]. It was the stuff that hurt her that hit home the most."
Thus, of course, Mark seems to be a changed man these days, with the most evident facet of it being his lack of fire against the media even upon being asked private questions regarding his past. Instead, he has simply replied, "I don't think anybody can sit and say they wouldn't go back and change bits and pieces here and there. But… you can't. All you can do is learn from good things you've done and bad things you've done, and put them into practice for shaping you for where you want to go."
In another interview, Mark elucidated he really believed depression "was an excuse, something you could snap out of. When people said that they suffered, I never understood how. It's the solitude you find yourself in. That can lead to all sorts of thoughts. It doesn't matter where you're at in your life, what you do as a profession or what background you're from. This is about a chemical imbalance, and people can relate to that. You can feel so alone, but if you would talk, you'd be surprised at how much you have in common."
Therefore, the professional cyclist's goal with this movie is to portray "how depression can affect anyone in the world," and they're not alone. He added, "There are those in a lot worse situations than me. I don't feel sorry for myself. I'm very privileged to have had the life I've had… Although I would never wish it on anyone, I can now understand it. Would I rather have never suffered? Of course. But I'm happy I can understand." It's hence how he's also been able to learn what's significant in his existence: "Winning bike races is my job and I love it, don't get me wrong. But it is still my job. My purpose now is to be a husband and a father more than anything else."