Fashion enthusiasts worldwide have been quite excited by the release of the second season of Netflix's 'Next in Fashion.' The reality show is hosted by Tan France and Gigi Hadid and has everything you can ask for. From futuristic apparel to iconic judges such as Donatella Versace, Hailey Beiber, and Bella Hadid, there are various reasons to fall in love with this show. However, the competition would not be the same without its talented cast, which is always ready to deliver upon the expectations of the judges and the viewers.
Each one contributes a unique viewpoint, aesthetic, and style. Even while each one shows flashes of brilliance, there can only be one winner. Season 2 introduced the bubbly-joyful Megan O'Cain, a budding personality in the fashion industry. If you're eager to know more about the designer specializing in the 60s and fantasy-inspired fashion, we have you covered. Let's begin then, shall we?
Megan O'Cain's Next in Fashion Journey
Megan O'Cain is genuinely one of the most creative and talented designers out there. Her style is not just unique and fresh but so out-of-the-box that it takes one by surprise. When Megan designs, we see her heart and soul reflecting on her pieces. Her bold pink hair with light green hues resonated through her styles in almost all her designs. These iconic styles, mixed with fun colors, bring the designer's vision to life. Since the first 'Royalty' episode, Megan was sure about her unique style, which worked on the runway. Her vision was to create a form of a traditional royal gown with 70s elements where her inspiration was disco royalty Abba.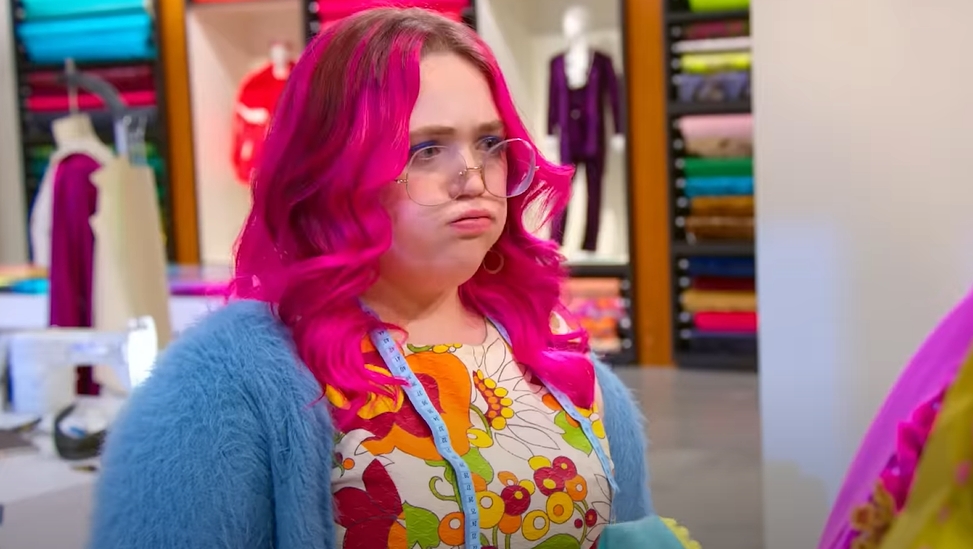 Megan added a lot of volume with a chic collar and balloon sleeves to give the whole style an edge. She emerged as one of the strongest contestants and managed to intimidate the others. In the second challenge, Megan truly deserved the compliment, "British Vogue Cover." She was on the winning team alongside Bao, James, Amari, and Godoy. However, fans could see her struggling to grasp the assignments completely since the third challenge, and her styles were sadly downgraded. Thus, the judges wished she had put more thought into the game.
In the third 'Thrift' challenge, the designer's outfit didn't land as she would have hoped, and the top of the style came through as "juvenile," as per host Tan. Even in the fifth challenge, 'Collaboration,' we couldn't see a strong Megan when he was paired with Deontré Hancock. Their collaborative "Streetwear Through The Looking Glass" style didn't hit the right spots. Despite no elimination in the sixth episode, Megan's Meta Gala look was almost good and lacked the "wow factor." Unfortunately, in the 'Swimwear' team challenge of episode 7, she was eliminated, and the judges and other contestants bid her goodbye with heavy hearts.
Where is Megan O'Cain Now?
Budding designer Megan O'Cain completed her Bachelor of Fine Arts in Fashion/Apparel Design from Parsons School of Design -The New School. Her pieces are heavily influenced by her passion for vibrant colors and busy designs. Together with artwork, she also does hand knitting, sewing, and embroidery. Although having extraordinary talents and a fantastic "kook" style combined with fantasy and "out-of-this-world" aesthetic, Megan is still new to the fashion industry. She has only worked professionally as an intern with other small brands. Nonetheless, she has a unique and aesthetically pleasing fashion brand name after herself, where she sells quirky products.
The Parsons School of Design alumna takes excellent satisfaction in her whimsical designs, which frequently evoke strong feelings of nostalgia. Megan's designs, which draw inspiration from the 60s, often include handmade components that enhance the appeal of that particular style. She was among the 25 contenders for the 2019 Eyes on Talent Award because of her efforts while enrolled in her BFA program. We wish Megan the best in her career and hope to see her name in shining letters on the covers of fashion magazines.
Read More: Desyrée Nicole: Where is Next in Fashion Contestant Now?