Netflix's 'Next in Fashion' is an opulent reality show showcasing a high-level fashion design competition. It features celebrated names in the fashion industry, like Donatella Versace, Tan France, and Gigi Hadid. Designers from all over the world compete in multiple challenges that test their creativity, technical skills, and knowledge regarding clothing for a prize of $200,000 and an opportunity to launch their fashion line.
Among the designers competing to become the next best thing in fashion in season 2, Desyrée Nicole showcased her talents and proved to the judges that she had the potential to earn herself a spot amongst the great designers of the country. With Desyrée now quite popular in the fashion industry, fans are excited to know where she is at present. Well, we come bearing answers!
Desyrée Nicole's Next in Fashion Journey
Desyrée Nicole lives for the androgynous looks and specializes in men's wear. Hence, it wasn't surprising when the designer designed a men's suit for the 'Royalty' challenge in episode 1. Though the judges loved the fit and the style, the excessive use of ribbons, studs, and buttons was borderline off-putting, and she was suggested to trust the minimalist look. After putting up a few suitable outfits in consecutive challenges, Desyrée slayed the 'Met Gala' look with her fresh take on the sagging culture. She transformed whole boxers into a beautiful heavy skirt paired with a chic white top with bell sleeves.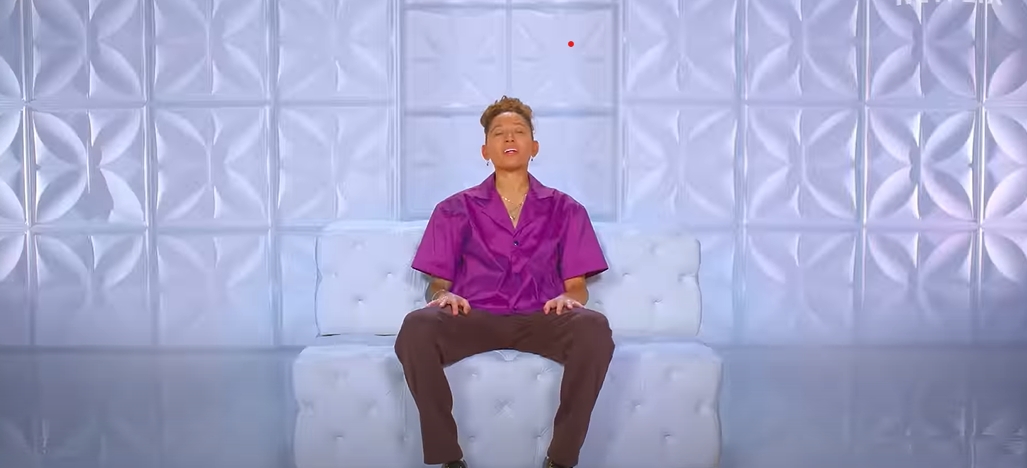 The whole look screamed Met Gala, and Desyrée received a significant advantage in the next team challenge after winning the task in episode 6. Once again, she won the seventh challenge, where she chose Amari Carter as her teammate in the 'Swimsuit' challenge and created two great swimwear looks, which impressed the judges, earning her team a win in the challenge. Unfortunately, Desyrée was eliminated in the eighth challenge, 'Everything Old is New,' where her concept of the 80s with a pink bikers jacket and overcoat didn't land as she expected, leading to her elimination.
Where is Desyrée Nicole Now?
Desyrée was on track to become the next WNBA star, yet she realized she had to change directions when her contract expired. Fashion naturally came into her hands and quickly became her new love. In an interview with Essence, the designer revealed, "I wanted to be like Swin Cash, Diana Taurasi, or Oprah…Fashion was a second thought after I moved to NY, and I was inspired for sure. I've always been into sneakers, but fashion was a different game. I think this shows that it's never too late to start something new."
The main goal of Desyrée's design concepts is to remain faithful to her style while attempting to be new. In 2016, she launched her menswear brand Todd Patrick in honor of her brother because she believed it would "be cool" for people to see his name everywhere. Moreover, the former basketball player has been the Founder of The Bar Tap since 2019. It is an IOS App that connects users to their bars.
Desyrée is additionally an NFL Wardrobe Stylist responsible for image consulting professional athletes and other clientele. On the personal front, she has been blissfully engaged to her longtime partner Gaby Paulino since 2022. The pair have shared countless snippets of their life's significant events on social media and cherish each other daily. We wish Desyrée and her loved ones a lifetime of happiness and hope to see new collections from the designer.
Read More: James Ford: Where is Next in Fashion Contestant Today? Update