Netflix's 'Next in Fashion' Season 2 is a fashion design competition series that features numerous skillful and up-and-coming designers worldwide as they go head to head in an intense competition. Twelve designers attempt to create new and contemporary designs and put their creativity to the ultimate test throughout the show. Each one contributes a unique viewpoint, aesthetic, and style. Even while each contestant shows flashes of brilliance, there can only be one winner. Season 2 introduced London College of Fashion alum Amari Carter, a budding designer specializing in women's fashion. If you're keen to know more about her, we've got you covered. Let's begin then, shall we?
Amari Carter's Next in Fashion Journey
From the beginning, Amari showed the judges that she was much more than she projected and had the potential to win it. For the first challenge, 'Royalty,' she created a beautiful rhinestone bralette paired with an expensive royal jacket and a rhinestone-lined skirt in a subdued pink color. Though the designer impressed the judges with the bralette, the skirt reportedly seemed "too much."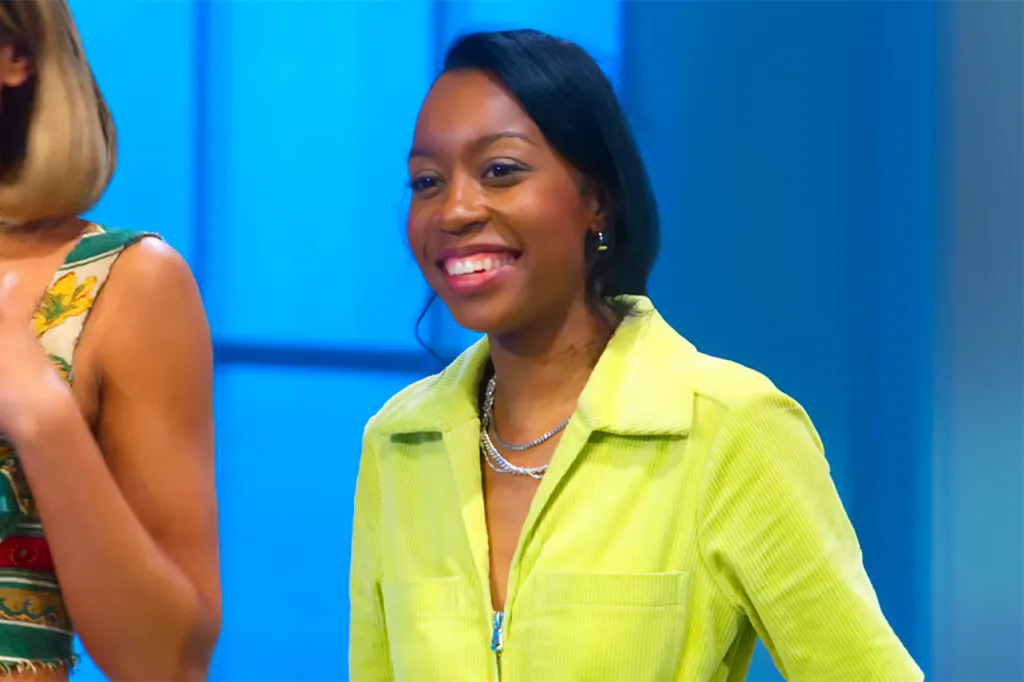 It wasn't until the fifth episode that Amari showed the audience she was capable of reaching the semi-finals. Though she was on the winning team of the Episode 2 challenge, where she was teamed with Megan, Godoy, James, and Bao, she felt her ideas were not being heard and was a bit intimidated by the other designers. Nevertheless, after winning Challenge 5, AKA the 'Collaboration,' alongside the eventual winner of Season 2, Nigel Xavier, Amari's confidence started growing, and she believed she was on the show for a reason.
Although, it wasn't until Episode 7, after being chosen by Desyrée Nicole for the 'Swimsuit Challenge,' that Amari started having faith in her unique designs. Unfortunately, she was eliminated in the 'Transformation Challenge' in episode 9 due to the wrong choice of fabric which couldn't be concealed better for the "wow effect" in transformation.
Where is Amari Carter Now?
Amari Carter hails from a close-knit neighborhood outside of Atlanta, Georgia, and has always viewed fashion as a method to explore one's identity. The London College of Fashion alumna wants to commemorate the women in her life through her fashion and give a sense of identity and voice through her designs which tell a story. Amari is the Associate Designer WTW & Gabrielle Union Collections at New York & Company.
The reality TV star is close to her brother and parents, including her mother, Latonya Carter. In October 2022, Amari shared the news of the passing of her grandmother, who inspired her granddaughter to pursue a career in fashion. "I will miss you so much, heaven is so lucky to have you. Thank you for blessing me with the gift to sew and create," she shared in an Instagram post. She penned, "I just wanted you to be proud of me! I'm so upset that you're not able to see me succeed in something that you taught me. 🤍🕊" The reality TV star is a budding designer and has been featured in Kolor Magazine as a part of the 3 Black Designers who showed their AW19 Collections at LFW's designer showrooms. Moreover, Amari owns Yor Atelier, which supplies experimental design resources specializing in futuristic taste. Albeit, the talented designer is very private regarding her personal life and has not shared any information about her relationships. Nevertheless, we wish Amari the best and hope to see her take over the fashion industry in years to come.
Read More: Desyrée Nicole: Where is Next in Fashion Contestant Now?