Perhaps best known for being the Sole Survivor (winner) of 'Survivor: Kaôh Rōng,' Michele Fitzgerald is a reality television star who means business in any reality show she is a part of. Her win in season 32 of 'Survivor' brought her into the limelight, and Michele got a chance to participate in 'Survivor: Winners at War' (season 40), where she got a podium finish as the second runner-up. Michele's participation has always excited fans, and hence, there is quite a buzz around her appearance in 'The Challenge' season 37 'Spies, Lies & Allies.' Let's delve into her life and find out everything there is to know about her, shall we?
Michele Fitzgerald's Age and Family
Born on May 5, 1990, to Ralph and Linda Fitzgerald, Michele Fitzgerald is 31-years-old. Since her childhood, she fell in love with her hometown – Freehold Township, New Jersey, and still resides there. Growing up alongside a brother, Joe, and a sister, Kim, Michele hails from a loving family and maintains a close bond with her loved ones to this very day. The reality star's family has always been her topmost priority and her posts on social media make that abundantly clear.
Michele even shares a close and intimate connection with her siblings, which is lovely to witness. Moreover, she always supports her family and takes time out of her busy schedule to stand beside them through thick and thin. Michele holds her family responsible for all her successes and has mentioned how grateful she is for her upbringing.
Michele Fitzgerald's Profession
After graduating from high school, Michele Fitzgerald enrolled herself at the Montclair State University in 2011 to pursue a Bachelor's degree in Communication and Media Studies. Michele earned her keep throughout college by working as a Public Relations Specialist at her university as well as holding a Food Server and Caterer job on the side. She graduated in May 2013 and interned at Rock the Earth for three months before finding employment at Island Company as a Seasonal Sales Associate in April 2014. Since then, Michele has never looked back as she climbed swiftly towards a successful career.
In December 2014, she took up work as a Travel Consultant at Liberty Travel before getting the opportunity to appear on 'Survivor: Kaôh Rōng' in 2016. After her brilliant performance in the reality show, Michele returned to the travel industry and worked as a Tour Consultant in EF Education First. Finally, in November 2018, she left her Tour Consultant job and took up the prestigious position of a Business Development Manager at Palace Resorts, where she is working to this very day. In mid-2019, she filmed 'Survivor: Winners of War' and ended up as the second runner-up.
Michele Fitzgerald's Former Relationships
Michele Fitzgerald confirmed she was in a relationship with Wendell Holland, the winner of 'Survivor: Ghost Island' before they appeared on 'Survivor: Winners at War.' The two reportedly started dating in 2018 and were initially happy together. However, things did not work out between the couple, and they decided to split up. Although the exact date of their split is still unclear, both Michele and Wendell have made it clear that they are still on amicable terms and respect each other as friends and fellow "survivors."
According to reports, following a flirty conversation on Twitter, Michele briefly dated 'Survivor: Philippines' alum Peter Yurkowski. In April 2020, Michele also referred to herself as Pete's "girlfriend" in a tweet, which more or less seemed like a confirmation from the reality star. However, the alleged relationship didn't last long, and the two went their separate ways.
It's cuz he helped your girlfriend after a huge, embarrassing fall, right?

— Michele Fitzgerald (@meeshfitz) April 2, 2020
Michele Fitzgerald's Boyfriend
In 2020, speculations about Michele dating Dean Kowalski, the runner-up of 'Survivor: Island of the Idols,' started doing the rounds. The rumors surfaced after the two were spotted together on Michele's Instagram Stories. Moreover, they also kept commenting on each other's posts. Ultimately, in October 2020, E! News confirmed that the two were dating since July 2020. The report even mentioned that they were trying to keep their relationship out of social media.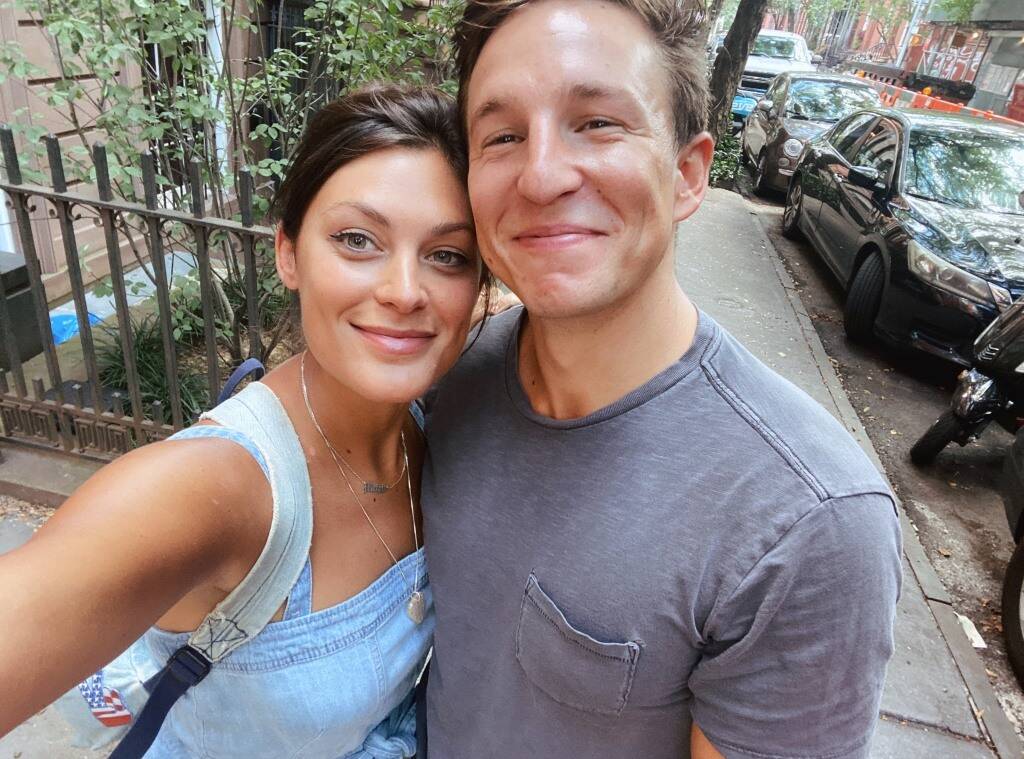 With the couple's preference to stay out of social media and the public sphere, their current relationship status is unclear. However, with no reports on their split, we can assume that Michele and Dean are still together. With Michele now climbing new heights with her participation in 'The Challenge: Spies, Lies & Allies,' Dean is sure to support her all the way. We wish the couple the very best in the days to come and hope their lives are filled with joy and cheerfulness.
Read More: Amber Borzotra From The Challenge: Everything We Know