As an HBO original production that is both an appreciation for the extreme sport of big wave surfing and the tale of those utterly bewitched by the waters, '100 Foot Wave' is unlike any other. That's because the athletes who actually feature in this docuseries have no ulterior motive; they simply wish to let their skills shine through as they chase the biggest possible tides to ride upon. Among them in season 2 were Michelle Des Bouillons and her partner Ian Cosenza — yet for now, if you just wish to learn more about them on a personal, domestic level, we've got you covered.
Michelle Bouillons and Ian Cosenza's Journey
It was reportedly back in their hometown of Rio de Janeiro, Brazil, when Michelle first met Ian, only for them to quickly develop a platonic affinity on the basis of their shared interest in surfing. Hence, the duo knew one another for a really long time before anything happened, but they also had this innate mutual understanding that there was no going back or letting go once it did. "I was already living in Indonesia [in 2018], and then she showed up," Ian stated in the series while beginning to explain how they actually got together, just for her to take over the record.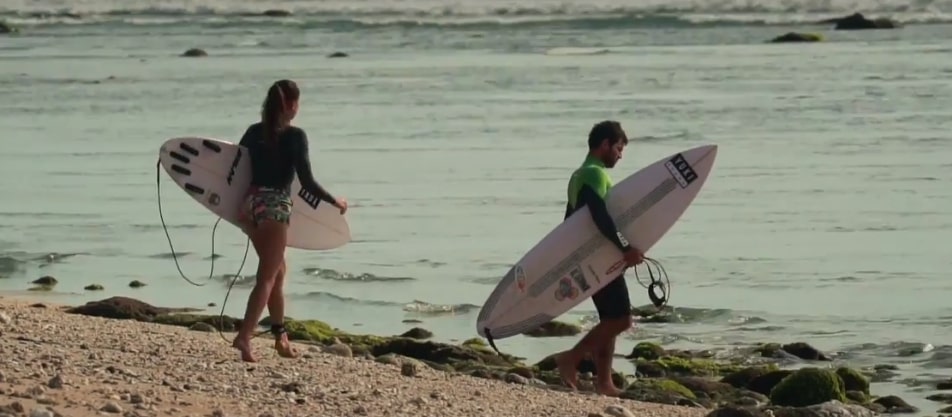 "There's a wave in Desert Point called 'The Grower,'" Michelle elucidated. "I wanted to improve my performance in the barrel, and Indonesia was the best place to learn… I've seen a lot of men be afraid of that wave, [yet] I told Ian, 'I want to surf [it].'" He thus began teaching her all the right ways to drop in, stay at the perfect spot, and much more, leading to her improving exponentially as well as them developing true feelings. "He always supported me, always believed in me," the surfer continued prior to quipping, "Of course, he was already very interested in me, and from then on, we started dating."
Therefore, Michelle and Ian had gotten quite serious by the point it came time for him to spend a season in Nazaré, Portugal, as previously planned, driving him to ask if she'd like to come along. To this, she candidly replied, "I want to go to Nazaré with you but not only as your girlfriend, I want to surf too," making it clear they had similar goals and were truly ready to push one another. Though the real test of their connection was the covid-19 pandemic two years later — they were essentially forced to spend every moment together without any water to fall back on since there was a ban on surfing too.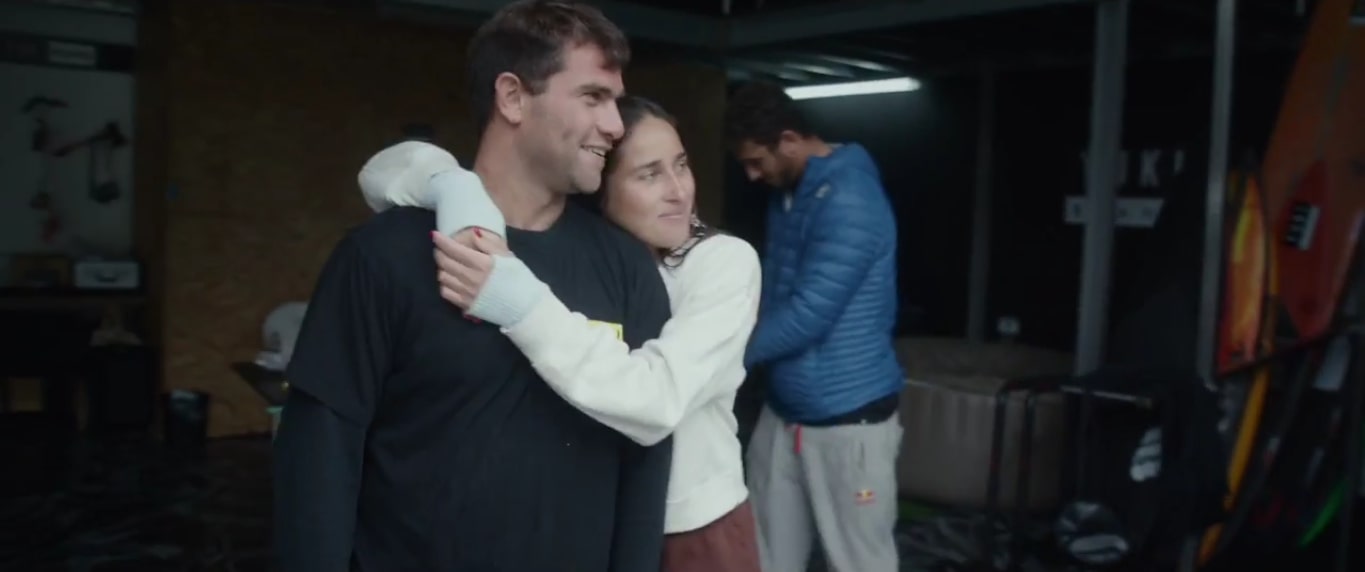 "For us, when surfing was banned in Nazaré, it was really good," Ian conceded in the original series. "We had like a bunch of time to do whatever we wanted to do, and now we know how important it is to have, like, our time together. It was a good lesson, you know, to save time. Save time for yourself. Save time to see the persons you love. Save time to do what you want to do because, in the end, that's all what matters." Therefore, on December 23, 2020, even though it was a gloomy day with rain showers and bad tides, he proposed to her in the waters near the Nazaré lighthouse, making it as intimate as possible.
Are Michelle Bouillons and Ian Cosenza Still Together?
Considering everything Michelle and Ian have been through over the years, it honestly comes as no surprise that they're not just still happily involved but are also stronger than ever at the moment. It is unfortunately unclear whether they've since tied the knot or not as they're both rather private regarding this matter, yet we do know "The Grower" continues to hold an important place in their hearts. In fact, the couple seemingly tries to go there whenever possible, which is a lot once you recognize they actually split their time between Bali and Nazaré right now to accomplish their surfing goals.
The truth is neither Michelle nor Ian ever shies away from showing off their love on their respective social media accounts, but they do so in such a manner that it remains private at the same time. After all, they usually avoid cheesy captions, rarely publicly celebrate personal milestones/dates, and do their best to primarily post either work-related or mere vacation snaps. Plus, with him being a member of her team as a towing driver while primarily concentrating on his piloting and her spreading her wings as an athlete, model, television host, and public speaker, their presence on each other's feeds isn't strange or rare.
Read More: Are Justine Dupont and Fred David From 100 Foot Wave Still Together?