With Netflix's 'Jewish Matchmaking' living up to its title and its original parent production in every way imaginable, we get a true insight into what romance in the titular community is really like. After all, it primarily revolves around renowned marriage facilitator Aleeza Ben Shalom as she strives to help pining singles from across the United States and Israel find their forever partners. Amongst them was actually Nakysha Mays-Osadchey — so now, if you just wish to learn more about her as well as her bond with potential beau Evan Carmusin, we've got the details for you.
Nakysha and Evan's Jewish Matchmaking Journey
From the moment Nakysha first came across our screens with her bright eyes and disarming smile, it was evident she's a strong independent woman simply seeking an authentic love match. That's because she'd tried to experience dating on her own, only for it to be a disaster as most men ended up fetishizing her owing to her skin color as a half-back Kansan or her Jewish faith. The truth is this 26-year-old had grown up in a reformed household celebrating all High Holidays, but joining a youth group as a teen had turned her life around, and now she's pretty religious.
Nakysha's beliefs have honestly continued to develop over time, which is why one of the first things on her criteria list for a soulmate was for him to be a practicing Jew too; though not Orthodox. "Ideally, I'd like to celebrate Shabbos with my partner," she said at one point in the series. "…I like to go for Shabbat dinner every Friday, [yet] I don't go for prayer 'cause I don't read Hebrew." Then comes the fact she wants to build a safe, stable, healthy family environment, so his being kind, caring, loving, child-focused, and okay with her owning a firearm was also important to her.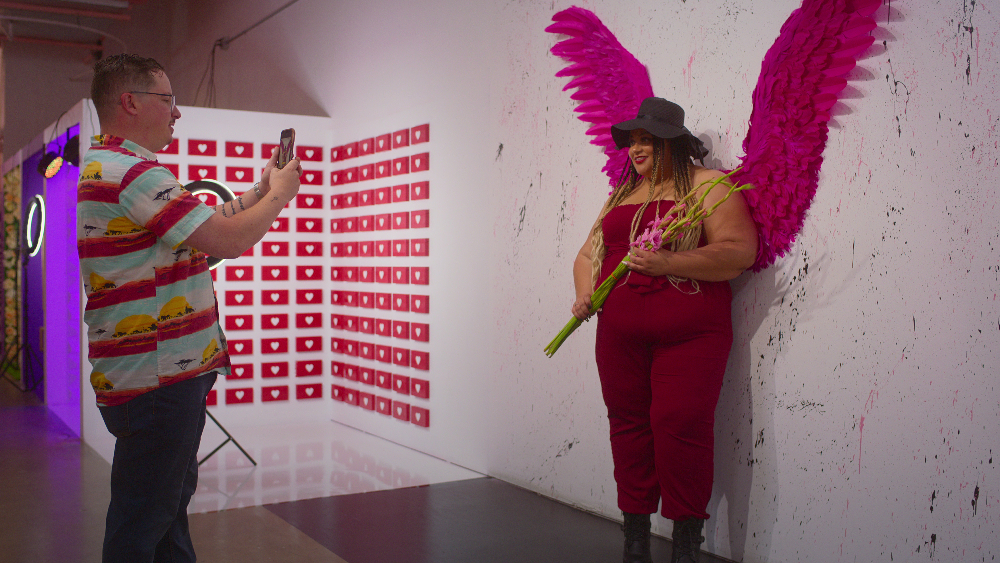 Other than these, Nakysha hoped her companion would not be from Kansas, be physically fit, and never stop her from riding her motorbike — the latter is admittedly a deal-breaking facet for her. She's actually firm with this since she had previously let some men walk all over her and is now determined not to tolerate it; it's also why she finally chose to start dating within her community. The first Jewish man she ever went out with was thus Actor/Model Ryan Mitchell, yet he amicably ended things between them before they could even begin as he didn't really feel a romantic spark.
That's when Aleeza introduced Nakysha to 37-year-old North Carolina-based Wedding DJ Evan Carmusin because she believed he would be the perfect fit for her with his joyous personality. And she was right; the two meshed like two peas in a pod almost as soon as they met for their first date at the Original Selfie Museum in Miami, Florida, where they really got to know one another. In fact, whether it be their tattoos, preferred house chores, expectations for the future, or familial plans, they managed to discuss everything within hours to end their date on a cautiously optimistic note.
Are Nakysha and Evan Still Together?
"[Evan] brought me flowers! I've never had a guy do that on a date, and… I freaking love it," Nakysha candidly expressed following their time together before adding, "Oh, I'm feeling really giddy. This date did go super well, and I feel like Aleeza nailed this one. He's honestly everything I feel like I've been looking for. We seem to like match up perfectly, like a puzzle. And he has hair, so I'm just super excited. In the future, I'm hoping to see that maybe we flourish. I'm excited to see what happens, but I really think we're going to get along great."
Despite the fact Nakysha and Evan appeared utterly drawn to one another from the get-go, it sadly doesn't look like they were able to convert their dates into a full-fledged relationship. Neither the Kansan Digital Creator nor the North Carolinian Wedding DJ/Grocery Store Manager has actually confirmed or denied this as of writing, yet the fact they don't even follow one another on Instagram seems indication enough. The reason behind their supposed parting could be long-distance, or it could be a difference in ideologies (hence compatibility), but alas, everything is and will remain mere speculation from our side until they themselves reveal their status.
Read More: Are Stuart and Pamela From Jewish Matchmaking Still Together?