Nicolas Cage is the star we all grew up watching. For the action kid junkie of the nineties, he was right up there, after Bruce Willis. The man with a cool demeanour and an unparalleled swagger. Coming from the illustrious Coppola family, Nicolas started off with smaller roles but soon went to star in some of the huge blockbusters. His unconventional choice of movies paid off, making him as one of the highest paid stars. He played the action star, the convict, the self assuring madman, everything with same élan. Then came the downfall. Over the last few years, Nicolas Cage has acted in more shitty movies than anyone else. His recent choice of movies has been atrocious and if one believes the grapevines, it's probably due to his growing debts. All said and done, Nicholas Cage is a fine actor and capable of conjuring a great performance anytime. So while we wait for his next great act unfold on the screen, here is the list of top 10 Nicholas Cage movies.
10. National Treasure (2004)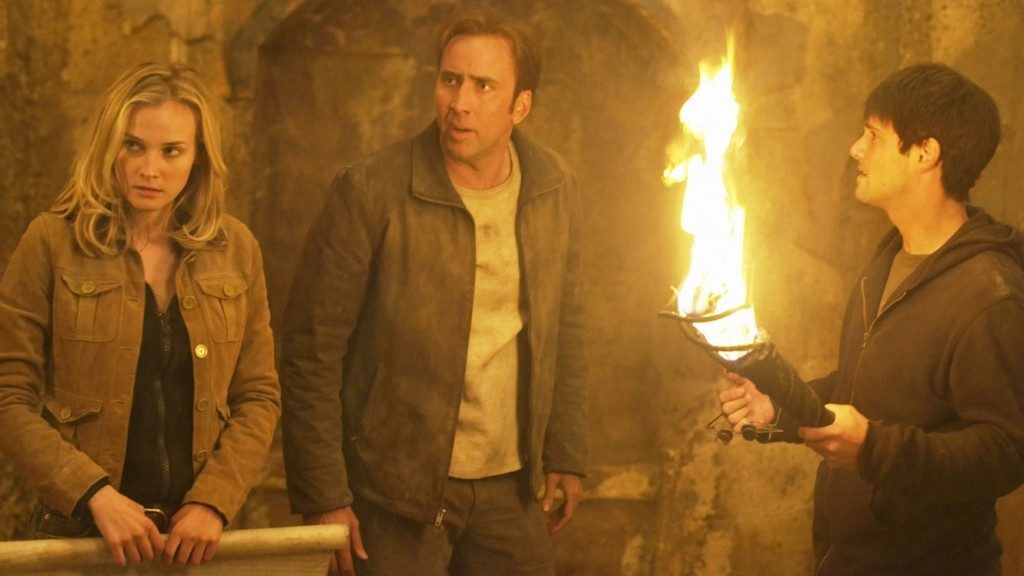 One of the most watched cinematic adventure on screen, it is about stealing the Declaration of Independence of the United States of America to find an elusive treasure that remains hidden in plain sight. Nicholas played the character of Ben Gates, whose family has been entrusted with the secret of the treasure by one of the founding fathers. Along with Dianne Lane, he goes on a rocking adventure to stop the treasure from being stolen. Part history, part fiction and a whole lot of fun, that's what 'National Treasure' is all about.
9. Con Air (1997)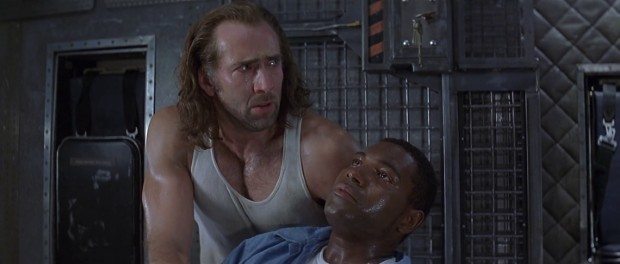 A prison transport airplane, goes rouge as the in-flight convicts take its charge. Nicholas Cage plays the character of Cameron Poe, an ex-army ranger turned convict who tries to stop the convicts from taking control of the plane. Now this movie was made in the nineties, when an out-n-out action movie used to ring the cash registers. It may look tacky now, but at that time, it was a rage with the cine goers, earning itself a summer blockbuster tag. Wait, did we forget the bad ass 'Cyrus The Virus' ! John Malkovich played Cyrus, who masterminds the plane hijack and won praises all over, for his portrayal.
8. The Rock (1996)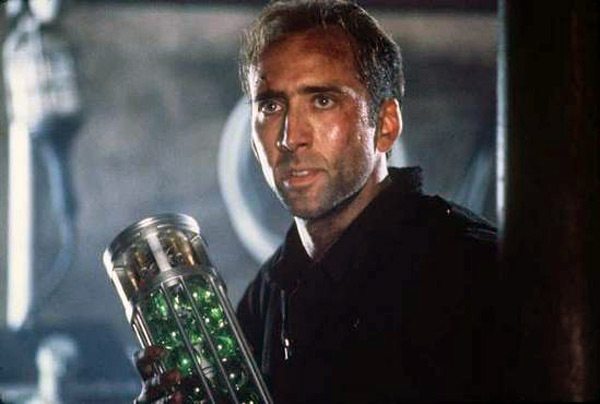 Before Michael Bay went all batshit crazy with 'Transformers' series, he came up with couple of decent films, 'The Rock' being one of them. The city of San Francisco is under the imminent threat of a deadly bio weapons, controlled by a group of rouge US Marine who sets his base on the Alcatraz island. Only one man had ever escaped from the Alcatraz penitentiary and that man will be taking Nicholas Cage, a FBI agent who's chemical weapon's expert to disarm those weapons. Cage plays the FBI agent Goodspeed and with a film like 'The Rock' where style and gloss take charge before logic sets in, pulls a great job as the hapless FBI agent.
7. City Of Angels (1998)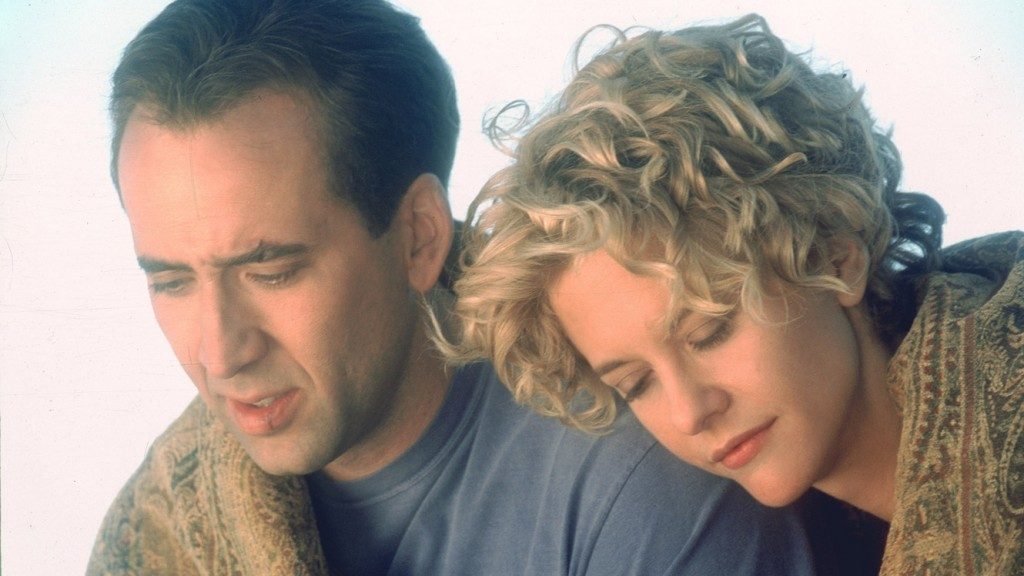 Based on the German original, albeit with a different ending, 'City Of Angels' is the story of Seth, a guardian angel and his quest to understand humanity. Seth and his partner Cassiel hover around the city of Los Angeles, entrusted with the task of guiding souls from this world to their next life, after their deaths. In one of those tasks, Seth meets Maggie, a doctor by profession. He sees her desperate yet genuine attempts to save a dying human being. Enamoured by her noble deed and clear heart, Seth develops a friendship with her , which then blossoms into love. But can an angel fall in love with a mortal? Nicholas Cage's portrayal as Seth is a poignant take based on theme of the fallen angel, cast out of heaven.
6. Raising Arizona (1987)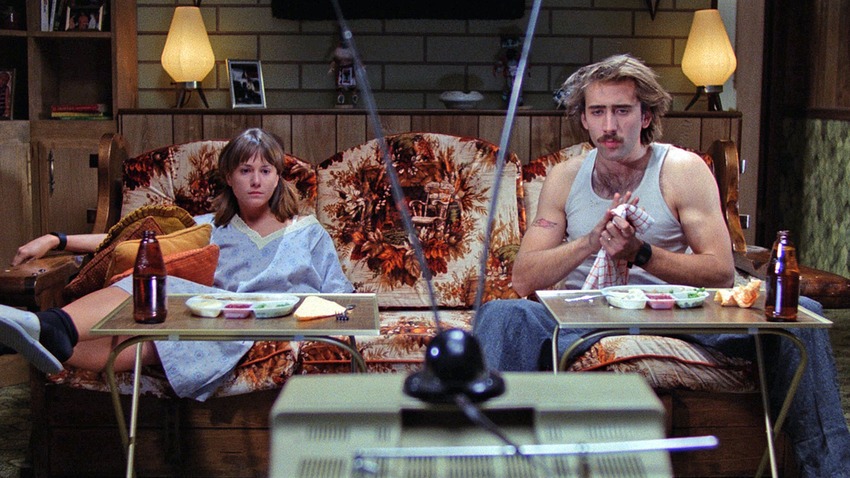 Just like other movies of the Coen brothers, 'Raising Arizona' is a black comedy, which uses the narrative to get the characters intermingle among various situations created by themselves. It's basically the story of a couple kidnapping a child so that they can adopt it but then due to situation, they decide to return the kid back to safety. This is where thing starts to get wrong. Released to poor reviews, over years this has become a cult movie, thanks to the growing fandom of the Coen brothers. Cage plays one half of the couple, 'Hi' an ex-thief who decides to mend his ways, for his cop-girlfriend turned wife. It's an earnest performance by a young Cage.
Read More: Nicolas Cage Movies
5. Face/Off (1997)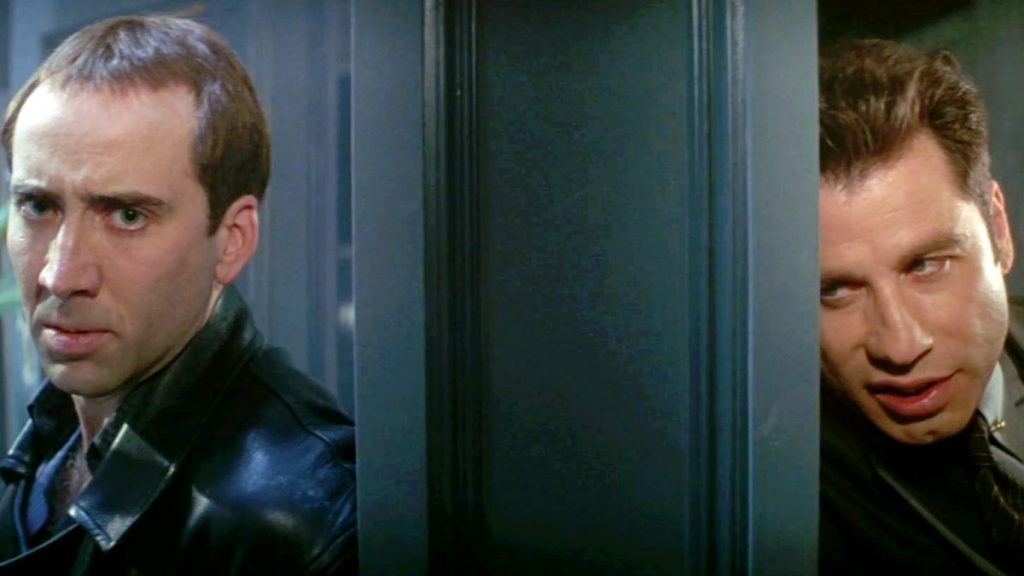 Perhaps one of the most iconic films ever in Nicholas Cage's filmography, 'Face/Off' is a game of cat and mouse between a FBI agent and a terrorist, who by turn of fate, get each other's faces. Playing the other person, they end up sabotaging their lives. Cage plays the terrorist Castor, who face is implanted over FBI agent Sean, played by John Travolta. While Sean adopts Castor's face to identify a hidden bomb, Castor gets the wind of it and gets Sean's face and lives his life by romancing Sean's wife and developing a fondness for his daughter. It's no mean feat to play another person while being somebody else but Cage does a great job at it.
4. Matchstick Men (2003)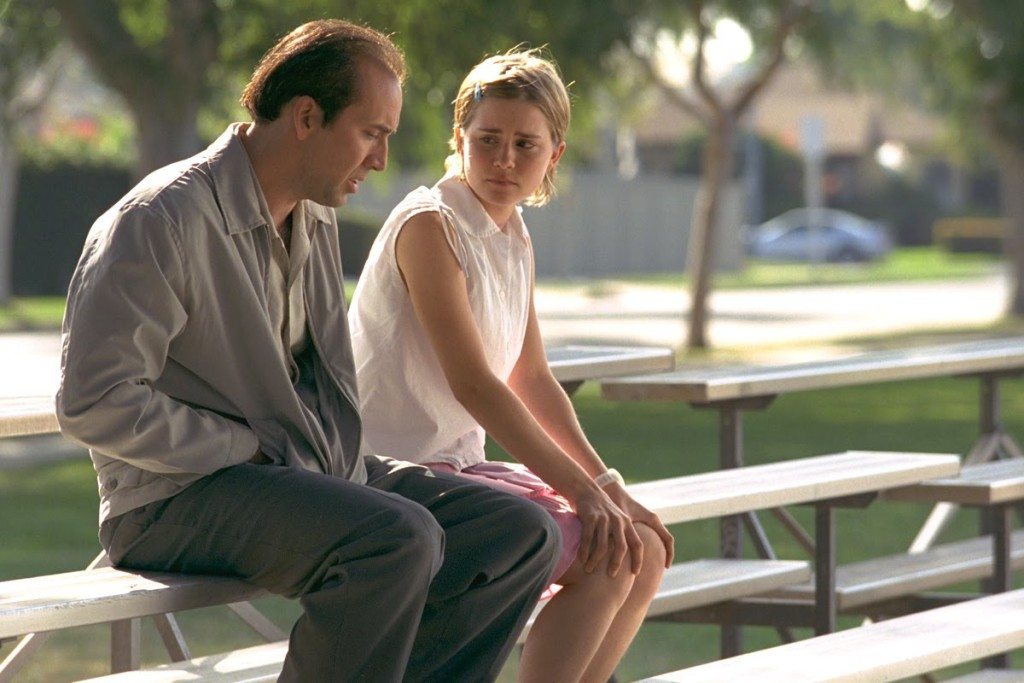 A con man making his life out of swindling people, meets his long lost daughter, after suffering from severe panic attacks. While they steady their relationship, she wants to learn a trick or two from him. Unsure between his love for daughter and his own urge to leave his world of conning people, he decides to go for one last job. And as it always happens, things go wrong. Or did it actually go wrong? 'Matchstick Men' though performed poorly at the box office, but boasted of a script that's uniquely different than your average con film. Nicholas Cage plays the role of a hapless con man, who's torn between choosing his old life over the love for his daughter and slays it with an epic performance.
3. Lord of War (2005)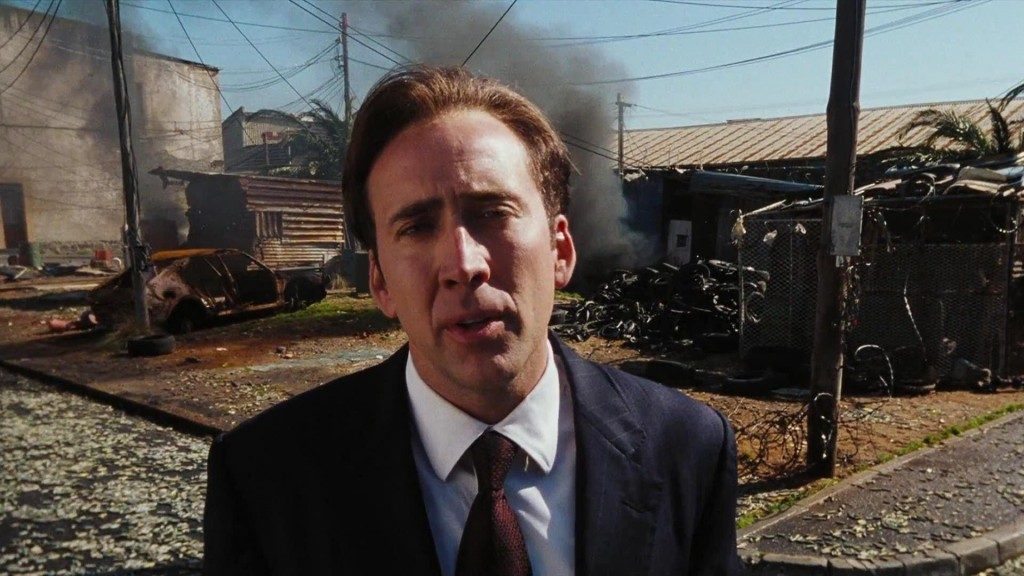 Just like food is necessary for living, weapons are necessary for conflicts. Based on the real life Russian businessman Victor Bout who was infamously dubbed as 'Merchant Of Death', Nicholas Cage plays the role of Yuri Orlov, an arms dealer who identifies the need of weapons for international disputes and uses his acumen to sell arms to all parties of the conflict. Cage shows the suave side of a businessman who's so confident that borders on being cocky. Yet when the time comes, he can get out of a conflict without even putting a dent in his own soul. Because, let's face it, even if one doesn't sell the arms, people are gonna fight. There will be wars. And isn't it better to be a winner on both sides, than to choose a side!
2. Leaving Las Vegas (1995)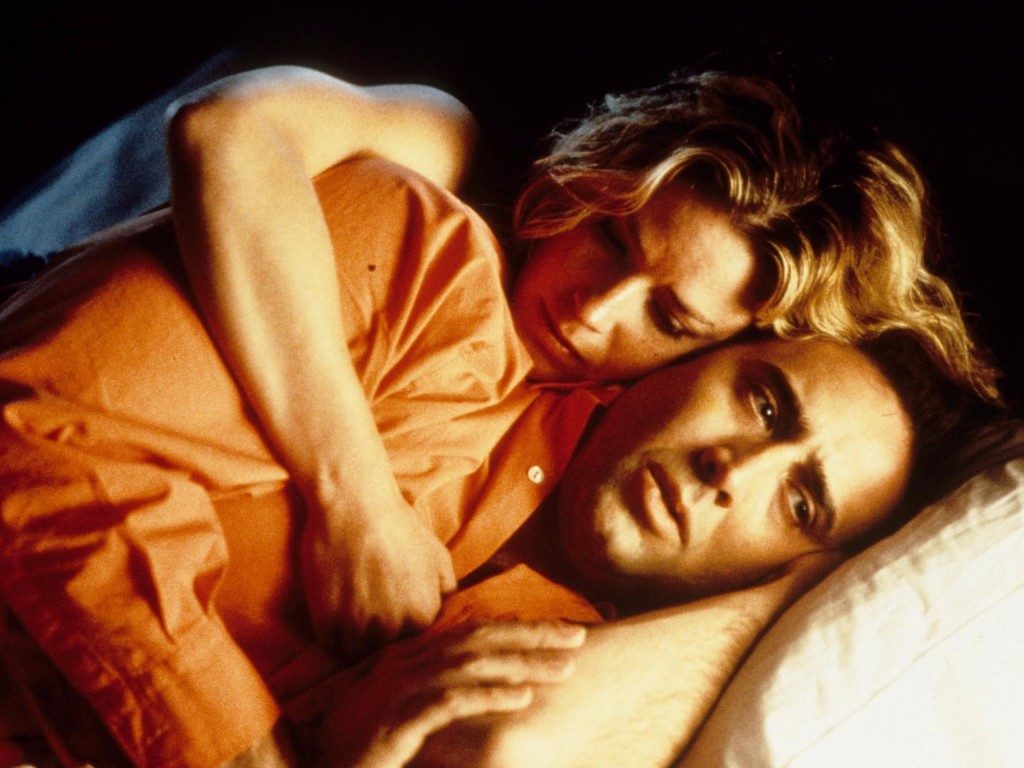 An alcoholic, having lost his occupation and life, wanders in Las Vegas looking for means to end his miserable life. There he meets a woman, prostitution being her profession, always on the wrong side of law. Two unlucky persons, spending their last few days in Vegas, end up being in a relationship. However, fate has something else reserved for them. A heartbreaking story about two desperate people is what 'Leaving Las Vegas' is all about. Nicholas Cage plays the alcoholic Ben who has categorically destroyed his life, owing to alcohol. He is lost in his own predicament and alcohol just adds to his misery. Cage won an academy award for best actor this portrayal.
1. Adaptation (2002)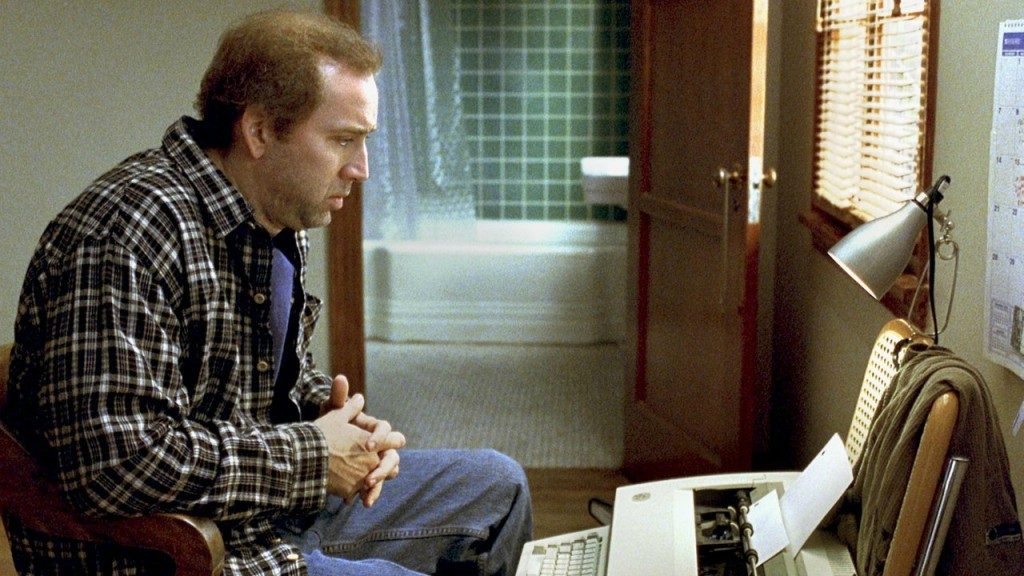 The screenplay writer Charlie Kaufman, stuck in his own cell of thoughts, finds it increasingly difficult to write a faithful adaptation of a book. Adding to his misery, his twin brother Donald comes to stay with him, who by the way, also an aspiring screenwriter. While Charlie experiences writer's block, Donald's script finds buyers, making Charlie's life even more difficult. Witty, self indulgent and often breaking the fourth wall, this film shows the many sides of an individual – insecurities, passions and their predicament to come to terms with it. Perhaps one of the greatest roles of Nicholas Cage, he plays the screenwriter Charlie Kauffman and his twin brother Donald Kauffman. As Charlie, he's vulnerable and self doubting. As Donald, he's confident and cocky as hell. Along with Meryl Streep and Charlie Cooper, he's fantastic in this film.
Read More: Elizabeth Banks Movies