Although Netflix's 'Money Shot: The Pornhub Story' primarily delves into the rise and fall of this titular erotic entertainment platform, it also gives us an insight into the adult industry as a whole. After all, it comprises exclusive interviews with not only performers but even activists, historians, as well as past employees to actually shine a light upon the complex reality of this explicit field. Amongst them was renowned behind-the-scenes professional Noelle Perdue — so now, if you wish to learn more about her, her career, and her current standing, we've got the details for you.
Who is Noelle Perdue?
While there's absolutely no denying Canadian native Noelle is an open-minded, honest, empathetic, determined porn industry specialist and advocate, the truth is she is also so much more. In fact, she reportedly has an extensive background in Computer Programming but still chose to shift gears to actively pursue her interest in the world of action pornography around 2016-2017. She simply Googled "Porn scriptwriter, is that a job?," learned it was, noticed MindGeek (Pornhub's parent company) was hiring, applied, and landed a position at their head office in Montreal.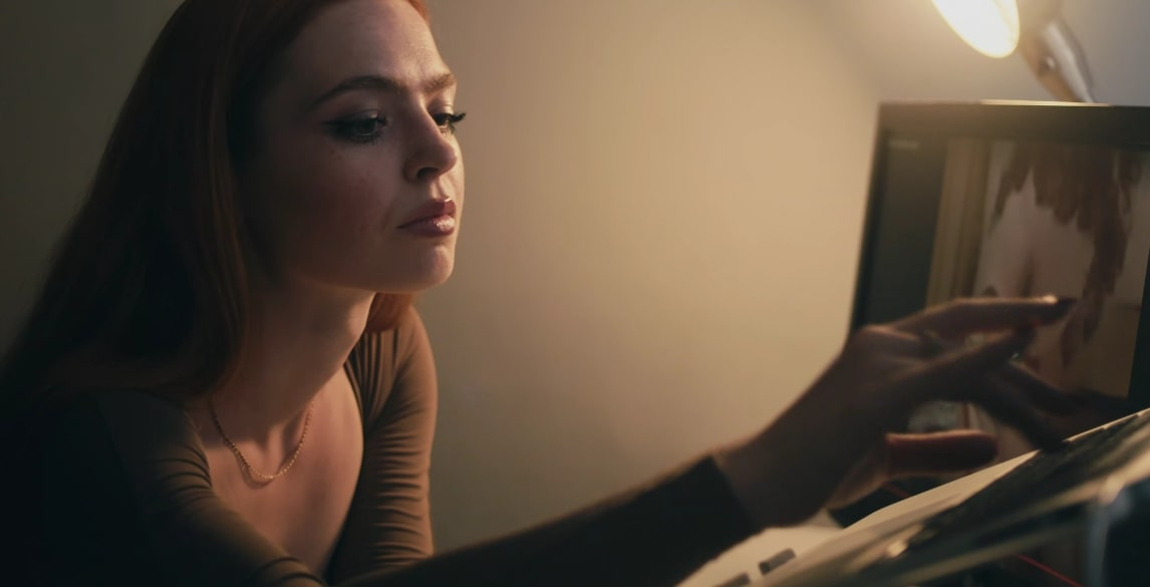 Noelle admittedly served there for three years as either a writer, producer, talent acquirer (for Pornhub's branch Modelhub), or any other fitting role, meaning she quickly learned the ropes of it all. It thus comes as no surprise she can explain every nuance of the adult industry in detail — the combination of her experiences as well as her continued involvement as an enthusiast is nearly idyllic. Though, one of the most significant aspects regarding her stance in this matter is that she never hesitates to pinpoint the adverse effects or pitfalls of erotic entertainment and her former company.
"Most people think Pornhub is the biggest or most visited porn site on the internet, which in terms of brand recognition is true," Noelle explained in the Netflix original. "It's the one people talk about when they talk about the porn industry, but MindGeek is a hilariously boring office space; gray carpet, gray cubicle, open-concept kind of thing. It was really just like wo rking at a tech company." She then alluded to the fact that sometimes more importance was given to quantity instead of quality or performers, inadvertently leading to the whole sex trafficking and rape issues as well.
Where is Noelle Perdue Now?
Despite all the negatives present when it comes to written or audio-video eroticism, Noelle vehemently maintains it is not reality simply because it is all performances, fantasies, and acts. Whenever anything falls under the category of non-consensual or illegal, it is rape and nothing more — it does not belong in their empowerment as well as positivity-driven porn industry. One example she gave in 'Money Shot' revolved around the word "teen," clearly elucidating that in adult videos, it refers to a certain body type rather than someone's age; otherwise, obviously, it is simply unacceptable.
Coming to Noelle's standing, it appears as if she currently resides in the wondrous city/her hometown of Toronto in Ontario, Canada, from where she continues to work in the intriguing field of porn. However, instead of MindGeek, she is now a freelance writer, producer, and historian, focusing on the things she has always wished would be at the forefront whenever the topic goes toward her passion. In fact, the self-proclaimed "hindsight futurist" plus "former Internet anarchist" has even penned opinion pieces in Wired, Washington Post, Slate, Xtra Magazine, along with several other publications.
Yet, more recently, Noelle has been delving into the world of digital intimacy with the help of her programming background, all the while "researching moderation, obscenity law, data mapping, generative algorithms, and the history of "new media." The result is a mechanical theatre (praxinoscope) that shows AI generated p0rn0gr@phy. I loved making something that pinched together different moments in media history, and I hope to make many more mechanical animation machines and have the opportunity to go more in depth on this project and research in the future." As for her personal status, we should mention Noelle presently seems to be in a happy, healthy, stable relationship with Design Fabrication Zone's Creative Tech & Consultant Krystyne Athanasia.
Read More: Who is Laila Mickelwait? Where is She Now?